Branch from giant Queen St tree snaps, covers car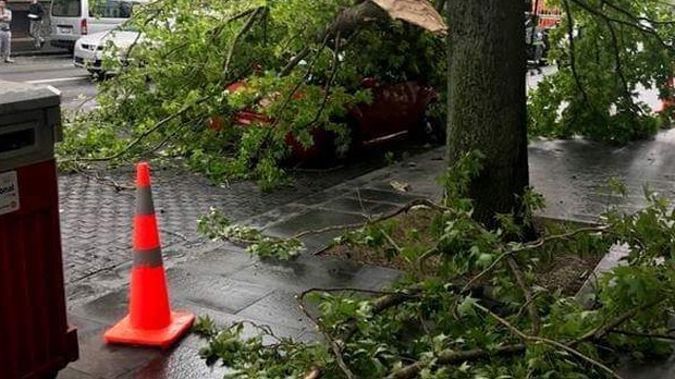 A branch from a large tree has snapped and landed on a parked car in Auckland's Queen St.
Witness Apal Gupta said: "I just saw the tree lying there. The rescue people were trying to take the tree off . It was an old red VW Beetle," he said.
"The workers were having to cut the branches before they could remove them without damaging the car any further.
"I would say whoever owns the car would have been very fortunate."
Kim Fulton said she could see the tree from her office.
"Someone has taken the car away but all the tree is still there and the road is blocked off."
A police spokeswoman said there are no reports of injuries.
The incident was reported to police at about 11.15am and officers attended to close off the road to traffic.
Police have spoken with the owner of the car and Auckland Council has been notified so it can call in teams to come and cut up the tree. The road has re-opened to traffic.
In January a woman was killed by a falling tree in Rotorua's CBD during a storm.
Four witnesses to the death of Trish Butterworth, 56, provided statements to police.
Rotorua Lakes Council ordered inspections of local trees, which led to a range of branch reduction work.