Explosion heard before fire in which 10-year-old died
Author

Section

Publish Date

Tuesday, 3 October 2017, 8:19AM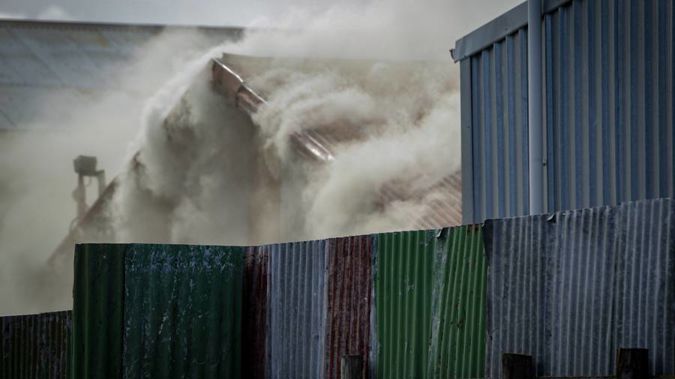 UPDATED 1.59pm: Hastings Police say the death of a young boy in a suspected suspicious fire in a disused building is tragic.
The 10 year old died in Hawke's Bay Hospital overnight, while another young boy has been taken to Hutt Hospital for further burns treatment.
Detective Senior Sergeant Martin James says police are yet to speak with those involved, and enquires are on-going to understand the circumstances.
Detective James said they're not in a position to release the name of the boy who died, but their thoughts are with all the families involved.
Once enquiries are completed, the matter will be referred to the Coroner.
---
The owner of a garage adjacent to a fatal fire in Hastings heard children screaming before a loud explosion.
David Jones Motors owner David Jones said he was working on a car within three metres of the fence between his business and the site where the blaze occurred.
At about 2.50pm, he heard children screaming seconds before a loud explosion and smoke started billowing from a large shed next door.
One of his employees, who is also a volunteer firefighter, went around the back of his bossiness to the entrance of the site to try to help and Jones used the garage's two hoses to douse some of the flames over the fence.
"He tried to get into the building but the smoke was so thick."
Three people who were undergoing road works on Heretaunga St also rushed to the scene to help.
Within five minutes, emergency services had arrived and carried out one of the children, he said.
Jones and his employees had some smoke inhalation but there was no damage to the building and the 37-year-old business was back in operation today.
Stortford Auto Sales owner David Vesty said the commercial address where the blaze started had been for sale for quite some time and was probably full of rubbish.
"They should demolish it now."
An employee of a nearby business, who did not want to be named, said he also heard screaming and smoke pouring out of the building.
The people who ran in to help the children from a road work company were "fantastic and so brave", he said.
The employee ran back to his shop to get a ladder to help as there was a child stuck behind a grate but by the time he returned the helpers managed to get inside the building.
"They tore the grate off, they were so quick."
The building where the fire started was vacant but was frequently used by lots of people including children and adults, he said.
"All sorts of people have been going in there."
A neighbour who has lived across the road from the address for 15 years said the fire started in an old shed which probably had oil in it because a power equipment company used to be located there.
The building was owned by Outdoor Power and was listed for sale by Colliers International.
Outdoor Power owner Trevor Manuel refused to comment following advice from his insurance company.
Anyone who saw any unusual activity near the property on Heretaunga St West was urged to called Hastings Police on 06 873 0500 or Crimestoppers anonymously on 0800 555 111.