Gang member jailed for Mongrel Mob funeral ambush
Section

Publish Date

Saturday, 23 June 2018, 4:37p.m.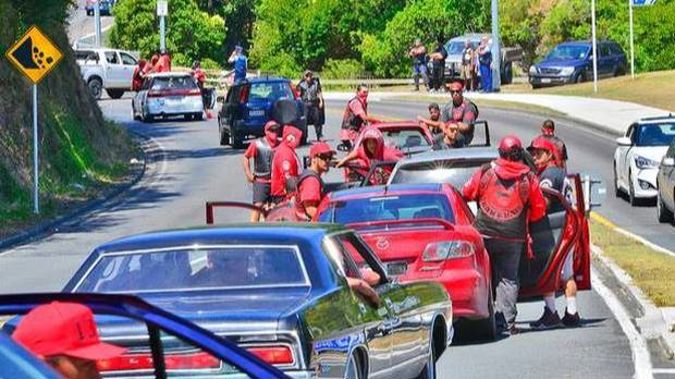 A Black Power gang member has been jailed for his role in a roadside ambush of a Mongrel Mob tangi procession.
Gunshots, violence and brawls erupted during Mongrel Mob member Tahu Kingi's funeral procession from Kawerau to Whakatane on January 13 last year.
That Friday morning, members of the Kawerau Mongrel Mob gang were in Whakatane to pick up the senior figure's body after he died of a heart attack.
Word soon spread to the Black Power that their arch enemies were in town and they went and confronted them.
Both gangs began to provoke and antagonise each other before police intervened and endeavoured to broker a truce between senior gang members.
A large number of Black Power gang members then met to discuss their response to the Mob's tangi.
It was agreed that there would be a show of force along the route taken by the tangi procession.
At around 11.30am, 30 to 40 Black Power gang members congregated at a Whakatane bridge in a show of strength.
Some three hours later, another 20-odd gangsters travelled to a service lane in another part of Whakatane.
With them, was Tuterangi Moeke, a 22-year-old patched member of the Black Power gang and member of the Outback Blacks sub-chapter based in the Eastern Bay of Plenty.
Later, he'd say he thought he was "going for a fight" to "support his bros".
Armed with rocks and bottles, Moeke and his mates hid in the bushes waiting to ambush the tangi procession as it passed by.
When the procession arrived, the Black Power broke from cover and began pelting the leading Mongrel Mob vehicles.
One Mongrel Mob member retaliated by firing a series of shotgun blasts at Black Power members, sending them running for cover.
Another car tried running over fleeing rivals.
Moeke was arrested and pleaded guilty to one charge of rioting. He was not linked to other violent outbursts in other parts of Whakatane later in the day.
At the High Court in Tauranga last week, Justice Edwin Wylie jailed Moeke for 15 months with post-release conditions that he undergo psychological treatment along with drug and alcohol counselling.
A pre-sentence report noted that while Moeke was glad no-one on either side was seriously hurt, he would likely make the same decision again.
Justice Wylie told Moeke: "You acknowledged that you feel responsibility to the gang, but that nobody forces you to do what you do not want to do. You did suggest that you might be interested in relocating away from Whakatane, not to sever ties with the gang, but rather in an attempt to stand on your own."