Battle against Nelson fire shifts underground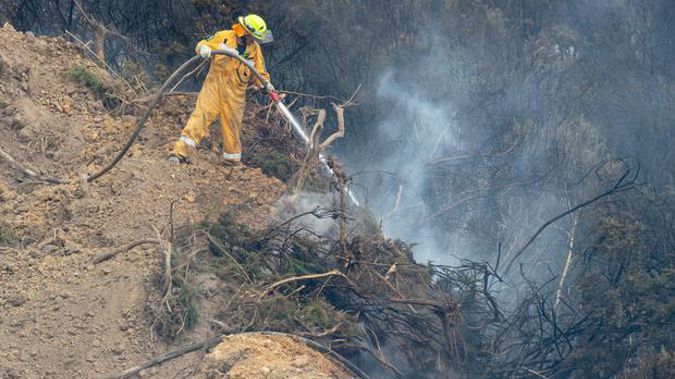 Battle against Nelson fire shifts underground
A firefighter battling the Tasman blaze was hospitalised with dehydration but is out of danger, authorities said today.
Jim Frater, Civil Defence controller, gave the latest update this afternoon on the fire and said that Pigeon Valley residents were allowed to visit their homes for two hours.
Frater said about 500 people remain evacuated.
The ban of farm machinery use continues, he said, and it was "sobering" that only one spark lit the fires.
Trevor Mitchell, fire controller for Fire and Emegency, said it's been another good day but the fire remains uncontained.
Conditions remain that sparks will easily ignited, he said.
The weather was going to get progressively warmer before a southerly at the end of the week.
Tasman acting area commander Zane Hooper said there will continue to be an increased police presence.
The Wakefield police station will be staffed 24 hours until February 15 before it will return to normal hours.
Red Cross and police will be visiting all Wakefield properties tonight to provide reassureance.
Tasman mayor Richard Kempthorne said he was sure Wakefield residents would be delighted to be home.
But they'll still be feeling stressed, he said.
"So look after each other," Kempthorne said.
"I believe I represent everybody that's been evacuated in thanking those helping. It's been a mammoth effort," he said.
The update comes as the fight against the unprecedented Tasman bush fires has moved underground, with the squadron of helicopters' aerial attack scaled back, leaving firefighters on the frontline, possibly for months.
Fire bosses say around 85 firefighters made good progress against the 2000–hectare fire, as the massive fire-fighting operation entered its seventh day.
Last night, four drones hovered over the fire, about 30km south of Nelson, with infra-red technology detecting "quite a lot" of hot spots.
Firefighters are using hand tools, shovels, and hoses, along with bulldozers and excavators to tackle the fire, which is burning deep under the dry ground.
Once the hot spots have been churned up, the fire crews are dousing the area with water – and going back hours later to check it's extinguished.
The process will take weeks, if not months, Trevor Mitchell, Fire and Emergency New Zealand fire controller said today.
He accepted it's going to be a "long haul" for his people and the local communities.
The forecast today is for changeable winds blowing from several directions but Mitchell said it looks like "another good day on the hill for our folk".
There are around 190-200 firefighters on the ground, Mitchell said, now working to four-day rotations.
Fire and Emergency New Zealand was lucky to have around 12,000 volunteers across the country, he said, with everyone stepping up and wanting to help.
Civil Defence controller Jim Frater said getting Wakefield residents home last night had gone well.
But he stressed it was a conditional return and reminded people to stay ready to leave if fire conditions change.
"No way are we out of danger just yet," he said.
Today authorities are looking to see if there can be a "conditional return" for residents of the valley areas.
They are currently only able to get in for short-term access for a few hours a day.
The decision will be made later today.
There are also ongoing discussions ongoing to see whether the formal Civil Defence state of emergency should be continued.
There are now 600 people involved in fighting the blaze and managing the response.
The fire threat could last for "weeks if not months", Frater said.
"Just because you can't see it doesn't mean it's not real."