Autistic boy with assistance dog turned away from McDonald's
Author

Publish Date

Wed, 28 Nov 2018, 11:04AM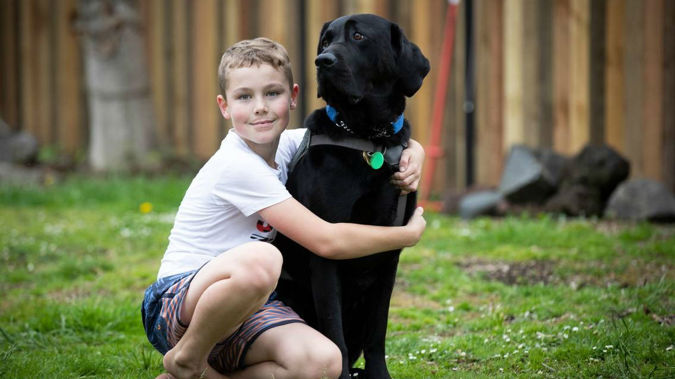 Autistic boy with assistance dog turned away from McDonald's
Author

Publish Date

Wed, 28 Nov 2018, 11:04AM
The father of a 9-year-old boy with autism was shocked when a McDonald's staff member refused to serve his family, who were accompanied by their much-relied on assistance dog, because "pets" were banned in the restaurant.
Shane Wheeler stopped at McDonald's in Bombay on Sunday afternoon to buy his son and 7-year-old daughter dinner before dropping them off to their mum's house in Kaiaua.
His 9-year-old son Noah who has autism was holding the lead of his black labrador, Nitro, who was wearing a grey vest with the words "assistance dog" on it.
The family was standing at a self-serving kiosk placing their order when a staff member approached them and said they could not bring pets into the restaurant.
Wheeler pointed to Nitro's vest and explained he was an assistance dog and an important tool to keep his son calm.
But the worker just reiterated to him that pets were not allowed and they had to leave.
"It went back and forward for a couple of minutes and I was just so embarrassed and angry about the whole thing that I just had to get out before I yelled at the guy.
"This guy was adamant that Nitro was a pet and not an assistance dog."
McDonald's has apologised, saying the franchisee would be reminding staff of its policy to serve people with registered assistance dogs.
Noah Wheeler and his support dog, Nitro, were kicked out of McDonald's at Bombay. Photo / Dean Purcell
Wheeler said due to Noah's autism he had a highly restrictive diet and still wanted his chicken nuggets so he bundled the children back into the car and drove to the next McDonald's in Mercer where he went through the drive-through to order their food.
"I just went through the drive through there. I wasn't brave enough to go inside, not after all that.
"I didn't want to go to the next one, but my autistic son wanted chicken nuggets and I had to get over my ego and hurt feelings and do what he needs and makes him okay."
Wheeler said he was speaking out about the incident because he wanted companies to train their staff to be more aware about abilities and the role of assistance dogs.
Nitro had been with Noah for three years and while they often got asked about him when they were out in public, it was accepted once Wheeler explained his important role in keeping his son safe and calm.
This was the first time they had ever been asked to leave.
Wheeler said due to Noah's love of chicken nuggets and chips there was no way his son would let him boycott McDonald's, but he would be avoiding the Bombay restaurant in the future.
McDonald's spokesman Simon Kenny apologised for the oversight and said the company's policy was to serve customers with registered assistance dogs.
"It appears there has been an oversight by a staff member in this case and we apologise for the incident.
"On receiving the complaint the franchisee investigated with restaurant staff and will be following up with the customer. It's the first complaint of this nature he has received and he will be reminding all staff of our policy."
Autism New Zealand chief executive Dane Dougan said more and more organisations were adapting to cater to the needs of the autism community, but instances such as what happened to the Wheelers still happened.
"At the end of the day it's not a great situation for the family to be in and for us it's all about training and understanding.
"We know that the whole world can't move and change for everything we need, but just having an understand of an awareness of autism makes a big difference to the community. And in this situation you would have hoped or thought that explaining why would have made a significance difference and they would have been allowed in."
Altogether Autism national manager Catherine Trezona said more education was needed around the importance of assistance dogs for people who had autism.
She said people needed to be aware that assistance dogs were performing serious functions and were not pets.
"If someone says their dog is an assistance dog then that should be a ticket to be allowed to go places pets can't go."
She said the situation was probably quite challenging because part of the landscape for people with autism was that they often had restrictive diets and liked to stick to schedules and congratulated Wheeler for coming up with a solution to get his son chicken nuggets.
"It can be really hard to get to a Maccas if you are on the spectrum. There can be a lot of planning that needs to go into that so it's not overwhelming. So it's no small thing to be turned away from a restaurant."