Auckland Zoo's giraffe Zuri hits the road for Wellington
Author

Section

Publish Date

Monday, 30 May 2016, 11:04AM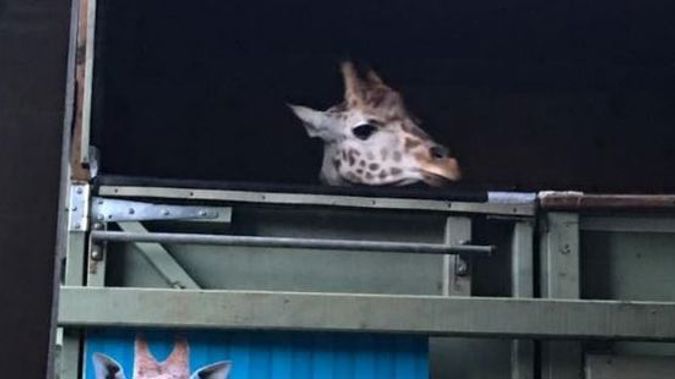 UPDATED 4.19PM After a rainy delay, Zuri the giraffe has driven out the gates of Auckland Zoo to begin her 12 hour journey south, to her new home in Wellington.
LISTEN: Simon Eyre of Wellington Zoo talks to Tim Fookes
She was loaded onto a crate and lifted by crane from her enclosure, onto a truck, and was then lifted from that truck, to another truck for her trip south.
Zuri's truck is part of a convoy and will be making a few stops at some lucky North Island towns along the way.
She's got her favourite zookeepers with her and a lunchbox of fresh fruit and pallets.
Zuri will spend the night on her truck, before hopping off at Wellington Zoo tomorrow.
Zuri the one year old giraffe is on her road trip down country. She's got a convoy of treats behind her @NewstalkZB pic.twitter.com/QdqRdce5Un

— Gia Garrick (@giaisonline) May 29, 2016
Auckland Zoo's Karen Simpson is in charge of the transfer, and said they've been training her to get on the crate, and used to it, for a while now.
"She looked pretty settled when she left here, and she's been quite settles this morning right throughout the whole process."
Nat Sullivan, team leader of Pridelands at Auckland Zoo, is in a vehicle following Zuri.
She told Kerre McIvor and Mark Dye they have just left Hamilton ... with many people stopping to take in the sight.
"A lot of people both in cars and on the footpath who can't quite believe what they're seeing. We're bringing a lot of smiles to people."
The team stopped at the Bombays and offered Zuri some food - but for now she's not that interested in eating.
When the team stopped at Taupo, Zuri was found sititing down in her crate.
Just made a quick stop next to Lake Taupo and Zuri's sitting down in her crate. #giraffeonthemove pic.twitter.com/7Pfd1Hb9Fd

— Auckland Zoo (@aucklandzoo) May 30, 2016
People who've spotted travelling one-year-old Zuri are posting on social media, and the Zoo's encouraging them to do so.
Wellington Zoo's even come up with a hash tag - #giraffeonthemove.
You can follow the journey on both Zoos' Twitter and Facebook pages.