Auckland faces coldest day in three years as temperatures plunge
Author

Section

Publish Date

Wednesday, 27 June 2018, 12:38PM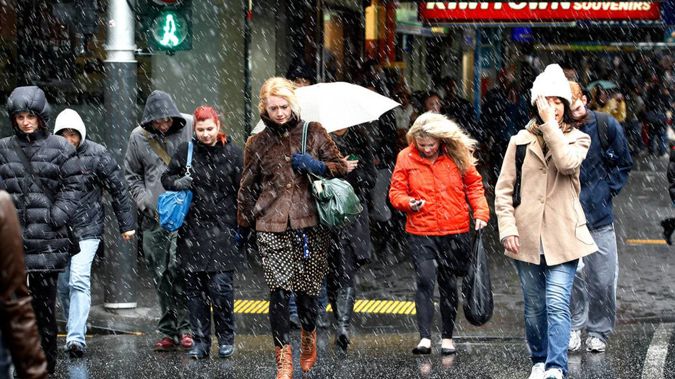 It's the question on every New Zealander's lips today.
How did Aucklanders survive a chill that saw temperatures in the country's biggest city dip to 0C this morning?
The temperature in New Zealand's biggest city hit a three-year low early Wednesday, the coldest morning in 1,081 days, or since July 2015, according to NIWA.
With a minimum temperature of +0.2ºC in #Auckland (Mangere) this Wednesday the 27th of June, it is the coldest morning in 1,081 days, or since July 2015 ⛄

It, however, is not a record or near-record. pic.twitter.com/lESS03H9a3

— NIWA Weather (@NiwaWeather) June 26, 2018
It's enough to launch a thousand social media hash tags, with #prayforus being the one touted most loudly around NZME HQ's newsroom.
Yes, yes, Nelson was -6C this morning, Dunedin -5C and Upper Hutt -3C. You have our sympathy.
But surely the real story is that Aucklanders are expecting a minimum of 0C? Hey, that's literally freezing!
Remember, you read it here first: stock up this arvo on everything you need to make soy flat lattes and smashed avos 'n' toast, because it'll be chilly in Auckland.
But just in case you think this is extreme, perhaps we should spare a thought for those who did endure New Zealand's coldest days on record.
Since records began, the cold tap has often been turned on in Aotearoa, bringing not just a bit of a chill, but hostile weather.
Here, we take a look at some of the most extreme weather to hit the country.
The mercury dipped to -4.5ºC in Stratford (#Taranaki) on Wednesday morning -- the 2nd coldest June temp on record 🗻

Elsewhere:

Mt Ruapehu (Chateau): -4.6ºC
Hamilton: -2.7ºC
Rotorua: -1.4ºC
Taupo: -0.6ºC pic.twitter.com/3guQ3PyIz1

— NIWA Weather (@NiwaWeather) June 26, 2018
Coldest temperature on record: -25.6C - Ranfurly, Otago, July 17, 1903
Robert Rutherford curls a stone during the annual DB curling tournament at Naesby, near Ranfurly in Central Otago, July 13. Photo / Mark Mitchell.
The coldest temperature ever registered in New Zealand was just 60km away from where the second coldest day was recorded. On July 17, 1903, Ranfurly in Otago dropped to -25.6C. "Beef and mutton are frozen, and can only be cut with a saw or chopper, a knife being of no use," one newspaper reported.
The Tuapeka Times of July 18, 1903, reported: "It is some years now since frost of equal severity to the present has been experienced in the district."
Climate scientist Georgina Griffiths says it is not surprising the record is from central Otago, as it is the only region with a continental climate of very hot summers and extremely cold winters.
Second coldest temperate on record: -21.6C - Ophir, Central Otago, 1995
The second coldest temperature on record was -21.6C, recorded at Ophir, Central Otago, in 1995. Residents remember livestock freezing to the ground and having to prise frozen hens from their perches.
"We would have to cart buckets of water to the toilet to be able to flush because all the pipes were frozen," recalls Ophir local Jack Allen.
Third coldest temperature: -21C - Omarama, June 24, 2015
South Canterbury and Otago endured New Zealand's coldest day in 20 years on June 24, 2015. Niwa's climate summary for June recorded the lowest temperature at Tara Hills, near Omarama in the Mackenzie Country.
This temperature is one of the lowest recorded in New Zealand.
Hoar Frost in Omarama, June 24, 2015. Photo / Stephen King /Twitter
Fourth coldest temperature: -19.8C - Pukaki Aerodrome, near Mt Cook, June 23, 2015.
It was a bone-chilling couple of days when Pukaki nearly matched Omarama's -21C just the day before. Local Kirsty Williamson at the time said: "It was really hard to keep the water running in the house. Power's been a big issue."
Fifth coldest temperature: -19.7C - Ophir, Central Otago, 1943
Most rainfall in 12 hours:
566mm at Prices Flat, Hokitika, May 11, 1978
Least rainfall in a year: 212mm Alexandra, 1964
Deadliest storm: 54 fatalities, Cyclone Giselle in 1968 (most on the Wahine ferry)
Deadliest tornado: Three fatalities, Hamilton, 1948
Strongest wind: 275km/h, Cook Strait, Cyclone Giselle, 1968
Biggest snowstorm: July 24, 1939. Six metres of snow in Gore and Balclutha. Snow in Northland and Auckland