Auckland church slams Trump with billboard
Author

Publish Date

Wed, 9 Mar 2016, 11:13AM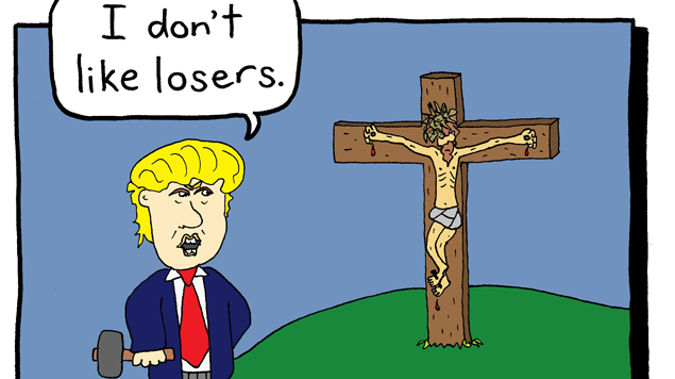 Auckland church slams Trump with billboard
Author

Publish Date

Wed, 9 Mar 2016, 11:13AM
An Auckland Church is using Donald Trump to make a statement on its Easter billboard.
Saint Luke's church in Remuera has erected its billboard with a cartoon of Trump declaring Jesus Christ as a loser.
Minister Glynn Cardy said it's representative of money, power and greed over the humble and broke, yet morally sound, Jesus Christ.
"He's very war-orientated kind of I'm right, you're wrong, I'm the winner, you're the loser and I'll do whatever I want".
Mr Cardy said the real estate tycoon's attitude to people who disagree with him is to blow them up and the values of Jesus Christ are very different to that.
He added Trump's comments toward Muslims, Mexicans, women and other minority groups are offensive to Christianity and the church hopes America sees him for what he is.
Meanwhile internationally Trump is being likened to Hitler after he quoted Mussolini and was slow to distance himself from the KKK.
Republicans vote in four state primaries today, Democrats in two.
US correspondent Richard Arnold said Trump is now encouraging supporters at rallies to raise their hands in what some say is a Hitler style salute.
But he said Trump is brushing it off saying it's all just a bit of fun led by his followers - the 'largest crowds' in any candidates' campaign.
The primaries and caucuses run through until mid-June before the final election day on November 8.