Auckland Airport delays, over 1000 passengers affected
Author

Section

Publish Date

Wednesday, 11 October 2017, 10:14PM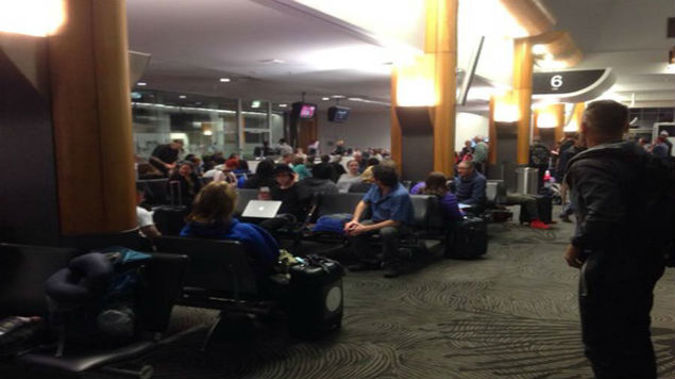 All international flights are being held at Auckland Airport until passengers have been re-screened at security due to a power outage affecting a metal detector.
It is thought 53 passengers were affected, however as a precaution all passengers, some 1000 people, were being rescreened, an airport spokeswoman said.
She confirmed a "power incident" had compromised the security procedure earlier this evening, about 8pm.
A reader contacted the Herald to say the queues at the airport were huge.
"Everyone being very patient but some information would be useful," they said.
Tony Potter and his wife were supposed to leave for Los Angeles at 7.30pm tonight, but the latest they've heard from Air New Zealand is that their flight is now delayed until at least 10pm.
"They're not telling us anything and people were quite accepting of it to start with, but now they are increasingly getting rather antsy," he told the Herald.
"It's one hell of a mess here. The place is pretty chokka."
He said gate six, where he was waiting, was full of people and several crying children.
Potter said he expected to be waiting even longer than 10pm to take off due to the amount of people needing to be re-screened.
All exits have been blocked so people cannot leave the gate area, Potter said.
The food court had been evacuated and people had been told they weren't allowed to go back and get something to eat.
"People are getting quite antsy."
Aviation Security spokesman Mike Richards said 53 passengers had passed through security before it was discovered one metal detector wasn't working.
It wasn't clear exactly what had happened but was possible a cord had been disconnected, he said.
Security officers at the gate had found it curious that no triggers were being detected as people passed through and double checked the machine, which showed it had no power.
"Anybody that had been through has been rescreened. It's quite a big job," Richards said.
Aviation Security would be checking CCTV footage to try and figure out what had caused the problem.
"Our focus is always on safety and security and we couldn't allow anyone to go through who hadn't had that safety check."
The machine was now working again.
Auckland Airport's spokeswoman said all international flights would be held but could not say how many had been due to depart.
There would be flight delays but at this point it was unclear how long they would be, she said.
"There will be some delays which we do apologise for."