21 houses to be evacuated in Tauranga subdivision
Author

Publish Date

Fri, 9 Mar 2018, 4:38PM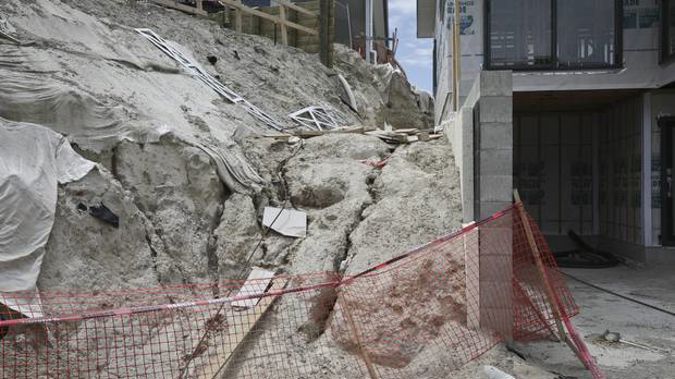 21 houses to be evacuated in Tauranga subdivision
Author

Publish Date

Fri, 9 Mar 2018, 4:38PM
21 properties in the Tauranga residential subdivision of The Lakes are to be evacuated today.
In a statement, Tauranga City Council said its chief executive Garry Poole has today issued a warrant to evacuate the properties at The Lakes partially built by the liquidated developer, Bella Vista Homes, to avoid immediate danger.
The Lakes residents Jenny and Damian Coffey told the Bay of Plenty Times they have only just found out this afternoon that they have to get out of their house. They have four dogs.
The couple live at 311 Lakes Boulevard. They moved into their Bella Vista-built house in December 2016 with a full code of compliance.
Jenny got a call about 2.50pm this afternoon from a neighbour saying she better get home, and asked whether she had heard about what was happening.
She rushed home and found a note on the door. She couldn't get hold of her husband so went to his work.
"We're really worried about what this actually means for us. We've been told that we have to take all of our stuff for a week and what does that actually mean?"
A December photograph of mess left at a Bella Vista development after their liquidation. Photo/file
This morning the council said it received advice from a geotechnical specialist that the properties need to be vacated from today.
The council understands that up to 13 of those properties are occupied.
Part of the reason for this urgency is the potential weather event forecast to hit next week.
However, there is also a specific slope that is not retained, and that is a risk of failing. For this reason, the council has had to act urgently.
The council has attempted to contact all owners of these properties and is organising temporary accommodation for them.
The warrant to evacuate has been issued under section 129 of the Building Act, and gives the council the ability to carry out works on the properties.
Following the liquidation of that company on November 30, the council launched a comprehensive assessment of all the homes, which has included inspections by building and engineering specialists, the statement read.
The homes are in varying stages of completion, and the assessment was to establish what needs to be done to ensure all of the homes in the subdivision are compliant with the building code.
"This is a unique situation due to the insolvency and liquidation of Bella Vista Homes prior to the completion of the development and the decision by some homeowners to occupy their homes," the statement read.
"Council acknowledges that homeowners have faced an upsetting and challenging time and is committed to supporting owners at this time.
"The expert assessments on the properties are expected to be completed over the coming weeks."
The council said as its assessment of the properties is ongoing it could not go into further details, but there are some issues they are looking at.
A notice on the door of one of the properties. (Photo / Supplied)