Investigation begins into Tauranga oil spill
Author

Publish Date

Mon, 11 Jun 2018, 12:41PM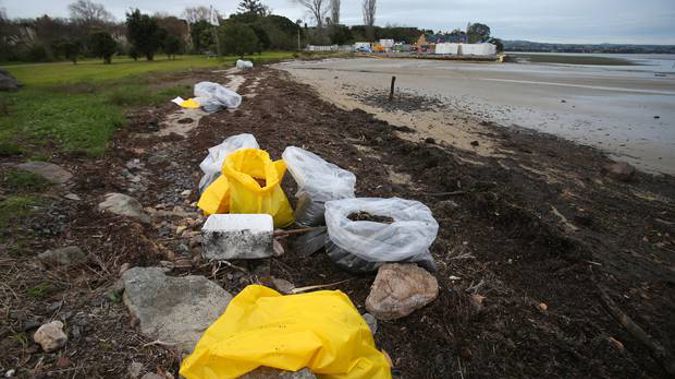 Investigation begins into Tauranga oil spill
Author

Publish Date

Mon, 11 Jun 2018, 12:41PM
Twenty-five bags of oily organic debris have been collected by council staff following an oil spill in Tauranga Harbour.
Bay of Plenty Regional Council has this morning completed its clean-up of the shoreline at Matapihi and will now begin to investigate the source of yesterday's spill.
Stephen Mellor, the regional council's regulatory compliance manager, said staff worked quickly last night with the hour and a half of light they had.
They picked up or moved as much of the oily debris on the shoreline as they could and were out again this morning to complete the job.
"In all, we've collected 25 bags of oily organic debris which we'll dispose of appropriately. The team were also out on the water at first light and found no further spread overnight."
The oil spill was reported to the council's pollution prevention hotline around 4pm on Sunday.
Workers clean up spilled oil at Tauranga Harbour on Sunday night. Photo / George Novak
The spill, which appeared to be black oil, was on the shoreline at Matapihi, south of the rail bridge, and covered an area of shoreline of less than 50m in length.
A slight sheen was also visible on the water.
"Our focus now shifts to an investigation phase and we are looking at where the oil may have come from," Mellor said on Monday morning.
"The most important thing for us at this stage though is if anyone notices any oil at any other place in the harbour, to let us know as soon as possible by ringing the pollution hotline on 0800 884 883 so we can get staff out to the site."
On Sunday evening Mellor said staff were manually picking up as much of the oil as they could and getting it into bags, to stop the oil going back into the harbour.
Mellor also said on Sunday that it was too early to tell what caused the spill or where the oil came from.
"We're taking notes, taking photographs, and cleaning up the oil," he said.