'Only one choice': Unfunded drug saves man from cancer death sentence
Author

Publish Date

Mon, 11 Sep 2023, 10:56AM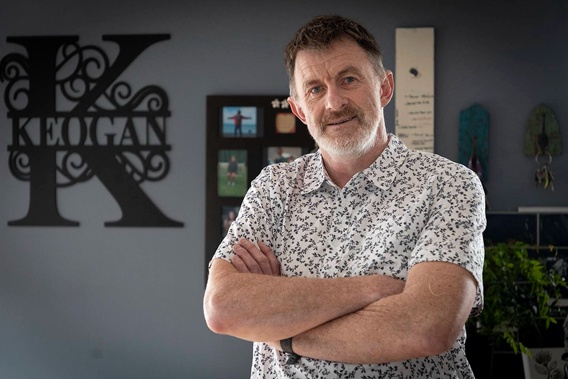 'Only one choice': Unfunded drug saves man from cancer death sentence
Author

Publish Date

Mon, 11 Sep 2023, 10:56AM
Doctors told Rotorua man Matthew Keogan to "let nature take its course" and then say goodbye to his family. 
Two days later on November 1, 2021, he was writing his will at his hospital bedside with lawyers. 
He had been given three to six months to live. 
"You sort of think of cancer as a death sentence. Once you've got cancer you're gone," Keogan said. 
But his oncologist suggested he try Pembrolizumab, known by the brand name Keytruda, a non-funded cancer immunotherapy medicine. 
The result has been miraculous. 
With the help of his medical insurance, Keogan, 51, has had 24 Keytruda infusions over the past two years costing more than $113,000. Each early round of Keytruda costs $9745.10. From the 10th round, each infusion cost $1700. 
Keogan's most recent infusion was last week and on Tuesday doctors said his scans were mostly clear of cancer cells. 
He remains in remission and hopes his oncologist will today tell him that 2024 will be a treatment-free year. 
One year and 10 months later, Keogan feels he has "beaten the odds" with cancer. 
Bowel cancer had taught him "not to be complacent in life or with your health. Don't take life for granted. 
"Since then, I just take each day as a good day." 
Keogan said he was "lucky" he had medical insurance cover most of the Keytruda cost. Just months before his first diagnosis, he had considered cancelling his medical insurance due to rising inflation costs. 
Bowel cancer remains New Zealand's second-biggest cancer death and Pharmac has funded no new bowel cancer drugs in more than 20 years. 
Bowel Cancer New Zealand said current figures suggest about 3400 people are diagnosed each year and about 1300 people die from the cancer each year. It said this was about the equivalent of breast and prostate deaths combined. 
Keogan said he felt something was "not right" in 2020 and by June 2021 he went to his doctor for a check-up. 
Blood tests showed he was low on B12 and Keogan received a round of B12 injections. 
But by October 15, 2021, he was still not feeling right. 
"I just knew. I was fatigued, I couldn't get out of bed some mornings, [had] brain fog, I'd forget things, I was just really lethargic and not right." 
He visited a second doctor for another opinion who referred him for an endoscopy and a colonoscopy the same day. A small tumour at the end of Keogan's bowel and a spot on his liver were found. 
Keogan was diagnosed with stage four bowel cancer and given 18 months to live. 
He said the diagnosis left him in utter disbelief. 
"I read it on the bit of paper and was thinking am I really reading what I'm reading? It brings you back down to reality." 
Keogan has four children aged from 13 to 25. His wife and he sat down to tell them the news. 
"We had to be honest. We couldn't beat around the bush with them. They were upset but they dealt with it." 
He was booked in for surgery to remove the tumour and prepared to undergo two rounds of chemotherapy later that year. 
Two weeks later on October 30, Keogan said he was feeling "crook" and could not eat or use the toilet. He also recalled having "really bad abdominal pains". 
An emergency ultrasound at Rotorua Hospital showed he had a blocked bowel. 
"This thing had just grown so fast," Keogan said. 
"They admitted me to hospital and two days later I was in surgery." 
On November 1, surgeons removed part of his bowel, but the cancer had already grown outside of his bowel wall and was "entangled around blood vessels", said Keogan. 
To remove the tumour would have killed him. Doctors did not give Keogan long to live. "They couldn't give me a figure but they said it was pretty much a bad terminal diagnosis." 
He recalls their predictions may have been that he had about three months to live. 
Keogan was told to "let nature take its course", say goodbye to family and get his affairs in order. 
"Two days later I was doing my will at my bedside in hospital. I had the lawyers come in to do my will." 
He said the worst part was knowing there were other options available besides chemotherapy but they were non-funded. Keytruda is currently funded by Pharmac for certain patients with melanoma and non-small cell lung cancer. 
"When you are diagnosed with cancer it's a really stressful time. Knowing if you can't afford [Keytruda], you've only got one choice." 
He said if Keytruda or other treatments were funded it would "save a lot of stress on families, especially lower-socioeconmic families". 
"You know, people have to sell their houses (to buy it). People have to sell their assets ... just to get onto this treatment." 
Keogan has had 24 Keytruda infusions with 20 infusions every three weeks and four infusions every six weeks. 
A new campaign #mylifematters launched last week by 21 health foundations and charities, including Bowel Cancer New Zealand, calling on Pharmac for urgent investment. 
Keogan said there needed to be a "big discussion" on cancer treatments beyond mainstream-funded chemotherapy. 
"People need more options. They need more choices about the cancer treatments that actually do work. 
"When you are diagnosed with cancer it's a really, really stressful time and knowing there are other treatments out there that are non-funded and knowing if you can't afford it you've only got one choice." 
Keogan said increasing Pharmac's budget to fund the new treatments would "go a long way to saving a lot more lives" and add to people's and families' quality of life. 
"It just really frustrated me and being in the system with cancer, you become a lot more aware of the stresses and pressures it puts on you. There needs to be another conversation about cancer drugs being funded." 
Matthew Keogan believes there needs to be a "big discussion" on cancer treatments beyond mainstream-funded chemotherapy. Photo / Andrew Warner
Bowel Cancer New Zealand support nurse coordinator Victoria Thompson said if caught in the early stages before the cancer had broken through the bowel wall, bowel cancer was more than 90 per cent treatable. 
Thompson said immune and targeted therapies such as Keytruda, funded in similar OCED countries, had been shown to "prolong the lives of those with late-stage bowel cancer" and in some cases such as Keogan's could result in remission of the disease. 
She said New Zealand was "falling way behind in its ability to offer patients up-to-date and well-researched drugs". 
Thompson added there was "inequity" among who can receive the "life-extending drugs" due to funding. 
In her view: "Pharmac seem to be guided by price rather than people. Bowel cancer needs to be given medications which can help our patients to live their lives [and] watch their children grow up." 
Patient Voice Aotearoa Malcolm Mulholland said the #mylifematters campaign was about bringing the "medical crisis" to the forefront during election year. 
"The Government needs to fund Pharmac much better, otherwise patients will either have to relocate to another country or die. It is deplorable that there have not been any new bowel cancer drugs funded by Pharmac in over 20 years," said Mulholland. 
Pharmac Chief Medical Officer Dr David Hughes said: "We appreciate that people have high expectations about having timely access to medicines for cancer and that not having access to a funded treatment that you want is challenging. We are working hard to make more cancer treatment options available." 
Hughes said Pharmac was currently assessing funding proposals for pembrolizumab (Keytruda), for a specific type of colorectal cancer. 
A Te Whatu Ora National Bowel Cancer Screening Programme spokesperson said bowel cancer screening every two years can "help save lives" by detecting it at an early stage. The programme is free for people aged 60 to 74. 
Bowel cancer symptoms: 
A change in bowel habits over a period of time without returning to normal, ie. more or less frequent, incomplete emptying, texture changes.

 

Unexplained pain in the abdomen - this may be intermittent and severe.

 

Lumps in the abdomen

 

Bleeding of any kind from the bottom or noticed when wiping.

 
Source: Bowel Cancer New Zealand 
Michaela Pointon is an NZME reporter based in the Bay of Plenty and was formerly a feature writer. 
Take your Radio, Podcasts and Music with you