Most NZers walk less than 100 metres a day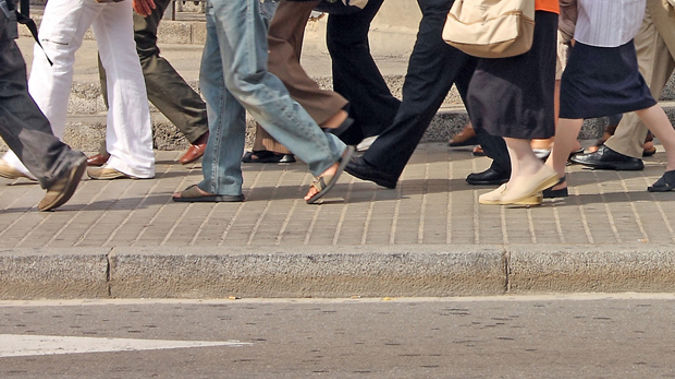 Most NZers walk less than 100 metres a day
Walking - it is one of the first big life skills we learn as children.
But most Kiwi adults do not walk even 100m on an average day, according to a new Ministry of Transport survey.
Up to 81 per cent of people said they did not walk on any given day. Walking on private property, tramping or walking trips of less than 100m where a person did not cross the road were not included in the statistics.
On average, Kiwis spend nearly 1.5 million hours travelling - whether it be on foot, by road or by air.
More than half of that household travel time is spent driving: up to 82 per cent of travel time is assigned to driver and passenger travel.
The results come from the ministry's New Zealand Household Travel Survey 2015-2017.
Just over 5700 people from 2886 households around the country were interviewed between October 2015 and August last year.
Everyone in a participating household recorded how, when and why they travelled over a week.
Domestic flights and ferry trips were included but hiking and mountain-biking were not.
"We spend the greatest proportion of our time travelling to go home (32 per cent),'' the survey said.
"Excluding travelling home, over 30 per cent of our time spent travelling is going shopping or for personal appointments/services. Nearly a quarter of our travel time (23 per cent) is spent on social visits/ entertainment.''
Other top reasons Kiwis travel was to accompany another person, dropping someone off or picking them up.
Nine per cent of the country's total travel time was for work and 6 per cent of people travelled to get exercise or for physical activity - such as driving to the local park to play sport.
A total of 40 per cent of people reported using some form of public transport in the past year.
Those most likely to catch the bus or train were in Wellington (including Kapiti), where 77 per cent of people aged 15 and over reported they had used public transport in the past year.
That figure was slightly less for those in Auckland (60 per cent) followed by 35 per cent in Christchurch, 28 per cent in other main urban areas or secondary urban areas.
In rural areas, 14 per cent of people reported using public transport in the past year.
Cycling proved to be most unpopular. Figures showing that on an average survey day, 98 per cent of people reported not spending any time cycling.
"Of those who cycled on weekdays, 56 per cent cycled for half an hour and nearly 1 in 5 (19 per cent) cycled over one hour that day.''
TRAVEL STATS:
1.5mhours is spent on travelling, on average, each year in New Zealand
Over half of all household travel time is spent on driving.
82 per cent of all time spent travelling is driver and passenger travel
81 per cent of people reported no walking on an average day and nearly half of those who did walk did so for a total of less than 20 minutes