'If we don't go ... Jaimee will die': Mum gives up home, job to take teen for surgery in Germany
Author

Publish Date

Sat, 17 Jun 2023, 9:07AM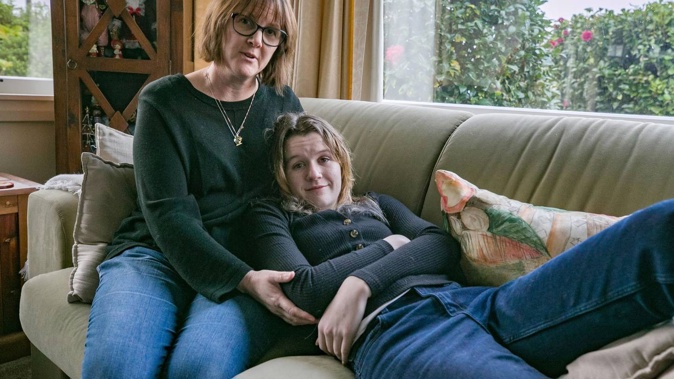 'If we don't go ... Jaimee will die': Mum gives up home, job to take teen for surgery in Germany
Author

Publish Date

Sat, 17 Jun 2023, 9:07AM
Jaimee Gregory and her family want nothing more than to live normal lives.
The Hastings girl grew up a star performer and athlete. She was a champion artistic roller-skater and her mother Jo Gregory said she longs for the day she can get back to doing what she loves.
But a debilitating disease is preventing Jaimee from being able to live her teenage years to the fullest.
Jamiee and Jo are now travelling to Germany to receive life-altering treatment not available in New Zealand.
"If we don't go, I 100 per cent believe Jaimee will die," Jo said.
Advocates have described Ehlers-Danlos Syndrome (EDS) as a misnomer within the New Zealand medical system, with claims of discrimination in treatment because of a lack of awareness and understanding of it among hospital-based medical professionals making headlines over the past five years.
The condition manifests as a series of rare connective tissue disorders that occur in roughly 1 in 5000 people.
It often comes with a range of co-morbidities and debilitating symptoms that make eating, drinking, walking and even staying awake a challenge.
Jo says since 2018 the Gregory family has been battling parts of the health system to get the right treatment for Jaimee's complex medical needs.
"Basically, we have been fighting the health system since day one," Jo said.
Jaimee's symptoms started as vomiting blood at age 12 and it has been a constant fight to help manage the range of issues associated with the disease.
"She was originally given the diagnosis of a pain syndrome, and we were told to basically forget about the blood."
Over the years, vomiting, tachycardic episodes and severe pain all became constant. Abdominal vascular compressions and Dieulafoy lesions were also eventually discovered.
While Jo said a local GP and Jaimee's specialist in Auckland had fought hard to help, some specialists in the Hawke's Bay health system caused more pain and angst for the family.
She said Jaimee was often written off as difficult or labelled with psychological and hypersensitivity issues.
"It's so just easy to put everything down to a psychological issue."
Through her own research and connections Jo recognised a lot of the symptoms that Jaimee had suffered linked closely to EDS.
After struggling to get the right testing through the hospital system, Jaimee was eventually diagnosed with the disease and was found to have the type that had positive genetics and an abnormal gene associated with small vessel bleeds.
"We thought once we finally had the diagnosis, she could finally get the help she needs. That wasn't the case at all," Jo Gregory said.
One hospital admission, when Jo says she had feeding tubes in but kept vomiting up her feed, pushed Jaimee to what her mother describes as a breaking point.
Social media support groups led Jo to get in contact with other EDS sufferers who were struggling with similar issues.
"I found out that there were more young women and teenagers across the country and that the same thing has been happening to them."
This led them to liaise with other families who had taken their children to get specialist help overseas.
The surgery, tests and treatment in Germany will look to help release the abdominal vascular compressions, which would hopefully allow Jaimee to regain the proper ability to eat and drink.
"We spoke to another mum whose child went over to Germany a year ago and her quality of life has improved 100 per cent."
Fellow Hawke's Bay EDS patient Aimee Dear (who the family keeps in contact with) is also in Germany receiving similar treatment and specialist advice.
Jo sent preliminary tests to Germany, where the specialists confirmed the family's concerns.
It costs around $180,000 for the trip, and Jo has sacrificed her job and home in an effort to make it work. She has also started a fundraiser to help ease the financial burden.
"There is a 10 per cent chance Jaimee could die from the surgery or from the complications afterwards, but in reality, if she stays here and receives no help she will die. I don't know how long she can continue.
"She basically now just lives to survive; she's just trying to survive."
Dr Mike Shepherd, interim lead hospital and specialist services, Te Toka Tumai Auckland. Photo / Michael Craig
After posing questions to Te Whatu Ora ‐ Te Matau a Māui Hawke's Bay, Hawke's Bay Today was referred to a statement from Dr Mike Shepherd, interim lead hospital and specialist services, Te Toka Tumai Auckland.
Shepherd said that while information on individual cases couldn't be disclosed due to privacy, they could speak overall about EDS in New Zealand.
"Ehlers-Danlos Syndrome is a rare condition with severity and complexity varying for each individual. Because not all Ehlers-Danlos Syndrome patients are the same, treatment options will differ for each individual.
"Ehlers-Danlos Syndrome generally requires a specialist diagnosis and then multi-disciplinary support in the community that will often involve pain management, physiotherapy and splinting.
"We recognise that sometimes accessing all the multidisciplinary components of care in our current health system can be a challenge for patients."
Shepherd said hospitals seek to deliver evidence-based assessment and treatment aligned with the best evidence available.
"We recognise people's rights to access alternative treatments. If patients are concerned about their access to care, we would encourage them to liaise with their primary care team or make further contact with the specialist team they have accessed previously."
Shepherd also acknowledged there are in some cases specific treatments for very rare conditions that require overseas treatment, and there was a high-cost treatment programme in place to manage this.
Kelly McQuinlan, chief visionary officer and president of Ehlers-Danlos Syndromes New Zealand, said the reason patients are often misdiagnosed or mistreated usually relates to a lack of knowledge and research into EDS here.
"We have a lot of similar issues to a range of other conditions, but usually EDS (and its associated conditions) can lump the issues we are having together into one diagnosis.
"Health professionals are quick to think it must be a common issue, because they don't understand how prevalent this condition potentially could be."
McQuinlan said many in the community are forced to seek second opinions or guidance internationally.
"Our public rheumatology departments do not have funding to deal with our condition and turn away patients in droves with little guidance on next steps forward."
For Jaimee, a chance to live is all she wants.
"Every story I've heard of with all the other people that have been [overseas for treatment], it has turned their life from just surviving to where they can actually have a semi-normal life."
* To donate go to https://givealittle.co.nz/cause/a-chance-to-live-is-all-jaimee-wants-please-help
Take your Radio, Podcasts and Music with you