'No hoarding of flu jabs' - why GPs are running out
Author

Publish Date

Tue, 7 Apr 2020, 12:56PM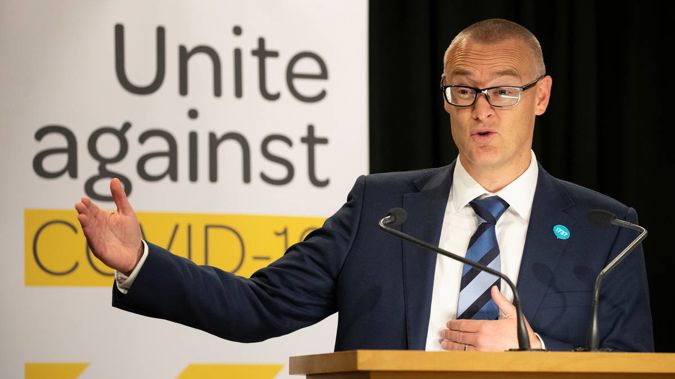 'No hoarding of flu jabs' - why GPs are running out
Author

Publish Date

Tue, 7 Apr 2020, 12:56PM
Authorities are working hard to get flu jabs out to GPs and Director General of Health Ashley Bloomfield says he doesn't think anyone is hoarding supplies.
Bloomfield, together with under pressure Health Minister David Clark, has appeared before the Epidemic Response Committee this morning.
Clark said there was no shortage of flu vaccines but there was a distribution challenge. The vaccination programme was brought forward and the Government put vulnerable and elderly people and health workers at the front of the queue.
National Party leader Simon Bridges said that "teething" distribution issues seemed to be the problem for testing kits, PPE and flu vaccines.
Bloomfield said waning immunity from the flu vaccine at the end of the flu season was considered but the "trade-off" was worth it to bring the vaccination programme forward.
He said each DHB was working hard to redistribute supplies within and across regions.
"I don't think there's hoarding going on," he added.
He said each DHB was working hard to redistribute supplies within and across regions.
Almost 1.8 million flu vaccines have been ordered for this year and almost 900,000 vaccines have already been distributed.
But many GPs quickly ran out and couldn't get any more.
Bloomfield said backorders were not cancelled but put on hold while more vaccines arrived, and there were 30 per cent more vaccines available than last year.
All overseas arrivals may be quarantined
Authorities are considering quarantining all overseas arrivals, Bloomfield has told the committee earlier today.
His comments followed Clark expressing his "clear regret" for seriously breaching the lockdown rules when appearing before the committee this morning.
"I not only have to follow the rules, but I have to set an example for all New Zealanders," Clark said.
He said his singular focus was on the fight against Covid-19.
Asked about the failure of police to check on overseas arrivals in self-isolation within three days, Bloomfield said he had believed those checks were being done when he spoke to the committee last Tuesday.
He said in alert level 4 as well as at other levels, it will be very important not to import Covid-19 from people coming over the border.
He said people with Covid-19 who flew into New Zealand and went to the supermarket should know that they should be self-isolating.
"There are really clear expectations ... there are requirements of them. What we have seen with people coming across the border ... the vast majority of people understand, accept and comply with those expectations."
Bridges said he had a number of emails from people flying into New Zealand who had not been contacted by authorities.
Bloomfield said there was broad agreement about the importance of border controls to "turn off the tap" to additional cases coming into the country.
Director-General of Health Ashley Bloomfield stressed the importance of border controls to 'turn off the tap' of Covid-19 cases. Photo / Getty
Clark said work was underway looking at "further options". Only 103 arrived on Sunday at airports from overseas, but he said this was "a vulnerable area" and the Government was working on it.
Not everyone at the border was being tested, but Clark said anyone with symptoms was being tested.
Clark said there were "some" reports of people not following the self-isolation rules. He was asked about travelers in self-isolation who reportedly left Novotel in Ellerslie but were allowed to go to the supermarket on the basis of health advice.
Bloomfield said said police were meant to enforce the rules on overseas arrivals in self-isolation at home, but Healthline also called to check in with them.
Clark said Ministers had sent a "very clear message" to police about the need to follow through on their duty to check up on those arrivals in self-isolation.
He added that more resources have been offered to police if needed.
What 'eliminating' coronavirus in NZ means
Bloomfield said the definition of "coronavirus elimination" was getting down to a small number of cases that can be stamped out with rapid identification, isolation and contact-tracing. He didn't give a specific number.
Clark said the number contacts needing to be followed up had dropped to about two to three people per case.
"That is an encouraging sign."
Bloomfield said that several flights had taken Kiwis flying into Auckland to their homes around the country "with a very real expectation" they would self-isolate, even from their household members.
Asked about labs rejecting tests because they didn't fit the testing criteria, Clark said "that was not my understanding".
Asked about reports that doctors were ordering 50 swabs but receiving only five, Clark said there were 100,000 swabs in the national reserve and it was a matter of getting them to where they were needed.
Asked if the testing data was good enough and whether it should be made public for epidemiologists to look at, Clark said "this is the direction of travel".
Asked about people being turned away from testing facilities, Bloomfield said the clinicians there were best placed to decide who to test.
It was hard for him to second-guess a clinician's judgment, he said, but he was happy to follow up individual cases.
Asked about lab technicians at the weekend rationing tests because they didn't have enough supplies to test all the swabs arriving at the lab, Clark said the number of complete test kits were continuing to grow.
Bloomfield said the lab in Dunedin were awaiting further supplies at the weekend, and staff there were prioritising tests most likely to be positive. The other tests were run after more supplies arrived.
He added that labs could refer tests to other labs.
National MP Michael Woodhouse spoke of a family living in a "very remote area" were told by a GP and Healthline to be tested because of their symptoms. They went through a 10-hour return journey to a testing station only to be told there were not enough supplies and they were still yet to be tested.
Bloomfield said he was happy to chase that case up.
Clark said testing should still increase and the number of new cases to continue to level off. It should also be known where the cases are and to have rapid contact-tracing.
Digital technology could help the manual contact tracing that was currently happening, he said, and the Health Ministry was looking at such solutions.
Bloomfield said testing and tracing would "remain fundamental" beyond the lockdown and throughout lower alert levels, and it needed to be spread throughout the country.
Clark said the surveillance work being designed would look at ethnic and socio-economic groups to overcome any equity gaps in the testing data.
Bloomfield said the lockdown had made close contact tracing easier, as each case was now effectively only in close contact with those they lived with.
Positive test rate down but more deaths 'expected'
Bloomfield said the testing rate had increased but the positivity rate had dropped, which was a sign that cases weren't going undetected.
He said the fatality rate was 0.1 per cent, and that was an encouraging sign that early testing was sufficient - even though more deaths could be expected.
The goal was to find as many close contacts as possible within a couple of days to prevent pre-symptomatic infections.
Bloomfield has asked Dr Ayesha Verrall, who has said 1000 contact traces a day would be ideal, to do an end-to-end audit of the testing and tracing process.
National MP Michael Woodhouse said the Health Ministry situation report from April 5 showed about 5000 successes out of 8000 attempts to find close contacts, and Bloomfield said that the roughly 60 per cent success rate should be closer to 80 per cent.
The success rate should have been going up because of the lockdown, Woodhouse said.
"It's more concerning in that regard."
He added there were 19 people in the report refusing to cooperate. Bloomfield said non-compliant people could be compelled into self-isolation under the powers of the Health Act.
Clark said the use of apps to contact trace was "promising" and models, including what was being used in Singapore, were actively being looked at. The private sector had also offered help.
Bloomfield said the app in Singapore would not be a replacement for contact tracing, but it would provide a broader picture of who a positive case may have been in close proximity to.
Asked about a letter signed by health workers in Auckland about access to PPE in hospitals, Bloomfield said those issues were being worked through.
Clark said that doctors saying they are being bullied into not wearing PPE should be aware about employment law around bullying and talk to their employers.
The Health Ministry had issued a directive to all DHBs to make PPE available to all frontline health workers, he said.
Clark said $50m to gone out to primary care and pharmacies to counter the loss of revenue for medical centres and GP practices, and more would likely follow.
Covid-19 clusters should be treated as community transmission - expert
Otago University professor and epidemiologist Sir David Skegg is advising the committee, as he did last week.
Skegg this morning told the committee there had been 500,000 more cases worldwide and 33,000 further deaths from Covid-19 in the last week.
He said in a pandemic of this kind, decisions had to be made quickly based on imperfect evidence, and Governments needed to agile and change positions quickly if needed.
The number of new cases in New Zealand had not been "shooting up" despite more testing, he said.
The number of international travelers had fallen off and about 22 people in New Zealand caught the virus via community transmission. About 300 cases were also down to "clusters", but Skegg said he would also call those clusters community transmission.
"What we need is to see two curves plotted: the cases who arrived from overseas and the people who were infected here. Regrettably, the data provided by the ministry does not make this possible."
But he said the fact there were only 13 people in hospital and one death so far showed that the outbreak didn't appear to be out of control.
He said New Zealand was the only western nation that could eliminate the virus. That meant reducing the number of new cases to zero of a very low number.
Being on a path to elimination meant moving out of lockdown quicker, compared to Australia, where the lockdown may last six months.
Hotels, schools and restaurants could open, he said, and new outbreaks could be managed by rapid identification, contact tracing and isolation.
The lockdown had been "impressive", and testing capacity had been expanded, but epidemiological surveillance was still needed to show more about community transmission.
Clark said there was no shortage of flu vaccines but there was a distribution challenge. The vaccination programme was brought forward and the Government put vulnerable and elderly people and health workers at the front of the queue.
'Tighten border or extend lockdown'
He said border restrictions needed to be tighter or the lockdown would need to be extended. Last week he called for mandatory quarantine for all overseas arrivals.
He said contact tracing also needed to improve, especially because people can be infectious but presymptomatic.
App-based contact-tracing was being used overseas, using voluntary schemes that depended on people to opt-in.
"That has limited the value of the Singapore system."
He said he would be happy to know his location data, held by for instance Google, was being used to fight Covid-19, and most New Zealanders would probably also consent.
The need to improve contact tracing was urgent, he said.
He said surveillance testing would be "careful sampling of people" to fill the current holes in the testing data. People that could be tested might include the frontlines of health services and supermarkets.
"It's urgent to get on to this."
He said Air NZ crew, who are exempt from any requirement to quarantine, were a higher risk of carrying an infection and more restrictions should be explored.
Skegg said elimination may not be achieved "optimally" before the lockdown was lifted, and from a purely health point of view, a lockdown should be in place for six months - but people's tolerance for lockdown would "wear thin".
Singapore has had a spike in Covid-19 numbers in the last week, and Skegg said the Asian country had now closed schools in response. "Their digital technology [to trace people] had not had as big an uptake as they wanted."
Skegg said he was "a bit worried as time goes by" that the criteria for an essential service was becoming looser, adding that the cigarette factory in Lower Hutt should not have been allowed to stay open.
"We talked about going early and hard. I hope we don't end up going soft too quickly. Every single [relaxation] in the lockdown makes it less likely we're going to succeed."
Public health units were experts in contact-tracing, he said, but the published data was insufficient for him to comment on how comprehensive it has been.
Skegg said New Zealand was still in a "brilliant" situation compared to Australia, the UK and the US, and those countries would love to be where New Zealand was now.
He said quarantine at the border was an issue that needed to be dealt with promptly, rather than the last week of the lockdown, given the chance that an infected person might fly into New Zealand today.
"They may be infecting other people and we start a whole chain of transmission."
He said he wasn't sure why New Zealand wasn't already putting all overseas arrivals into a hotel for quarantine.
Moving to alert level 3 would see New Zealanders getting out and being a lot more active, Skegg said, and the number of close contacts will suddenly change. This emphasised the need for rapid and comprehensive contact tracing.
"We need to have a sense of urgency. This lockdown is very costly in human and economic terms. We need to use every day to the best of our ability."
He said the key factors were control and containment of the virus, and better data was needed on that along with better analysis and epidemiological surveillance. There also needed to be the tools in place to ensure any new cases can be eliminated once the lockdown was lifted.
"When all this is over, we do need to think very carefully about the next viral pandemic. There will be another viral pandemic, perhaps in my lifetime."
Skegg said losing elective surgeries while hospital schedules are cleared for Covid-19 cases was a good strategy. "We need to eliminate this pest as soon as possible." He said looking at what happened in Italy and New York, where hospitals have been swamped, was a vivid reminder of what could happen if the virus wasn't contained.
"No one is thinking about elective surgery in those places."
Skegg has previously called for the mandatory quarantine of all overseas arrivals, and Prime Minister Jacinda Ardern is now actively seeking advice on whether that is a suitable longer term border solution.