9047 new Covid cases, 13 related deaths as DHB sees jump after long weekend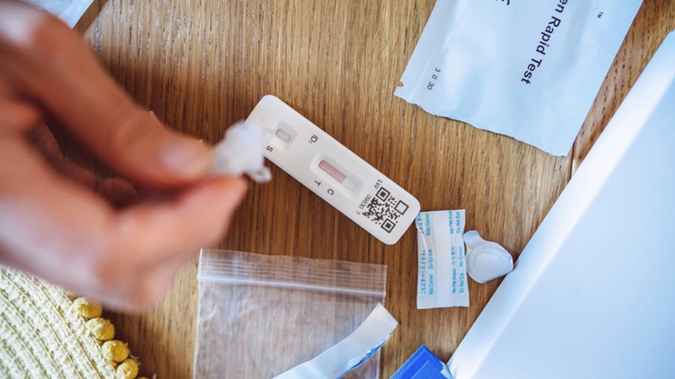 9047 new Covid cases, 13 related deaths as DHB sees jump after long weekend
There are 9047 new community cases of Covid-19 today and a further 13 related death
The new cases and deaths were revealed by the Ministry of Health at 1pm.
The deaths occurred over the past nine days, except two people who died on April 4.
Today's seven-day rolling average of cases, 7705, is similar to last Thursday's average of 7935.
The similarities between today's average and last Thursday's average was a reminder to New Zealanders to stay vigilant, the Ministry of Health said in a statement.
"Please continue to follow public health advice to stay at home, away from school or work if you're feeling unwell.
"Another way to protect you, your whānau and friends is to get vaccinated, if you aren't already. It's free and available for everyone aged five and over."
The locations of the community cases reported today are: Northland (276), Auckland (2519), Waikato (550), Bay of Plenty (335), Lakes (129), Hawke's Bay (281), MidCentral (344), Whanganui (108), Taranaki (215), Tairāwhiti (137), Wairarapa (95), Capital and Coast (589), Hutt Valley (236), Nelson Marlborough (358), Canterbury (1505), South Canterbury (185), Southern (1065) and the West Coast (113).
The locations of seven cases is unknown and 80 cases have been detected at the border.
Across New Zealand, there are 53,917 active community cases of the virus. An active case is an infection that was identified in the past seven days but is not yet considered to have recovered.
There are 484 cases in hospitals across the country. They are in Northland (36), Waitematā (74), Counties Manukau (60), Auckland (105), Waikato (33), Bay of Plenty (14), Lakes (three), Tairāwhiti (one), Hawke's Bay (12), Taranaki (seven), Whanganui (three), MidCentral: 7; Wairarapa (seven), Hutt Valley (14), Capital and Coast (nine), Nelson Marlborough (six), Canterbury (60), South Canterbury (four), West Coast (one) and the Southern region (33).
Tairāwhiti sees jump after long weekend
Meanwhile, rising Covid case numbers after the long weekend have led health officials at one DHB to warn the region is not out of the woods yet.
There were 110 new cases on Wednesday in Tairāwhiti and 139 today, with three people in hospital.
Ministry of Health data shows the seven-day rolling average for the region is 84 cases.
"Cases are back on the rise again whānau...We're not out of the woods," Hauora Tairāwhiti posted to social media.
The Ministry of Health is set to update the latest Covid case numbers, as well as any new reported deaths, at 1pm.
In Tairāwhiti, those aged 30-39 had the most new cases.
"A lot of us travelled for the long weekend and reconnected with friends and whānau," the DHB said. "We must continue to protect our vulnerable by acting like we're infectious with Covid."
Overall New Zealand's case numbers have been trending down, though the Omicron outbreak continues to see numbers climb in the South Island.
The first batch of a new antiviral drug is due to land in New Zealand today, with hopes it will dampen down hospital numbers and death rates over the winter months.
Molnupiravir is prescribed under the brand name Lagevrio, and manufactured by Merck Sharp and Dohme.
New Zealand signed a pre-purchase agreement for the drug last year.
Yesterday 23 new deaths were reported, bringing New Zealand's Covid death toll to 710.
Those people died over the past six days apart from one death on April 3. There were 9830 new community cases of Covid-19.
The Ministry of Health said the increase in reported deaths followed a pattern often seen after weekends or public holidays. On average 14 deaths have been reported on each of the last seven days
On Wednesday 473 people were in hospital and 17 were in intensive care, about half of the peak number in March.
New Zealand's highest hospitalisation number was on March 22 when 1017 people were in hospital with Covid, while March 21 saw the highest number of people - 33 - in intensive care.
But while those numbers are down they aren't evenly spread around the country. The South Island is still seeing cases rise even as they fall elsewhere.
There were 1099 new cases in Canterbury on Tuesday, up from 1013 on Monday and 978 on Sunday.
The three places with the highest seven-day average of cases per 100,000 people are South Canterbury (2179), West Coast (2038) and Canterbury (1671).
That compares to the rest of the country with 1049 cases per 100,000 people.
Canterbury District Health Board chief executive Peter Bramley said cases had mostly stabilised in the region but they anticipated ongoing "peaks and troughs".
"We could see another spike in case numbers this week after a second consecutive long weekend.
"We're all adjusting to living with Covid-19 and will surely see the effects of more long weekends, school returning and school holidays, an increase in overseas visitors, as well as major events and festivals in the coming months."