Waikato Hospital serves mum mouldy toast for lunch
Author

Publish Date

Wed, 25 Aug 2021, 1:51PM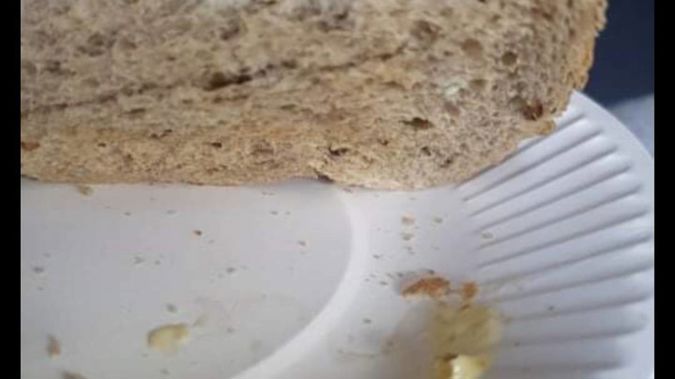 Waikato Hospital serves mum mouldy toast for lunch
Author

Publish Date

Wed, 25 Aug 2021, 1:51PM
A mother staying at Waikato Hospital with her sick newborn says she was left scrounging for food because parents in the children's ward are only supplied one proper meal a day.
Sina Hawkless, who was in WaiKids surgery ward at the weekend while her three-week-old daughter Amelia was treated for mastitis, said there was very little food available for breastfeeding mums.
Waikato DHB provides parents and caregivers hot dinners from its main kitchen and bread and cereal is left in a kitchen on the ward so parents can make their own breakfast.
But when it came to lunch, Hawkless said she was told it was not provided but that she could make toast or heat a can of spaghetti left in the kitchen.
Amelia Hawkless was in WaiKids during lockdown at the weekend due to severe mastitis. Photo / Supplied
Hawkless took her sick baby to Taumarunui Hospital on Friday afternoon, but later that afternoon was told to go to Waikato Hospital so she could be treated with antibiotics.
After she and her husband spent six hours in the emergency department, Hawkless was admitted with her baby early Saturday morning and - due to Covid rules - her husband had to return home to Taumarunui.
On the first day, after asking about lunch a nurse made Hawkless a sandwich with bread and jam.
"The next day was just the same thing. They kept saying they don't offer lunch."
Hawkless said the nurses were nice and always asked her if she needed anything, but they couldn't offer anything nutritious.
On Sunday, after asking three different nurses about food, one took her a mouldy piece of toast.
Hawkless said while she understood they usually didn't provide parents three meals a day, being in lockdown had made the situation tricky as she couldn't take turns with her husband to get food or even order Uber Eats.
She also did not feel comfortable about leaving her baby in her room while she wandered around the hospital during level 4 to find the cafeteria.
A Waikato Hospital spokesperson said as well as the hot dinners prepared by the main kitchen, there was a ward kitchen stocked with breakfast and lunch supplies including bread, spread, cereals, fruit salad, tinned corn, tinned spaghetti, baked beans available to caregivers 24/7.
"Bread is delivered daily to the hospital. It would therefore be unusual for bread to be mouldy, but if there was an issue with the bread, we do apologise."
The hospital was conscious level 4 restrictions made it harder for patients/caregivers to source their own food from outside the hospital and after speaking with the mother would now provide additional fruit and vegetable options, he said.
After Hawkless contacted the Herald on Monday about the situation, she was visited by a nurse wanting to get to the bottom of her complaint.
"I said the nurses weren't the problem. Every nurse offered me if they could get me anything - it was what they offered to get me. I could have had probably five cans of spaghetti a day if I wanted to - as that's how many times I got offered it but a can of spaghetti is not a nutritious food if you are trying to breastfeed a three-week old."
Hawkless believed the hospital's solution to her complaint was to now put frozen vegetables in the freezer for parents to heat.
Sina's mother-in-law Karen Hawkless told the Herald she was ropeable on Saturday afternoon when her daughter-in-law called her and told her she was really hungry.
She felt young mums - especially those who were breastfeeding - needed to be looked after better.
"It's just horrendous. They've got to change something. I understand when it's normal life they can walk down to the dairy or there's a cafe at the top of the hill - but it's shut. So how does she get food and nutrition when she doesn't even want to leave this tiny little baby who is so sick."
Karen called the hospital to complain on Sunday but was told the manger was too busy with Covid and was instead urged to make an official complaint on Monday.
"I said, 'And in the meantime my daughter in-law goes hungry'."
With all their immediate friends and family based in Taumarunui, Karen ended up reaching out to contacts in Hamilton who offered to drop food off to Sina on Sunday afternoon.
"She (Sina) was so grateful, she burst into tears she was so grateful and so hungry."
Waikato Hospital encouraged any patients with needs or concerns to speak with staff and said healthcare assistants were available to take food to anyone who could not leave their beds.