Woman cheats death after car flips, plunges into Waikato stream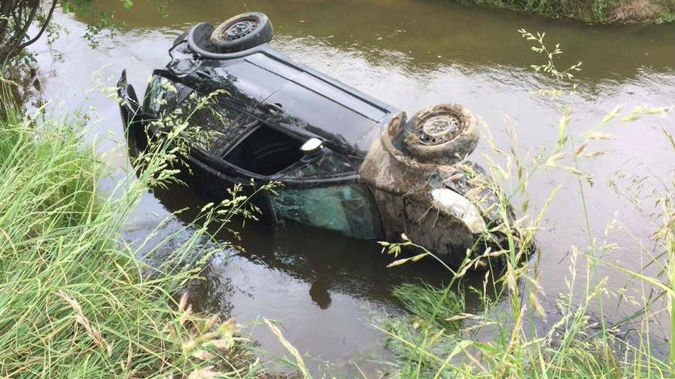 Woman cheats death after car flips, plunges into Waikato stream
A woman who survived a horror car crash says she thought her life was about to end and she would drown in a deep stream trapped in her flipped, sunken vehicle.
Author and academic Karin Speedy, 45, has tweeted about her nightmare ordeal saying she is very lucky to be alive after her car rolled through a fence, down a bank and into a stream in Waikato about 1pm yesterday.
In a series of tweets, Speedy, who was heading to Auckland at the time, wrote about her relief and fortune at escaping the wreckage.
"Thought my days were going to end drowned," she tweeted last night from her hospital bed.
"There must have been an angel watching over me because it could have been much worse."
She described somehow managing to open the crumpled door and window before escaping, thanks to two strangers who rushed to her aid.
Despite excruciating pain from broken bones and a punctured lung, she was assisted up a steep, slippery bank to safety.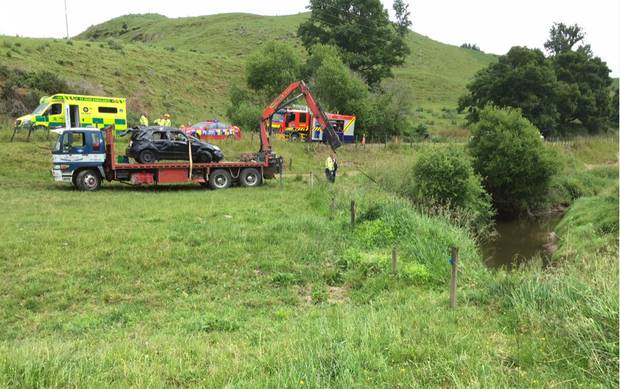 The crumpled wreckage is hauled out of a stream north of Te Kuiti yesterday. Photo / Philips Search and Rescue Helicopter
Speedy said she was now recovering in Waikato Hospital with cuts across her body, a broken shoulder and ribs and a small puncture in her lung.
"The pain is awful but all the rescue guys ambos, firemen and cops told me to buy a Lotto ticket given the state of my car in the river," she tweeted.
She revealed the scariest moment was being trapped in a vehicle starting to fill with water and contemplating her life finishing in a water grave.
"The worst was the fear of drowning.
"I found that extra strength to get out of the seat belt, stand up and push that door open then open [the] window."
The Waikato Westpace Rescue Helicopter flew Speedy to Waikato Hospital where she was today in a stable condition.