Waikato police attacked with bottles, paintball gun
Author

Publish Date

Sun, 29 Oct 2017, 1:52PM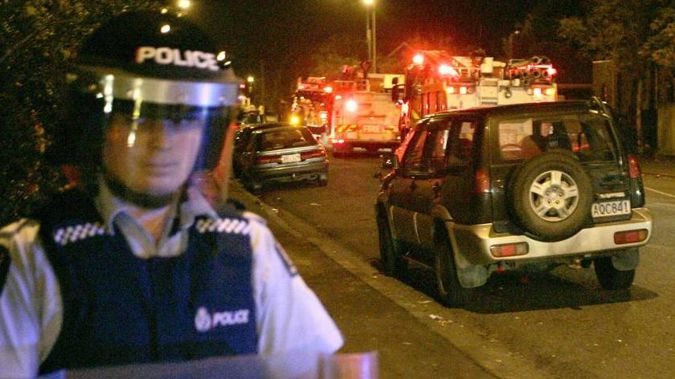 Waikato police attacked with bottles, paintball gun
Author

Publish Date

Sun, 29 Oct 2017, 1:52PM
Police in Waikato have been pelted with bottles and came under fire from a paintball gun at an out of control party, where officers needed full riot kit.
Waikato police were pelted with bottles and paintball gun bullets in two separate incidents of "mass disorder".
Although officers were not injured in either of the Hamilton or Huntly incidents over the weekend, Waikato police Senior Sergeant Phil Ruddell said both were serious enough for officers to don full riot protective gear including shields.
In the first incident, police were called to a party which got out of control on Beaumont Pl, Hillcrest, about 10.30pm on Friday.
While the occupants of the house were co-operative with police, other partygoers were not so pleased to see officers and began throwing bottles at them.
"It took about 90 minutes to clear the disorder, using considerable police resources."
Fourteen people - all young adults - were arrested and charged with a variety of offences, Ruddell said.
Then at 2.30am today, police were called to George Clay Pl, Huntly to reports of about 30 youths fighting.
When local police arrived to disperse the youths, who were aged around 15 and 16, they had bottles thrown at them as they tried to approach.
A police support unit from Hamilton also arrived at the scene, however they were also pelted with bottles as well as paintball gun bullets.
However, when officers then donned their full protective riot gear, the youths fled.
No arrests were made but police inquiries were continuing into who was firing the paintball gun.
Ruddell said the incidents used up valuable resources which could have been deployed elsewhere.
"Police are disappointed by the actions of these people because of the considerable police resources that were used up in trying to calm the site, resources which we would much prefer to put into prevention activities or helping those in real need," Ruddell said.
Given the summer party season was fast approaching, he said the incidents were also a reminder for people hosting parties of their responsibility in being aware they knew who was attending their gatherings.
In the Hillcrest incident, more uninvited people kept turning up, leading to it getting out of control.
"It was one of these parties where the word gets out. While in the case of the Hamilton the occupants were co-operative, a lot of the uninvited guests were causing the problems. So it took 90 minutes and we might have had 15 or 20 staff there, it's a big resource on a Friday night."