Valerie Adams finishes second in shot put final
Author

Publish Date

Sat, 14 Apr 2018, 6:27AM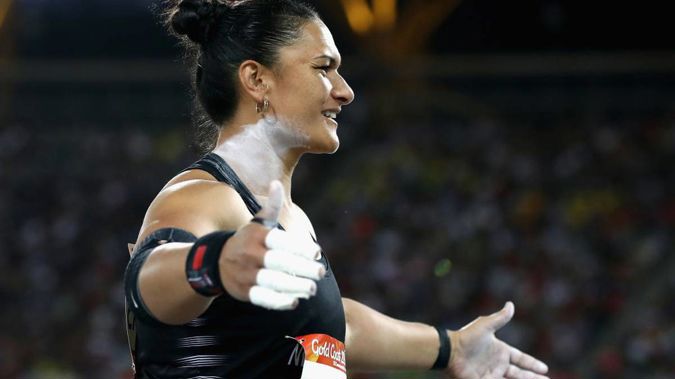 Valerie Adams finishes second in shot put final
Author

Publish Date

Sat, 14 Apr 2018, 6:27AM
Dame Valerie Adams attempted to glide, throw and conquer last night on the Gold Coast.
The 33-year-old shot putter was trying to become the first female track and field athlete and the first New Zealander to win gold medals at four Commonwealth Games.
She took silver.
Her best throw of 18.70m was achieved in front of her family in Carrara Stadium, including husband Gabriel, mother-in-law Noma, and six-month-old daughter Kimoana.
Jamaican Danniel Thomas-Dodd triumphed with a personal best 19.36m in the fifth round.
She had been the best Commonwealth thrower this year with a 19.22m put at the world indoor championships in Birmingham on March 2.
"I went over and congratulated her," Adams said of their embrace in the in-field.
"She threw phenomenally well, I knew she was in shape and it would take over 19m to win.

"She said 'thank you' for being an inspiration for many years. I congratulated her on a national record and PB [personal best]. She is the future, it was a beautiful moment."
Canadian Brittany Crew took bronze with 18.32m.
Fans may have witnessed Adams' last major performance.
The challenge was one of her biggest in a storied 16-year run. She had returned from a Caesarian section after giving birth in October, and only started full training in January.
Adams first represented New Zealand at a Games as a 17-year-old in Manchester 2002, where she secured silver. Victories followed in Melbourne, Delhi and Glasgow.
She threw a season best 18.70m with her first attempt.
She backed up with 18.65m, 18.03m, a foul throw, 18.40m and 18.55m.
"I cannot ask for more than that, it wouldn't have been possible," Adams said.
"I didn't know what I was getting into when signing up for this, but I have total respect for every mother out there.
"I was given the opportunity to chase these Commonwealth Games by my family. Having my child brought to me [afterwards] brought so much emotion. I'm doing this for her. It touched my heart, and I drew motivation."
Adams remains alongside fellow thrower Val Young (1958, 1962 and 1966), shooter Stephen Petterson (1990, 1994 and 1998), rugby sevens player Amasio Valence (1998, 2002 and 2006) and lawn bowler Jo Edwards (2002, 2014, 2018) with three gold medals at separate editions of the event.
She paid tribute to her mother-in-law who took a term's leave from her job as a teacher aide at Sutton Park School in Mangere East to help look after Kimoana during work days.
That sacrifice enabled her daughter-in-law to train.
"She's been the most important person by allowing me to do this, and taking care of my child," Adams said.
"I didn't know what being a mother would be like, the dynamics of it, and how I was going to juggle training fulltime. But she made that choice possible by stepping up and taking care of baby.
"I was totally overcome with emotion when they handed her to me after competition. That gave me perspective on life and how important it is to build one around a sporting career."
Only Adams will know if this represents her final campaign.
Priorities have changed for the world's most dominant female shot putter of any era.
She could be ready to set her horizons elsewhere, having achieved everything but the world record.
Whatever she decides, her career will be worthy of celebration after mesmerising the public at an elite level for half her life.
Chances are an exit strategy will be given serious thought.
Time will be required to mull over her options, so don't expect a decision after this meet.
A departure seems more likely, once the spotlight has come off her compatriots' feats on the Gold Coast.