Ruby anniversary for NZ Top 40 charts - The Facts
Section

Publish Date

Thursday, 28 May 2015, 7:36a.m.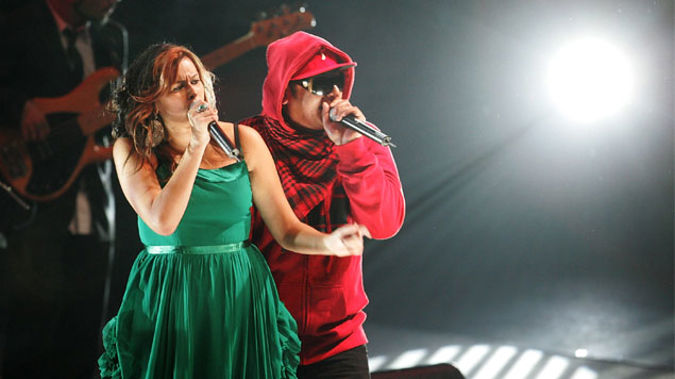 Does He Know It's Christmas? I think he does
For three of the last four Christmases (2011 – 2014), Canadian crooner Michael Bublé has dominated the chart with his album of festive favourites. Released in 2011, the cleverly titled Christmas topped the Albums Chart for four weeks. A year later it was back on top again for a week. It fell short in 2013, peaking at #3, but was back to spend another four weeks at #1 in December last year.
I May Be Some Time

Auckland band Waves recorded its debut album at Stebbing Studios in July 1975. It made the charts for a six weeks before dropping out 'briefly'… for 37 years and four months to be exact… but it returned in 2013 with a CD and vinyl reissue for Record Store Day.

So close!

Adele's 2011 album 21 spent an impressive 184 weeks in the Albums Chart, including 86 consecutive weeks in the Top10 and 36 weeks at #1. Making it the second-longest charting album ever...a mere 113 weeks behind Pink Floyd's Dark Side Of The Moon on 297 weeks.
I'm With The Banned

In August 2014 Wellington bluesman Darren Watson returned to the charts for the first time in 26 years. Watson previously charted a solitary time with Chicago Smoke Shop's Mind On My Sleeve. Last year, Planet Key got to #5 on the NZ Artists Top20 chart only to vanish three weeks in to its run after being banned by the Electoral Commission.
The Long and Winding Road

In October 2002 Goldenhorse made an inauspicious start to chart life, the album Riverhead debuting at #43 before dropping off the chart a week later. However it snuck back again four months later and began a very long journey to the top for the Indie-rock group. Just shy of two years after its release – and after a string of radio hits - the album finally made it to #1. It's not the longest walk home though - that honour belongs to Pink Floyd's Dark Side Of The Moon which appeared on the very first chart in May 1975 and eventually got to #1 eight years later in 1993 as a reissue.
Short And…Sweet?
The 2007 Hans Zimmer soundtrack to The Simpsons Movie delivered the chart's shortest single ever. Dedicated to Homer's porcine friend Plopper, the track Spider Pig peaked at #8 on the Singles Chart. It stops the clock at 1m 4s and contains exactly 29 words. And that's counting the words Spider and Pig separately.
There's Still Time
So, you've not appeared on the charts yourself yet? You're in surprisingly good company. Among the artists to have never charted a single here are Johnny Cash, Neil Young, Black Sabbath, Frank Zappa, Janis Joplin, The Ramones. However, Jay-Jay-Feeney has appeared twice.


The International Dateline Is Your Friend

Did you know that the New Zealand chart is the first in the world to be updated each week? With Friday officially becoming the global release day for new music, the sun rises and sets first on our chart cycle. The New Zealand Charts are released at 5pm on a Friday giving many artists their first chart position on the planet.
Child Labour
In 2012 Blue Ivy Carter, heiress to the Jay-Z / Beyoncé empire, became the youngest person ever to appear on the US Billboard charts. Her dad recorded her "backing vocals" 48 hours after her birth and included them on his track Glory. The song didn't chart here. One youth artist to chart here is 10-year-old Willow Smith with her 2010 hit Whip My Hair - but the record for the youngest person to chart here is five-year-old Joy Gruttmann…the voice behind the 2005 #1 hit Schnappi Das Kleine Krokodil.
Staying Power

At the other end of the spectrum – who's the oldest performer? In October last year 80-year old Leonard Cohen became the oldest chart-topper when his 13th studio album Popular Problems hit #1. Dame Vera Lynn reached #8 on the Albums Chart at the age of 92 with her 2009 Best Of album. But the record goes to Wellington slide guitarist Jim Carter who was coaxed in to joining Neil Finn on his cover of Blue Smoke in April 2015. Now 95 years old, Jim played on the 1949 original.
And The Runner-Up Is…
Just like the Black Caps and Team New Zealand, some songs have to stand around after the game with their arms folded trying not to cry. Some of the tracks you always just assumed were #1 but in fact left with no cigar include

• Madonna – Like A Virgin...denied by Foreigner
• Culture Club – Do You Really Want To Hurt Me?...denied by Dexy's Midnight Runners
• Michael Jackson – Billie Jean…denied by Dire Straits

• Queen – Another One Bites The Dust…denied by Stevie Wonder

• Red Hot Chili Peppers – Under The Bridge…denied by Eric Clapton

• ABBA – Mama Mia…denied by C.W. McCall

• Hot Chocolate – It Started With A Kiss…denied by Dexy's Midnight Runners
• Beyoncé – Crazy In Love…denied by R Kelly

• Eurythmics – Sweet Dreams (Are Made Of This)…denied by Irene Cara
• Dave Dobbyn – You Oughta Be In Love…denied by INXS

• The Bee Gees – Night Fever…denied by Kate Bush

• Rod Stewart – Do Ya Think I'm Sexy?...denied by The Bee Gees
• Prince – When Doves Cry denied by Bob Marley

• Lady Gaga – Bad Romance…denied by Stan Walker

• Meat Loaf – You Took The Words Right Out Of My Mouth…denied by Boney M

• The Police – Don't Stand So Close To Me…denied by Pointer Sisters

• Bob Marley – Could You Be Loved?...denied by Diana Ross
• New Order – Blue Monday… denied by Michael Jackson
See Me Go Cool Bananas

Dave Dobbyn's DD Smash has the distinction of the first local album to debut at #1. 1982's Cool Bananas entered at #1 and spent a total of 24 weeks on the chart.
The Screaming MeeMee's See Me Go holds the record for first local single to debut at #1 in August 1981.
Double Dipper
Scribe is the only Kiwi artist to top both the Singles and Albums Charts simultaneously. It happened in November 2003 when The Crusader debuted at #1 while Stand Up / Not Many continued its record #1 run.
Back In The Box
It's rare for a box set release to get to the top of the charts. Too expensive? Too heavy? Fear of boxes? Who knows why? But only Fleetwood Mac has overcome these barriers, reaching #1 in September 2013 with the four-CD set The Chain.
A Fact's A Fact
In August 2013, the big finale of the first season of X Factor NZ caused a traffic jam at the top of the charts. Jackie Thomas, Benny Tipene and Whenua Patuwai scored the trifecta at the top of the Singles Chart, the first time a television show has sparked a 1-2-3 finish on the charts.