Review: Green Day musical hits the stage 15 years after American Idiot
Author

Publish Date

Tue, 15 Oct 2019, 10:34AM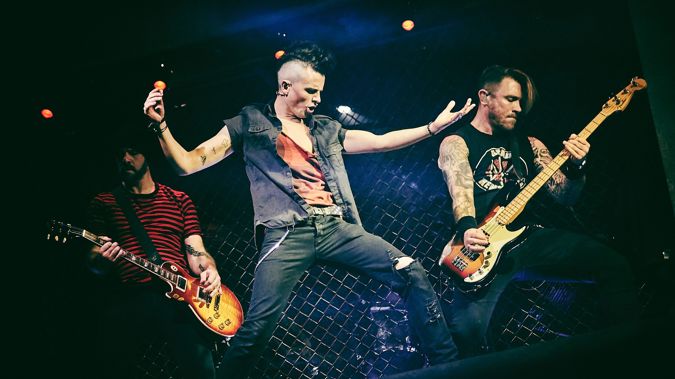 Review: Green Day musical hits the stage 15 years after American Idiot
Author

Publish Date

Tue, 15 Oct 2019, 10:34AM
The question swirling around my mind as I watched the Green Day musical, 'American Idiot' was – is this necessary? I can almost get behind 'Mamma Mia', the musical based on the music of ABBA. Queen's 'We Will Rock You' – sure. They're generation-spanning, universally famous bands with tunes that will live on longer than anyone reading this right now. Green Day? I was less convinced. However, I went in with some degree of optimism. American Idiot, the album, is of course a concept piece – it tells a loose story about a lower-middle-class anti-hero dealing with the repercussions of the Iraq War. So maybe it would translate seamlessly to the stage?
'American Idiot', the Musical, tells roughly the same story, although the plot is really kind of irrelevant. It follows Johnny, Will and Tunny – three disaffected Americans looking for the meaning of life in a time when America was almost as divided as it is today. As I say, the plot really loses itself behind the songs – and they are great tunes. I'd forgotten how many hits Green Day pumped out back in the early 2000s.
I was slightly concerned to see how 'musical theatre-types' would handle Green Day's catalogue, but thankfully the cast is largely filled with actors or singers rather than those who you might see in Les Mis. Tom Milner, Joshua Dowen and Samuel Pope play the central trio, and the most poignant moments see them singing in unison. All the hits you want are there – and more – and the cast tackle them all with precision. Luke Friend is also great as the drug-addled St Jimmy, and the live band on stage throughout adds to the overall spectacle. Just like how last month's 'School of Rock' blurred the line between stage show and rock extravaganza, 'American Idiot' often feels a bit like a tribute concert rather than a musical.
I had some difficulties with the humour, if you can call it that. There's only so many times a crude mime or a joke about someone's butt can be funny, and last night's audience seemed to agree. And it would have been nice for the female cast members to get a bit more to do. The main female character is literally called 'Whatsername'.
But, all of this is kind of irrelevant if you're a Green Day fan. And the bottom line is simply - the music is great, the singing is top notch and it all moves along at a rollicking pace. So, I return to that question – is 'American Idiot' necessary? No - It's not going to stay with me in the way that other recent musicals have. But is it fun? Hell yes.
American Idiot runs at Auckland's Civic Theatre until October 20.