New Zealand's favourite books revealed
Author

Publish Date

Mon, 31 Jul 2017, 5:45am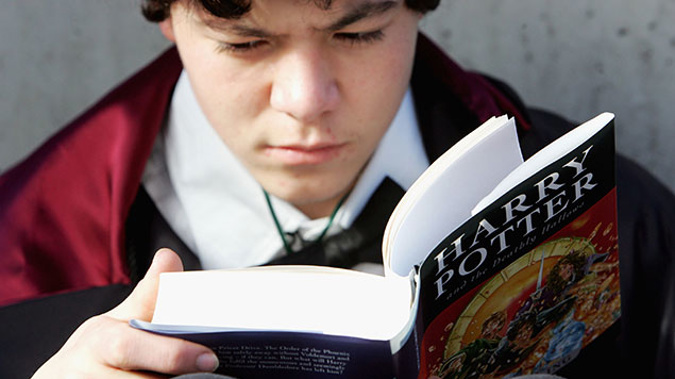 New Zealand's favourite books revealed
Author

Publish Date

Mon, 31 Jul 2017, 5:45am
Literary classics and long-running series remain firm favourites for many New Zealand readers.
J.K. Rowling's Harry Potter series has topped this year's Whitcoulls Top 100 list, 20 years after the first book in the series was released.
J.R. Tolkien's Lord of the Rings, Jane Austen's Pride and Prejudice and George Orwell's 1984 are all in the top 15.
Whitcoulls book manager Joan Mackenzie said these books have stood the test of time.
"Year after year we find that people go back to the ones that they've loved so much," she said.
"There's nothing on there that I would discount as old and no longer relevant."
Lee Child's Night School and Terry Hayes' I Am Pilgrim round out the top three.
However, New Zealand books remain noticeably absent from the list.
Only four New Zealand books have made the top 100, Eleanor Catton's The Luminaries, which is 30th place, The Cloud Leopard's Daughter by Deborah Challinor, perennial favourite The Edmonds Cookery Book and Dr Libby Weaver's Women's Wellness Wisdom.  
Mackenzie thinks it's disappointing New Zealanders aren't reading more great local books.
"New Zealanders aren't reading as much of their own literature as they could, and as much as we wish that they would," she said.
"It's always been a challenge to get New Zealanders to read New Zealand authors and that's a real shame," she says, adding that those who avoid NZ fiction are missing out on some top-quality and reads.
"The opportunities are there for people to discover these books; there's more mainstream fiction than ever before and much of it is extremely good."
The Top 100 list is now in its 21st year; this year's votes totalled nearly 9000 - up 8 per cent on last year. Of those votes, 5259 were cast online and 3703 in stores. The list points to some interesting trends, according to MacKenzie.
We prefer to read books that have been recommended to us and those that have been adapted for the screen. More than half the books in the top 20 have been made into film or television shows, including Me Before You (number 5), The Lord of the Rings (number 6), the Outlander Series (number 7) and George R. R Martin's A Song of Ice and Fire series (number 8). While it didn't quite make the Top 20, Margaret Atwood's The Handmaid's Tale is enjoying a resurgence in popularity probably because of the recent TV adaptation.
"We're especially pleased to see the young poet Rupi Kaur, a huge success at this year's Auckland Writers Festival, receive so much attention," said MacKenzie. "Her book Milk & Honey (70 in the Top 100) has resonated with readers around the world and New Zealanders have equally taken her to their hearts."
As the Top 100 list is released, a new survey - made public just days before - has also revealed more about our reading habits. The first survey of its kind, Book reading in New Zealand was carried out online, getting just over 2000 responses, by Horizon Research for the NZ Book Council.
It confirms we are a nation of book lovers with readers clocking up an average of 20.6 books a year. However, the survey also showed around 394,000 adult NZers didn't read a single book during 2016. A third said they didn't have time to read; a quarter said they didn't like reading and the remainder felt it was easier to watch movies based on a book.