Armed Napier standoff: Man arrested after 12 hours
Author

Section

Publish Date

Monday, 24 June 2019, 3:06PM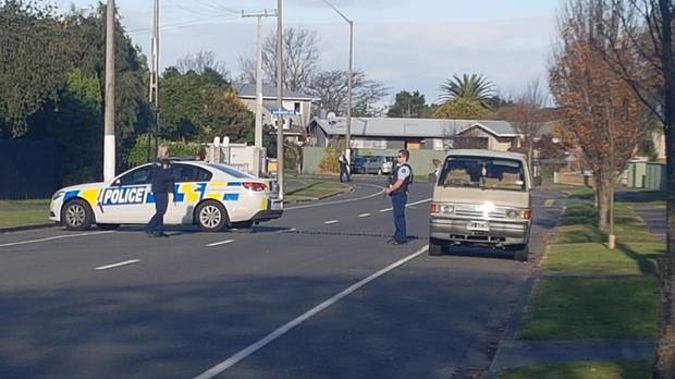 A man has been arrested after an almost 12-hour stand-off with armed police in Napier.
"Police would like to advise that we have arrested a male at the Alexander Ave address without incident and everybody is safe," police said on a Facebook post at 1.55am on Tuesday.
"Police will be at the address for a little while yet but the cordons are about to come down and residents will be able to get back home. We would like to thank everybody out there for their patience. In the end a really good result."
Police said this morning that a man, 25, had been arrested in relation to an "incident".
No injuries were reported.
"Cordons were stood down soon after and residents were able to return to their homes.
"Police will remain at the address as further inquiries are made.
"We would like to thanks the local community for their patience throughout this incident."
Earlier, police had been negotiating into the night with the man as armed officers kept streets blocked off.
Earlier, multiple witnesses reported seeing a man with a gun on an Alexander Ave property.
Alexander Ave, in the suburb of Onekawa, and nearby streets had been in lockdown for almost 12 hours, with police responding to an incident at a residential address.
Earlier, police had attempted to use a cell phone to communicate with him.
Streetlights were off in the area but police would not confirm if authorities ordered them to go dark.
A reporter at the cordon on the edge of the lockdown zone said a loud bang could be heard from within it shortly after 11.30pm.
It was unclear what caused it.
Emergency services were first called to Alexander Ave around 2.15pm on Monday.
At 11.45pm police said the scene was still on lockdown.
"We know that it might be frustrating for some, but police are still managing the incident in Alexander Ave," they wrote.
"Be assured we are doing everything we can to resolve this matter safely for all involved.
"Residents currently inside the cordons are asked to remain indoors until the incident is resolved.
"If you are unable to get home please liaise with a member of our staff on the cordons."
A New Zealand Defence Force spokesman referred inquiries about the incident to police.
Police confirmed the NZDF assisted with transportation.
Rebecca, a resident locked out from Alexander Ave, told the Herald she went to pick her daughter up from school but when she got back they weren't allowed back to their home.
She heard a loud noise around 1pm and said it could have been a gunshot.
"It's not unusual to hear loud noises so didn't think too much after that," she said.
"It set our dogs off barking. I thought someone had crashed into my car but that looked fine.
"It wasn't until I left to get my daughter from school that police were everywhere. By the time I came home couldn't get back in."
Soon after 9.45pm an unmarked police car entered and then left the cordon with its lights off.
Tactical support staff from Levin were later transported by helicopter to Napier to help with the incident, a police spokeswoman confirmed.
A caller told Newstalk ZB the additional staff were picked up from Weraroa Reserve at 6.15pm on the corner of Mamamako Rd and State Highway 1.
They joined the police, armed offenders squad and a police negotiation team who had been on the scene for hours this evening already.
Police would not confirm the number of staff involved in the incident "for operational reasons", however.
Armed police at a blockade on Wycliffe St, Napier. Photo / Blair Voorend
A Levin man told Newstalk ZB he saw the officers, who were carrying equipment in what appeared to be suitcases, get on board the helicopter.
Hawke's Bay Today reporter Blair Voorend said the only source of light in the area was from residents opening their curtains.
"It's pretty much complete darkness, there's the odd flashing red light for the odd car that comes down the street."
Residents outside of the cordon were not allowed to return home and were told to wait at the Kings House Church on Riverbend Rd.
Schools in the Onekawa area were placed on lockdown for a period on Monday afternoon but about 3.45pm students and teachers were allowed to leave.
Richmond School, Henry Hill School, William Colenso College and Maraenui Bilingual School were placed into lockdown as scant details began to emerge about the incident.
Multiple witnesses reported seeing a man with a gun on an Alexander Ave property.
Police, who set up a base in on the corner of Dinwiddie Ave and Waterworth Ave, would not confirm this detail with the Hawke's Bay Today.
Wycliffe St and Hitchings Sts were also blocked off with armed police visible at the scene.
Residents at the cordon, who did not want to be named, said they had been waiting since 2.30pm to get back to their homes.