10-year-old shot in duck hunting accident
Author

Publish Date

Sat, 7 May 2016, 8:27am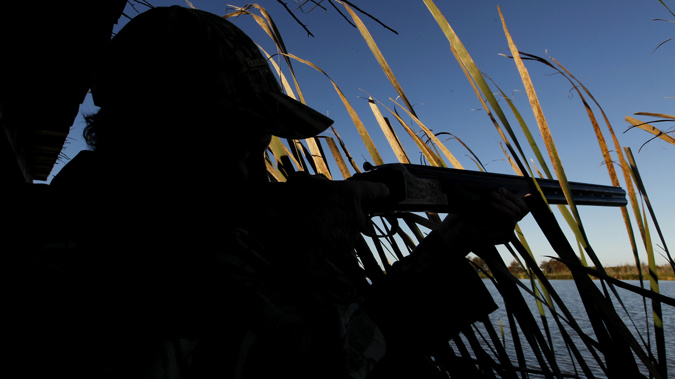 10-year-old shot in duck hunting accident
Author

Publish Date

Sat, 7 May 2016, 8:27am
UPDATED 4PM Duck hunters are being advised to save their boozy celebrations until the shooting is over.
A 10-year-old has been shot in the foot in a duck shooting incident near New Plymouth, the third today, on the first day of the duck hunting season.
Earlier, a 55-year-old man was hit in the eye in the Tararua District, and a man in his 30s was shot in the wrist near Ashburton.
The cause of the incidents isn't yet clear.
But Mountain Safety chief Mike Daisley said hunters should check their firing zones and have good muzzle control, as well as being sensible about alcohol.
"Unfortunately the excitement of opening weekend can bring a certain 'boy weekend' feel to it with some groups, and that mixed with firearms don't mix with alcohol at all."
Mr Daisley said the three accidents so far are unfortunate but not uncommon.
He said people need to follow the basic rules of the firearms safety code.
"No drinking while your duck shooting, checking your firing zones and having really good muzzle control when you're moving around other people are really, really critical."
THE FIREARMS SAFETY CODE:
1. Treat every firearm as loaded
• Check every firearm yourself.
• Pass or accept only an open or unloaded firearm.
2. Always point firearms in a safe direction
• Loaded or unloaded, always point the muzzle in a safe direction.
3. Load a firearm only when ready to use
• Load the magazine only when you reach your shooting area.
• Load the chamber only when ready to shoot.
• Completely unload before leaving the shooting area.
4. Identify your target beyond all doubt
• Movement, colour, sound and shape can all deceive you.
• Assume colour, shape, sound, and shape to be human until proven otherwise.
5. Check your firing zone
• THINK! What may happen if you miss your target? What might you hit between you and the target or beyond?
• Do not fire when you know others are in your firing zone.
6. Store firearms and ammunition safety
• When not in use, lock away the bolt, firearm and ammunition separately.
• Never leave firearms in a vehicle that is unattended.
7. Avoid alcohol and drugs when handling firearms
• Good judgement is the key to safe use of firearms.