Franz Josef declares state of emergency after severe flooding
Author

Publish Date

Thu, 24 Mar 2016, 5:57AM
Franz Josef declares state of emergency after severe flooding
Author

Publish Date

Thu, 24 Mar 2016, 5:57AM
UPDATED 11.35AM Close to 200 people have been evacuated in Franz Josef after the Waiho River burst its banks, causing the Westland District Council to declare a state of emergency.
Contractors are carrying out emergency rock work on the Waiho River.
MORE: Storms in Auckland and Northland cause power outages
At least 130 millimetres of rain fell between 11pm and 3am this morning.
Westland civil defence public information manager Andy Thompson said it's far worse than just ponding flooding - 186 people have had to be evacuated.
"The river was actually flowing through the Scenic Circle Hotel. We heard reports of cars being moved around and tipped up in the carpark and then it's gone through to the Top Ten Holiday Park which is actually a reasonable distance away."
Thompson said several hotels had a lot of people in them seeing 60 staff and 10 tourists evacuated from the Scenic Circle Hotel.
"At 1.15 [am] the water reached the Top Ten Holiday Park there were 100 tourist evacuated out of that and the Westwood Lodge there were a further sixteen evacuated.
"There's about 80 tourists in the community hall and they're being looked after down there by the local civil defence volunteers as well as Red Cross. Now we have declared a state of emergency, that means there's a whole lot of resources that can be brought to bear".
Thompson said the weather is improving. 
"This morning it is expected to ease down to six and 12 millimetres per hour".
Thompson said the water is up to a metre and a half deep inside the hotel, and they can't pump it out.
He said Franz Josef water supply has been disrupted, and they're not sure why.
Engineers are on the way to assess the disruption to the water supply, with residents advised to save whatever water they have left. 
Red Cross has brought supplies to the welfare centre, where many tourists have taken refuge.
The flooding in Franz Joseph is thought to be isolated to a one kilometre stretch.
Glacier Country Tourism chairman Rob Jewell said Franz Joseph township, which is on higher ground, has been largely unaffected.
He said there's still plenty of accommodation available and everything will be open over the weekend.
The managing director of Scenic Hotel Group said it's likely guests and staff will have lost property when the Franz Josef Hotel was flooded by the Waiho River.
Ten guests and 60 staff were evacuated from the hotel late last night, as the river burst its banks.
Contractors are working to shore up the river bank, but the water is running directly through the hotel.
Managing director Brendon Taylor said they won't know how bad the damage is until the repairs are finished and the river subsides.
"At that location we've got a 47 room hotel five flats two houses and a dorm block housing staff so there would be quite a bit of substantial loss".
Taylor said anyone who had planned to stay at Scenic over Easter is still welcome, but they might be moved to hotels down the road at Fox Glacier.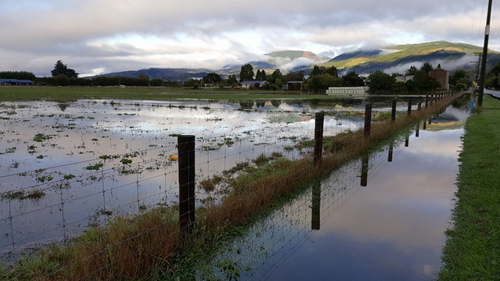 Flooding in Riwaka (Photo/Facebook).
Houses are also being evacuated in the Nelson Tasman area.
The Motueka Fire Station responded to around 30 calls last night from residents requiring assistance.
The Motueka Recreation Centre has been opened as an emergency centre should people require it.
Newstalk ZB's Darryn Palmer said the exact number of houses flooded is unclear.
A helicopter will go up at first light to survey the extent of flooding in the Tasman District.
The region has probably had the most rain in the whole countrywith 240 millimetres falling overnight and the rain's showing no sign of easing up.
They've been a small number of evacuations in Riwaka.
Residents are being directed initially to the car park of the Riwaka Hotel.
A Civil Defence Centre is on standby in Motueka to be opened if required. 
And Southern Fire Communications Shift Manager Tim Reynolds said crews are working to prevent a similar situation in Motueka.
"[We've] got a crew from Motueka in attendance at the intersection of High Street and Wratt Street just assisting with flooding that's threatening to enter some properties".
State Highway six between Ross and Franz Josef has now reopened, but drivers are urged to drive with care. 
State Highway 60 is closed at Riwaka, and between upper Takaka and Collingwood due to the flooding.
Police are assisting with a small number of evacuations.
Severe Weather Forecaster Paul Mallinson said a warm air mass moved down over the country overnight. 
"We had very heavy rain in Westland, Nelson, Marlborough, which is still going but it's going to start easing there".
The Westland District Council and Public Health are working together to test water supplies in the region, but want residents to boil their water in the meantime as a precaution.