Car hits laundromat killing sole occupant in fire and gas blast
Author

Section

Publish Date

Sunday, 8 May 2016, 7:14AM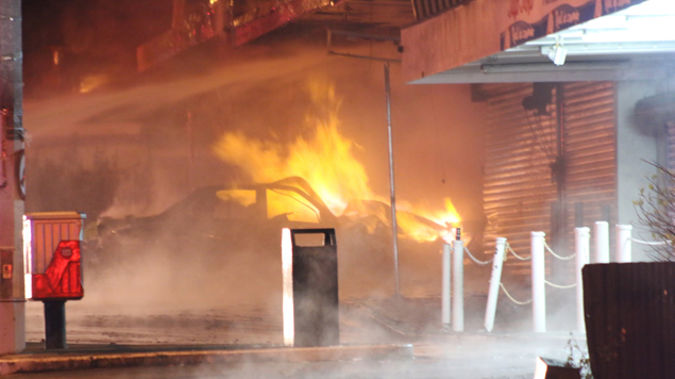 UPDATED: 1.37pm For the second time this year, Papatoeteoe resident Gita Patel was woken in the middle of the night by a car plowing into the block of shops she calls home.
"I was sleeping late, because it's Mother's' Day, you know?" she said. "I heard the noise and my eyes couldn't open. But I opened the window and had a look and there were many people out there, and the car in the wall."
The driver was dead, the flames engulfing him fuelled by gas leaking from a pipe ruptured in the crash, on the corner of Station and Portage roads.
Mrs Patel said a firefighter called to her from the ground.
"He said come down, come down, fire fire," she said. "We got everyone and rushed downstairs."
The accident happened around 4.30am. It took more than an hour for firefighters to get the blaze under control. They were unable to get to the driver's body because of safety concerns. Seven fire engines were eventually involved in the operation.
Mrs Patel, who owns the Portage Rd Superette, said the family were asked to stay out of their home, which is above the shop, until the fire was under control.
Everyone was ok, Mrs Patel said, but there was some smoke damage.
It was the second time this year a car had hit the row of shops - which also includes another dairy, a laundromat, a takeaway and a liquor store. Both times the laundromat was hit worst. It had just been repaired before today's crash, a witness said.
Mrs Patel said lots of people took the corner too fast, and despite the grass median ended up on the wrong side of the road.
Police confirmed later there was only one person in the car. Investigators are still at the scene. The body of the deceased has been removed.
The vehicle was a red Ford Falcon, and police are asking for sightings of it between 4 and 4:30am this morning. Any with information should contact Constable Glen Carlyle on 09 261 1300.
The laundromat, which was the scene of a crash in February, after a drink driver lost control of his car.