Clarence River: Dam has breached after earthquake damage
Author

Publish Date

Mon, 14 Nov 2016, 4:47PM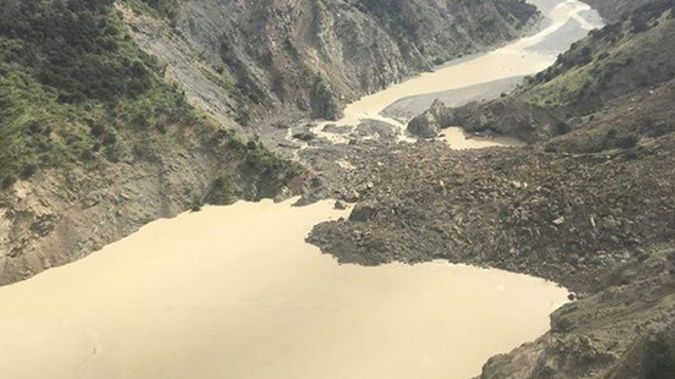 Clarence River: Dam has breached after earthquake damage
Author

Publish Date

Mon, 14 Nov 2016, 4:47PM
UPDATED 6.13pm The slip dam on Clarence River has breached, and a large wall of water is heading downstream.
Residents are urged to go to higher ground immediately, as a large wall of water is rushing downstream.
Civil Defence earlier feared for 16 rafters and six kayakers on the Clarence River. They have now been found safely. 
Police contacted the rafters via satellite phone and pinpointed their location when the call was made.
A helicopter from Nelson hovering over the river spotted the breach.
Civil Defense ground teams were en route to the river.
Water had built up behind the slip, about 10 to 12 kms upriver from the mouth.
Civil Defence said it would take three to five hours for the water to reach the coast, which was 50km from the blockage.
Police and ground crew were evacuating any residents who are at risk.
Civil Defence urged anyone nearby to stay away from the river bed and surrounding floodplain areas.​
The water broke through the dammed-up debris around 4.20pm.
Emergency workers began evacuating nearby residents around 3.30pm, before the slip breached as a precautionary measure.
Earlier today, Fish and Game urged anglers to steer clear of the Canterbury river, due to a slip blocking the river in the vicinity of the Dart Stream, with a lake forming behind the blockage. 
Slip dam on Clarence River has breached, large wall of water heading downstream. Residents urged to go to higher ground IMMEDIATELY #eqnz

— MarlboroughEmergency (@MarlEmergency) November 14, 2016