Primary teachers back pay offer, but principals vote against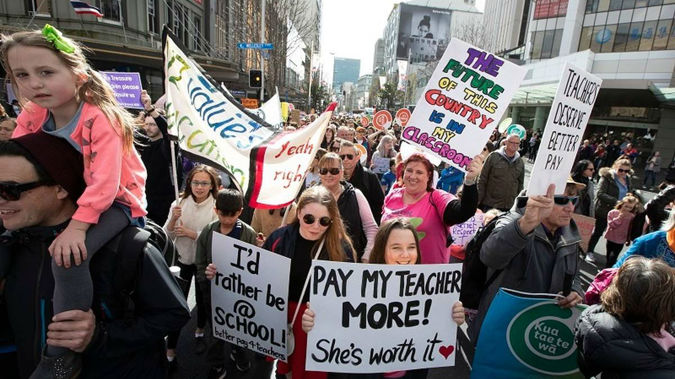 Primary teachers back pay offer, but principals vote against
Primary school teachers have accepted a $1.5 billion pay offer - but principals have rejected it because it would pay some teachers more than their principals.
The vote by just over 2000 primary school principals, confirmed by a source just before an official announcement due at 10am, will force the Government back to the negotiating table less than two weeks after it thought it had finally resolved a bitter dispute that has seen primary teachers strike three times in the past year.
The union representing both primary teachers and principals, the NZ Educational Institute (NZEI), is holding a principals' forum with leaders of the Principals' Federation this week to discuss their next options.
Meanwhile secondary teachers are due to finish voting on Friday at meetings around the country on whether to accept essentially the same offer that primary teachers have endorsed.
Secondary principals are only in the early stages of negotiating their own deal, and one reason primary principals have rejected the deal they were offered is because they have no guarantees of retaining pay parity with secondary principals until the secondary principals secure their own deal.
The primary teachers' deal will lift the top of their basic scale, for teachers with no extra responsibilities, by 18.5 per cent from $75,949 now to $90,000 by July 2021.
Beginning teachers with a degree plus a teaching qualification will get a 12.8 per cent rise from $49,588 to $55,948.
But the proposed increases for most primary principals are smaller proportionately, ranging from 13.6 per cent for the smallest schools down to just 9.1 per cent for the largest schools.
The lowest-paid principal of the smallest school with under 50 students, graded "U1", will still get at least $95,296 by 2021, still slightly above the top of the basic pay scale.
But extra payments for additional responsibilities will lift some teachers' pay rates to levels that will be almost as much, or possibly more than, what their principals earn.