Jibbitz trades ending in tears triggers ban at schools
Author

Publish Date

Tue, 14 Nov 2023, 3:49PM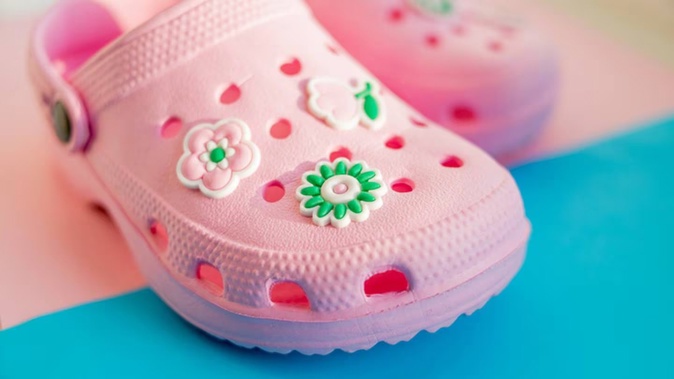 Jibbitz trades ending in tears triggers ban at schools
Author

Publish Date

Tue, 14 Nov 2023, 3:49PM
Jibbitz - accessories that clip on to Crocs - are being banned in schools in Northland due to escalating arguments between youngsters over the sought-after items.
Kamo Primary School principal Sally Wilson was forced to take action after students became upset over Jibbitz trades and some resorted to stealing.
Wilson said the newest craze is something she has seen before with other trends.
"It can be anything from good ol' marbles to Pokemon cards through to Jibbitz," she explained.
Wilson said attempts to create a safe environment for trades were a learning curve for tamariki and sometimes "ended in tears".
Jibbitz have caused some fuss at principal Sally Wilson's Kamo Primary School. Photo / Michael Cunningham
Often, tamariki trade an item in the hopes of getting it back, and when they realise that isn't going to happen, they "emotionally can't cope", she said.
Eventually, Wilson banned Jibbitz from the school because they had become "disruptive".
"They were getting stashes and holding on to them, and there was an uneven trade for a certain one that they were after."
While some kids have their "eye on the prize" and trade cheap Jibbitz for more expensive ones, Wilson said there have also been cases of stealing.
"It's a learning curve about possessions."
Dargaville mother Taiāwhio Wati-Kaipo was first annoyed when Jibbitz were recently banned at Dargaville Primary School, worrying for her children's ability to express their "individuality".
But Wati-Kaipo soon considered the issue and realised the ban had a "deeper meaning".
She believed the ownership of Jibbitz is a "social indication" of where someone is "sitting on the financial bracket".
Wati-Kaipo said the price hike in Crocs themselves has created a "has and has not" situation among students.
"Without the Jibbitz, the Crocs were already speaking volumes about someone's identity," she said.
Wilson said the craze created a social comparison, as it was about who had the coolest ones and who had the most.
Despite Jibbitz being against her own morals, she had never seen her son walking "so comfortably" to school.
"It's amazing these pieces of plastic on the end of his feet have lifted his confidence."
But soon he came home missing two Jibbitz, and so did her daughter.
"I'm really glad they banned the Jibbitz. Now we can bring the balance back into schools," Wati-Kaipo said.
"... and I don't have another broken heart to deal with because one's missing or broken or lost."
Te Tai Tokerau Principals' Association chairman and Hora Hora School principal Pat Newman said it takes "common sense" to realise why such items are banned.
"If they're going to cause a problem in school, then parents put up with them being stolen ... I haven't got the time to run around chasing sparklies that have very little to do with education."
Brodie Stone is the education and general news reporter at the Advocate. Brodie graduated from Massey University and has a special interest in the environment and investigative reporting.
Take your Radio, Podcasts and Music with you