Schools urged to scrap male or female uniforms
Author

Publish Date

Mon, 29 May 2017, 5:18AM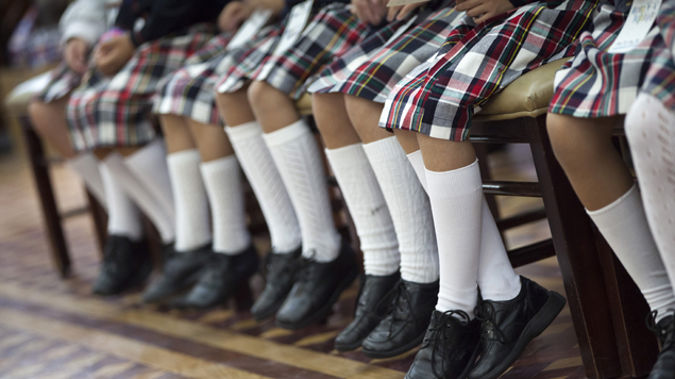 Schools urged to scrap male or female uniforms
Author

Publish Date

Mon, 29 May 2017, 5:18AM
The gauntlet is being thrown down to high schools to end the era of 'male' or 'female' uniforms.
They are being urged to put measures in place to make all students feel welcome, no matter their gender identity or sexuality.
Secondary teachers' union the PPTA has released an updated set of guidelines for schools to help them create a safe and welcoming environment.
The guidelines say gender identity and sexuality should never be barriers.
Rainbow taskforce convenor, Shawn Cooper said the guidelines look at things like toilet and changing room facilities and responses to bullying.
Cooper said they want to get people looking at school uniforms.
"Thinking about things like how we have students wear specific uniforms based on their biology," he said.
Some schools are already choosing to remove gender-specific uniforms, like Dunedin North Intermediate, which offers a kilt, culottes, trousers, shorts or a PE uniform.
Cooper said they are also outlining what schools could be doing differently to be more inclusive.
"To provide opportunities for students to be able to express their gender identity and sexuality and just feel the school community is a little bit more inclusive," he said.
He said many LGBTI students face challenges at school, which routinely distract from their learning.
Cooper said inappropriate toilet and changing room facilities and restrictive uniform regulations unnecessarily exacerbate stress and anxiety.
Diversity education specialist Aych McArdle said if students aren't comfortable in what they are wearing, it will be hard to be focused in class or to make friends.
"If a school allows a student to wear whichever uniform they like and use a uniform that meets their needs, that means they are going to be better concentrating in maths and building really strong social bonds," McArdle said.
McArdle said it's a simple, easy thing - that can make a marked difference in a youth's life and some schools are doing phenomenal work, but others have a long way to go.
"We want to make sure that everyone in New Zealand has a safe place to learn and to be themselves," McArdle said.