Otago Peninsula cut off by flooding
Author

Publish Date

Wed, 3 Jun 2015, 11:52am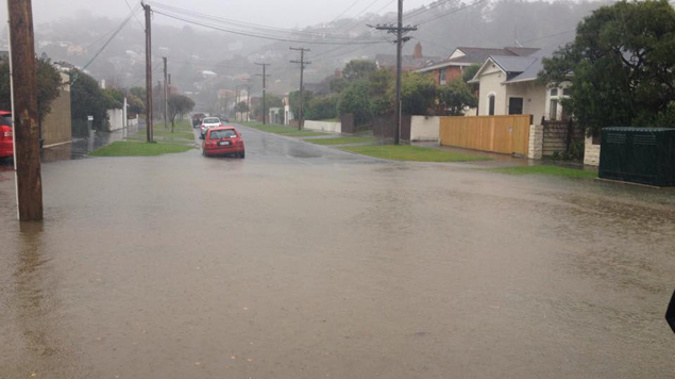 Otago Peninsula cut off by flooding
Author

Publish Date

Wed, 3 Jun 2015, 11:52am
UPDATED 8.57pm: Otago Peninsula is cut off by flooding tonight, as the region takes a battering.
The Dunedin City Council says they're closely monitoring the situation, with the stormwater system being severely challenged.
A number of residents from Ocean Grove and Brighton have been evacuated from their homes.
The Transport Agency says it now has one northbound and one southbound lane operating on State Highway One between Saddle Hill and Lookout Point, after they were affected by major flooding.
Earlier today, heavy rain closed the two north bound lanes of the southern motorway in this area.
Many roads have been affected by flooding in the Dunedin area, so people are being urged to avoid any non-essential travel.
State highway 87 through the main street of Mosgiel is also flooded, however local road detours are available. 
One person has been rescued following a slip in the Dunedin suburb North East Valley.
Police say the person was stuck in their home following the slip, but has since been rescued.
There has been a number of other reports of slips occurring around the city. 
Dunedin police say there's still a lot of flooding across the city, and while the high tide mark has passed, there's still a chance of rain causing more issues.
Civil Defence in Dunedin says it's working to co-ordinate a response to flooding across the city.
Even so, it's not considering declaring an emergency.
Civil Defence coordinator Neil Brown said so far the city has been besieged with around 100 millimetres of rain.
"Overnight we may get another between 80 and 100 millimetres, according to the forecasts, so really we're about halfway."
Dunedin's bus services have taken a hit as a result of the flooding around the city.
Persistent rain has been falling across the city, with heavy flooding in Kaikorai Valley and South Dunedin.
MORE: Dunedin flooding - your pictures
A police spokesman is urging motorists to delay travel as much as possible in the affected areas.
Two fire trucks are also pumping water from Radius Fulton rest home on Hillside Road.
St Clair resident Jeevan Verma has never seen anything like it.
"It's quite scary, there's places down here where there is water just above your knee. I've been in New Zealand about six years now and it's the worst I've ever seen." 
The Fire Service is flat out with flooding call outs.
Senior sergeant Ian Temple said they're supporting other agencies.
"The fire service is busy as are the council and the roading contractors, but we're assisting where we're needing to."
Temple said people out and about should take great care when driving, especially around South Dunedin.
A MetService heavy rain warning remains in place for the city.
NZME's Callum Proctor said South Dunedin has taken a battering.
"Flooding on the streets in South Dunedin is extremely bad. Most streets have surface flooding, but a lot of streets now have become worse than that - the water is across the entire street."
Power Outages
Aurora Power is cutting services to more than one hundred customers on the Taieri near Dunedin.
It's having to disconnect its power supply to the area due to the ongoing flooding which has submerged ground-mounted electrical equipment.
Power is being disconnected to around 150 customers in Woodland Avenue, Kinmont Cresent, Boundary Road and Heathfield Drive.
Aurora says the power will remain out until the water subsides and power can be safely restored.
Clutha District
There's also widespread surface flooding throughout the Clutha district.
Between 30 and 50 mms of rain had fallen in parts of the district up to 3pm today.
At least two road closures are already in place - Lakeside Road at the railway underbridge and Akatore Road at Big Creek.
State Highway 1, south of Dunedin, is also affected by flooding with some detours in place.
 Auckland Storms
Meanwhile, heavy rain is lashing parts of Auckland this afternoon, with commuters warned to keep their raincoats and umbrellas close by as the stormy weather may continue into rush hour.
Areas to the west and south of Auckland Airport are experiencing heavy downpours with showers and strong gusty winds hitting other suburbs.
WeatherWatch says an arched band of rain is now slowly moving across the city, with downpours likely to increase and set into steady rain. Isolated thunderstorms, as well as hail, are possible this afternoon.