Teens charged over mass KFC brawl appear in court
Author

Publish Date

Thu, 1 Sep 2016, 4:03PM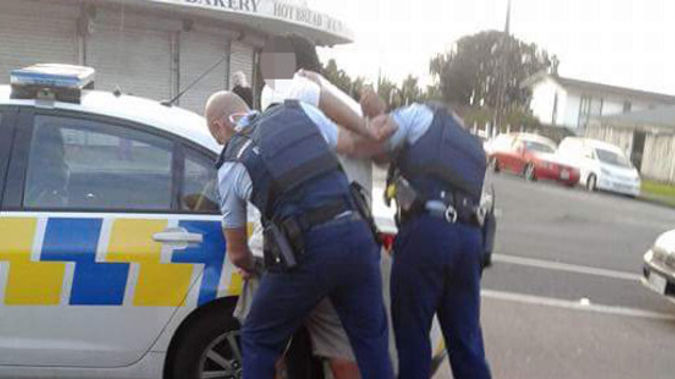 Teens charged over mass KFC brawl appear in court
Author

Publish Date

Thu, 1 Sep 2016, 4:03PM
Two teens charged over a mass brawl that ended in a south Auckland KFC have appeared in court.
The fight, which took place in the Mangere East restaurant on Monday, involved 80 Auckland youths who reportedly used knives, chairs and pieces of wood as weapons.
The violence started in Walter Massey Park, moved down Massey Rd and spilled into KFC.
Along the way, terrified staff locked themselves inside businesses while others watched in horror as students suffered injuries bad enough to draw blood.
Favona resident Sweden Aunese, 17, appeared in Manukau District Court this morning charged with disorderly behaviour, possession of an offensive weapon and possession of a knife.
According to court documents the offensive weapon was a hammer.
He was remanded until October.
He posted a message to friends on Facebook this morning:
"Whatever the outcome of this court case I want my family and friends to except it. Straight up just stay fefeka (solid) aight much love to everyone who has supported me," (sic) he wrote.
Another 17-year-old, Te Aoturoa Reihana from Red Hill, appeared in Manukau District Court on Tuesday facing allegations of disorderly behaviour and resisting police.
He was bailed will be back in court this month.
Earlier this week, police called a press conference to reassure the public that everything possible was being done to maintain the safety of the community
Counties Manukau west area commander inspector Jason Hewett appealed to anyone who had footage of the fight to pass it on to police rather than post it on social media.
It was "by the grace of God" that no one was seriously harmed, he said.
He also confirmed that police were called out earlier to the area, where a large group was gathering, but were unable to disperse the school children.
It is believed that a confrontation between boys from a church incident quickly escalated when knives were pulled.
One student ran into the KFC to take cover and was chased in by the rival school group.
It is understood one student attempted to "shank" another, but thick layers of clothing protected him from being injured.
As well as the two who appeared in court, a pair of 15-year-olds were referred to youth aid, police said.
Manukau Urban Maori Authority chief executive Willie Jackson said he knew the area where the brawl happened well and said it was a rare occurance.
He said locals were shocked by the brawl, and the behaviour of the fighting kids could, in part, be attributed to boredom.
Some Mangere families found getting by was tough, trying to earn and perhaps therefore not being able to watch their kids as closely as they should be, Jackson said.