Pt Chevalier robberies: Auckland police make second arrest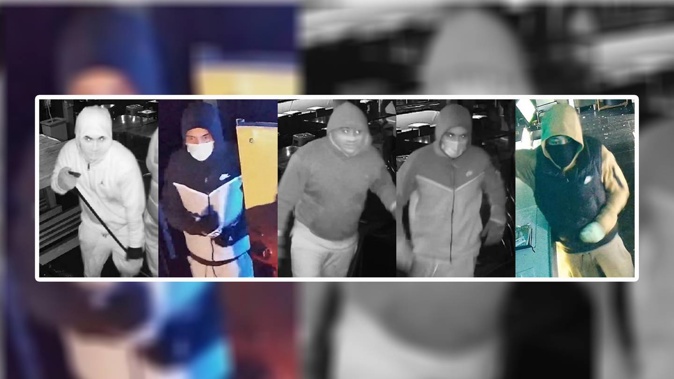 Pt Chevalier robberies: Auckland police make second arrest
A second person has been arrested in connection with three aggravated robberies in Auckland's Pt Chevalier this month.
Police have charged a 23-year-old man with aggravated robbery, along with a series of ammunition and drug supply charges, after a group stormed the Wapiti Sports Bar on Carrington Rd about 2am September 16.
The man will appear in the Auckland District Court today.
Hours before the hit on the bar, multiple offenders went into another pub around the corner, the Harlequin Bar and Restaurant on Great North Rd, armed with hammers and a firearm.
A man has been pictured with what appears to be a firearm in images released by police relating to an Auckland armed robbery in Point Chevalier at Wapiti Sports Bar. Photo / NZ Police
One person fired a shot inside the premises, which struck a TV on a wall behind the bar.
The offenders took money from the tills and gaming machines before fleeing.
Police believe the same group committed an aggravated robbery on the Mt Albert Sports Bar on New North Rd about 2am Thursday, September 14.
A 26-year-old man, a Crips gang member, was arrested over the incidents last Monday evening.
The Wapiti Sports Bar in Pt Chevalier was robbed by multiple armed offenders on September 16. Photo / Hayden Woodward
During a raid of the 23-year-old's property this morning, police found an imitation firearm.
Detective Senior Sergeant Ash Matthews of the Auckland City criminal investigation branch said officers arrested the man at a Mt Wellington address Tuesday morning after executing a search warrant.
He said the arrest was "another example of great work being done by police.
"We hope this second arrest brings reassurance to the community that we take this type of offending extremely seriously and will respond, investigate and put offenders before the courts," Matthews said.
Police stand guard outside Harlequin Bar on Great North Rd in Pt Chevalier.
"We will continue to work hard to identify and arrest further offenders responsible for these robberies."
Police charged the 23-year-old with aggravated robbery, unlawful possession of ammunition, possession for supply of methamphetamine and possession of supply of cannabis.
Officers arrested the Crips member after executing a search warrant at a Manurewa property.
Matthews said a shotgun was found inside that property.
Police were standing guard outside Mt Albert Sports Bar early on September 14 after a midnight incident.
Police continue to ask the public for information about the robberies.
A vehicle police believed was used in the hit on Waipiti Sports Bar, a silver 2005 Toyota Mark X, registration HTU397, is still missing.
"Anyone with information regarding any of these incidents are urged to contact Police by calling 105, or if you wish to give information anonymously, please call Crime Stoppers on 0800 555 111," a police spokeswoman said.
"You can quote the following file numbers in relation to these events.
"230914/9893 - Mt Albert Sports Bar, Thursday 14 September
"230915/4397 - Harlequin Sports Bar, Friday 15 September
"230916/8450 - Wapiti Sports Bar, Saturday 16 September"
Take your Radio, Podcasts and Music with you