Kawerau mayor welcomes police raid to 'stamp out' meth
Author

Publish Date

Tue, 27 Mar 2018, 9:00AM
Kawerau mayor welcomes police raid to 'stamp out' meth
Author

Publish Date

Tue, 27 Mar 2018, 9:00AM
Kawerau's mayor has welcomed a police raid on the local Mongrel Mob headquarters, saying urgent action is needed to "stamp out" the area's methamphetamine problem.
Police raided the Mongrel Mob headquarters in the Bay of Plenty town this morning.
They are searching properties across the Bay of Plenty this morning as they target organised crime and the distribution of illicit drugs in the community.
Most of the properties being searched are in Kawerau, Whakatane and Opotiki.
"What is going on this morning is big, it is a wake-up call to the gangs," Kawerau mayor Malcolm Campbell said.
"Gang presence is never a positive impact as far as I am concerned."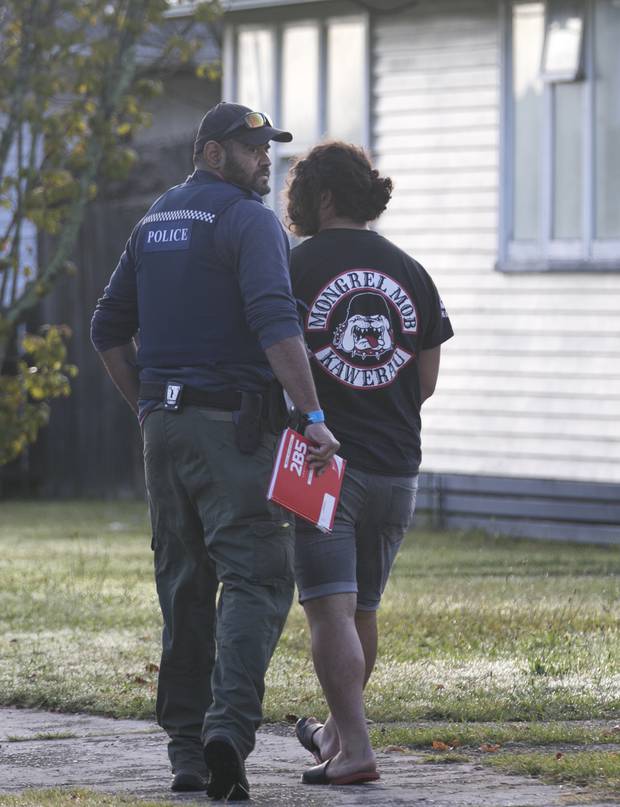 A Mongrel Mob gang member is led away after police raided the gang's headquarters in Kawerau.
Kawerau, in the eastern Bay of Plenty, is a "red" town and the Mongrel Mob is heavily entrenched in the community.
This morning's raids come a week after police arrested three people linked to the Barbarians chapter of the Mongrel Mob in Opotiki on methamphetamine offences.
In the past 18 months, a number of criminal investigations in the eastern Bay of Plenty have involved members of the Mongrel Mob.
"This [gang and drug] activity has been going on in the whole of eastern Bay of Plenty long enough," Campbell said.
"These drugs are harmful to everyone - those using and those who are not. It is in your face on a day-to-day basis, people walking around fried.
"Any meth is not good. It is a dangerous drug."
A national survey of drug users found the Bay of Plenty had the highest number of people dependent on cannabis in the country, and high levels of methamphetamine dependency. Thirty per cent of the people surveyed in the Bay were addicted to P.
The Massey University survey also found the region had the highest need for help for substance abuse.
Campbell had heard anecdotally about 250 were using meth in his small town of slightly more than 6000 people.
"My plea to the people of Bay of Plenty is to stand up - councillors, mayors, iwi leaders, say enough is enough, not in our community.
"Get your families sorted out, before it comes through into the next generation.

"I have grandchildren 7 and 9 years old, and I don't want that stuff around them.
"It has nothing to do with race or deprivation. When someone is hooked, it can hook anyone."
Campbell said he also wanted to see the Inland Revenue Department take action against the gangs.
"A lot of them have never worked a day in their lives yet they have cars, boats, Harley Davidsons - it is a real slap in the face to those working.
"I have been brought up in a tough life, and now having to fight this sort of s**t every day.
"We are trying to create jobs for young people, but then find out some don't even turn up for job interviews because they are not clean.
"But this is not going to defeat us." 

Campbell hoped the police would realise how bad it was and take a stronger stance.
"My message to the country is, this s**t is in your town, meth. Whether you like it or not, it is there.
"All community leaders need to deal with it now."