Murder charge laid in case of decapitated Petone pensioner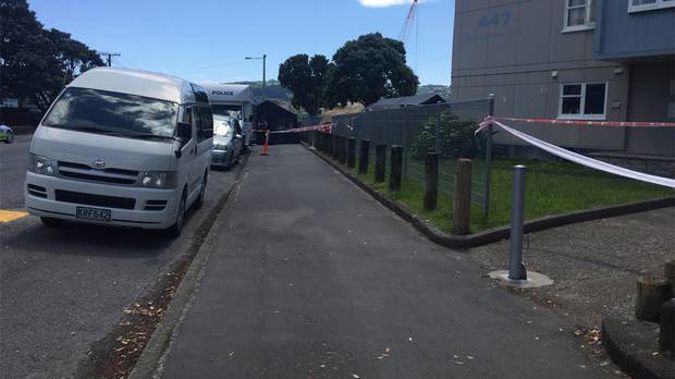 WARNING: THIS STORY CONTAINS GRAPHIC CONTENT
A man has been charged with murder following the death of 71-year-old Francis Tyson, who was found decapitated at his Petone home last week.
The alleged killer appeared in the Hutt Valley District Court this morning, charged with murdering Tyson with a weapon, as well as unrelated charges of intentional damage and possession of non-approved psychoactive substances for supply.
The 41-year-old has interim name suppression.
Judge Arthur Tompkins ordered a psychiatric report and remanded the man in custody to appear in the High Court at Wellington later this month.
He was arrested shortly after Tyson was killed at his Jackson St home on Friday evening.
Police confirmed yesterday that he had been decapitated.
A neighbour, who told the Herald he had been crying for days since the grisly death, said Tyson had been dealing synthetic drugs.
The neighbour said Tyson, who he knew only as "Frank" or "Frankie" was "an old pensioner" who had been dealing "synnies" to get by.
"Everyone's doing that, that's the hussle. He's a pensioner, he's doing his bit to hussle."
He said the drugs were related to the killing, but were not the motive.
He would not speak on the record about what he knew of the killing.
On Saturday, as a result of the police investigation, a 41-year-old man was arrested and appeared in the Hutt Valley District Court on willful damage and drug possession charges.
The man today had the new charge of murder with a weapon laid against him.
A post-mortem was yesterday being undertaken on the body.
The neighbour said he knew Frank well, and that people in the area used him as a "ghetto taxi driver". Frank would regularly drive friends and neighbours to work or the supermarket for a small fee.
He said Frank was not an easy person to get along with, but did a lot of good for those around him.
"There's a lot to this f***ing story . . . the guy didn't have to go out the way he did," he said.
"The guy wasn't an easy guy to get along with. His jokes were f***ing stale. Everyone still laughed or else he wouldn't drive you."
The neighbour said this type of killing was "unnecessary".
"This isn't the cartel.
"We need to find some sort of justice for the guy."
The neighbour said the death was "f***ing horrible".
"I don't want to be here anymore . . . that's not a way for someone to go out."
He said there could have been "three homicides" if the people allegedly involved in the killing hadn't run from the scene, as there were others who would have come after them if they did not go into hiding.
The man, who was fearful of being identified, said he was not a "rat", but said "Frankie played with fire".
He said the killing had nothing to do with gangs.
The scene examination at the Jackson Street Flats is continuing this week and is likely to continue for several days.
Police have clarified that neither the victim nor the 41-year-old man who was arrested on Saturday are gang members.
Police will not speculate on any potential motive for the killing, a spokesperson said.
"We want to reassure the community of Petone that this appears to have been an isolated incident, and police are working hard to find answers for the family of the deceased," Detective Inspector Shane Cotter said.
Police would still like to speak with anyone who can assist with information about what happened.
They can call Wellington Police on (04) 381 2000, or information can be shared anonymously with Crimestoppers on 0800 555 111.
Cotter said residents would notice an increased police presence in the area over the coming days.
"Police are committed to understanding what has occurred in this incident and holding to account those responsible for the man's death," he said.
Police still wanted to speak with any witnesses to the incident or anyone who may have information that could help with the investigation.
The death would have come as a shock for residents of the longstanding community, a local woman said.
Jackson Street Programme chair Leonie Dodds said the HNZ complex where the man was found was home to residents who knew each other well and had lived in the flats for a long time.