Gang member allegedly assaults Picton bar owner after damaging property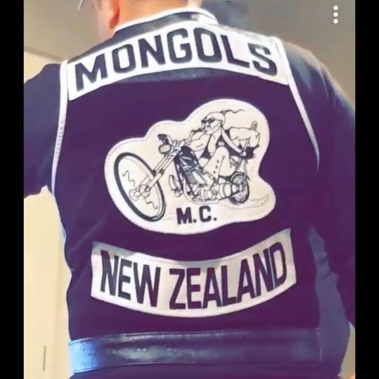 Gang member allegedly assaults Picton bar owner after damaging property
A patched Mongols gang member allegedly assaulted a publican in Picton last week while travelling south for a gang meet-up.
Police said a person had been arrested at a commercial premises on High St last Thursday evening around 7pm.
A spokesperson confirmed the offender had reportedly damaged the property and assaulted a worker at the business, who'd received minor injuries.
The assaulted worker was a publican, according to Stuff, the incident occurred after two men banged on the packed restaurant's windows and knocked over a statue outside.
When the publican asked them to stop, one of the men allegedly followed him inside and punched him in the face.
He was left battered and bruised, and sporting a black eye, Stuff reported.
The Mongols motorcycle gang established a chapter in New Zealand in 2019. Photo / Supplied
The offender ended up fleeing the scene before police arrived, the police spokesperson said, but police inquiries led to officers finding the man at an address on Devon St.
The 33-year-old will appear before Blenheim District Court today on an assault charge.
Detective Inspector Joel Syme said last week police were aware of a planned event in Christchurch over the weekend involving members and associates of the Mongols MC.
Syme said additional police staff would be deployed in the city over the weekend to "closely monitor the behaviour" of those attending the event.
On Friday morning, police were called to a crash involving two motorcycles travelling to the event. The crash on State Highway 1, north of Amberley, was reported to Police at 11.25am.
"Nobody was injured and the road was not blocked."
Police officers spoken to by the Herald say numbers of arrests involving Mongols members are low, especially when compared to others in the city like the Tribesmen MC, or the Comancheros who recently patched over the rival Rebels and took over their Woolston clubhouse.
Take your Radio, Podcasts and Music with you