Mistaken identity suspected in Mt Maunganui home invasion
Author

Publish Date

Sat, 21 Jul 2018, 1:59PM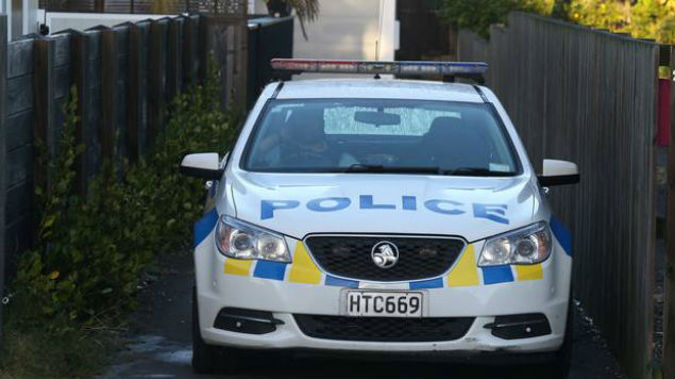 Mistaken identity suspected in Mt Maunganui home invasion
Author

Publish Date

Sat, 21 Jul 2018, 1:59PM
A house on a quiet Mount Maunganui street became a crime scene yesterday when three men armed with weapons forced their way through the front door.
Inside, a man and woman were sleeping.
Police were alerted to an aggravated burglary at the Valley Road property at 4.20am yesterday – an incident Western Bay of Plenty area commander, Inspector Clifford Paxton, believed was a case of mistaken identity.
"We believe that the occupants of this address, a man and a woman, were not the intended subjects of this attack," Paxton said.
"It is deeply concerning that the occupants of this address have been put through such an ordeal.
"We want to assure the community that we are treating this incident very seriously and are actively investigating."
He said the people at the house during the attack were not injured and were given support.
Late yesterday, police said a 29-year-old Northland man had been charged in relation to the incident and was due to appear in Tauranga District Court today facing one charge of aggravated burglary.
Residents on the street, who wanted to remain anonymous, say their neighbourhood is normally a peaceful area and they were shocked to learn what had happened.
One woman who lived nearby said she first found out about the incident when the police knocked on her door later in the morning to see if she had heard anything.
"It was a bit of a wake up. Bit concerned because I also realised I left my door unlocked last night too, which is something I don't usually do. Just by mistake. So when I realised that I was like holy s**t that's a bit scary," the woman said.
"There's never any issues down these roads so ... it was a shock, actually. Usually that doesn't happen around this area. So yeah, it was quite concerning.
"I did ask the police if we're all safe here."
She went and checked on her other neighbours when she found out.
"They're a bit freaked out as everybody else seemed to be. Just because it's unheard of around here."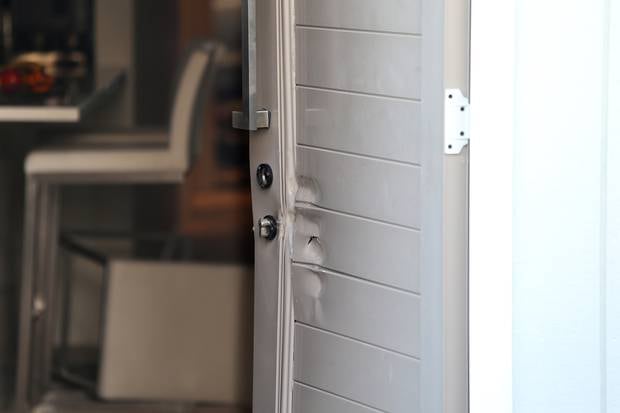 The front door of the Valley Rd house shows signs of forced entry. Photo / John Borren
A man and a woman who lived across the street from the invaded house on Valley Rd said their neighbours were shaken. The woman said she saw them later that morning.
The man was particularly emotional.
"He just broke down. He was just so upset. It was big hugs all round. And he said 'you just wouldn't believe how awful it was'," the woman said.
She said it was normally a quiet neighbourhood and she and her husband were not too concerned as they were confident it was a case of mistaken identity.
At the time of the alleged attack, the couple said they woke to a series of loud bangs shortly after 4am.
The couple told the Bay of Plenty Times Weekend they got out of bed and went outside to see what was happening.
"We were trying to work out what the heck was going on," the man said.
The woman said: "At the time, it was like a movie unfolding".
The man said his wife went right down to the gate to look around.
They could see the door was open at their neighbour's house across the road, but could not see inside as no lights were on.
"We just thought that they had come out to investigate too," the woman said.
Then the door closed.
When the police arrived soon after, it is alleged three men carrying weapons – what kind, police have not specified – ran from the house and got into a car.
Police chased them to Blake Park where the men got into another car. The pursuit continued to Maunganui Rd.
The men then ran from that vehicle, through Omanu Golf Club and along the side of the airport.
The area was cordoned off and dogs and armed officers searched for the men.
The police recovered two vehicles which were being examined and further inquiries were being made.
If anyone in the wider Mount Maunganui area witnessed anything suspicious early yesterday morning they should call Mount Maunganui police on 07 575 3143.
Information can also be given anonymously via Crimestoppers on 0800 555 111.