Luke Tipene trial: Teen cleared of murder
Author

Publish Date

Mon, 18 Jul 2016, 4:04PM
Luke Tipene trial: Teen cleared of murder
Author

Publish Date

Mon, 18 Jul 2016, 4:04PM
A teenager who stabbed a budding rugby league star in the neck with a beer bottle has been cleared of murder.
After nearly 5 hours of deliberation, the jury this afternoon acquitted Vincent Angene Skeen, 18, over the alleged murder of 17-year-old Luke Tipene - but found him guilty of manslaughter.
LISTEN ABOVE: NZME court reporter Rob Kidd speaks with Rachel Smalley about the verdict
Members of both families shed tears before the verdict had even been given.
Some of Tipene's family hurriedly left the court after hearing Skeen had been acquitted of murder.
"I know that verdict would have been a close run thing and it will be upsetting for some of you, but I'm very grateful for the way you behaved," Justice Peters told those in the public gallery.
At the trial's outset last week, defence counsel Lorraine Smith told the jury her client had done something "very foolish" and accepted he was guilty of the less serious charge.
The pair had never met before and neither had planned to attend a party in Grey Lynn, which spilled onto the street in the early hours of November 1, 2014.
Tipene went to Great North Rd with his cousins after hearing his friend may be involved in a fight, while Skeen was there to see his girlfriend.
The pair ended up squaring off after the defendant allegedly intervened in what was supposed to be a one-on-one fight between two other boys.
What happened next was hotly contested during the trial.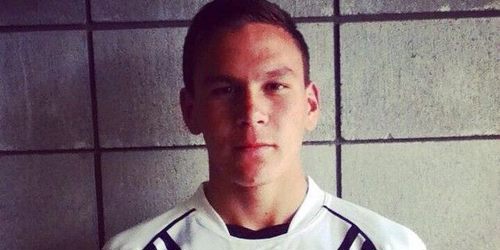 Luke Tipene. Photo / Supplied.
The Crown said Skeen deliberately smashed a bottle and attacked Tipene with the jagged shard, stabbing him in the neck and severing his jugular vein.
The defence was only prepared to concede the teenager had perhaps picked up the broken bottle neck and flailed his arms blindly at the victim during the course of a street brawl.
Skeen either meant to kill Tipene or at the very least knew the harm he was inflicting would potentially cause death, prosecutor Brian Dickey said.
But the jury disagreed.
Smith said there was "huge doubt" over her client's intent and urged the jury to remember everything happened very quickly.
"The whole Crown case is based on Vincent Skeen having time and appreciation to know exactly how that bottle had been broken, then to decide to use it knowing Luke's death was a probable consequence," Smith said.
"The Crown saying Vincent was aiming for Luke's throat . . . is a complete overstatement of the evidence. The other very realistic possibility is that Vincent was swinging out blindly without any intent to connect with any particular part of the body."
Smith stressed Skeen had been struck in the head twice before causing the fatal blow and had been drinking that afternoon too, both of which could have clouded his judgement.
Manslaughter carries a maximum penalty of life imprisonment but most commonly attracts a finite jail term.
Skeen will be sentenced before the High Court at Auckland on August 16.
Outside court Tipene's uncle Sean Wilson said the experience of going through two trials and seeing the killer acquitted of murder was "very traumatic", especially for his sister, Luke's mum.
"To relive this whole process again. No parent should go through that twice," he said.
"Testament to my sister."
Mr Wilson said the family was disappointed but respected the jury's decision.
"No one is a winner today. No one is better off for it," he said.
"We've just got to keep Luke's memories alive... we've got to think about the beautiful things that Luke stood for and remember Luke the way he was - a fantastic person."
When asked about forgiveness he deferred to his sister, who earlier dashed out of court when the verdict was read.
"She has a lot of mana and she wants to hold that within her and she wants to walk away with that in tact so I've got to respect that," Mr Wilson said.