Knife-wielding man pinned down at Sylvia Park Shopping Centre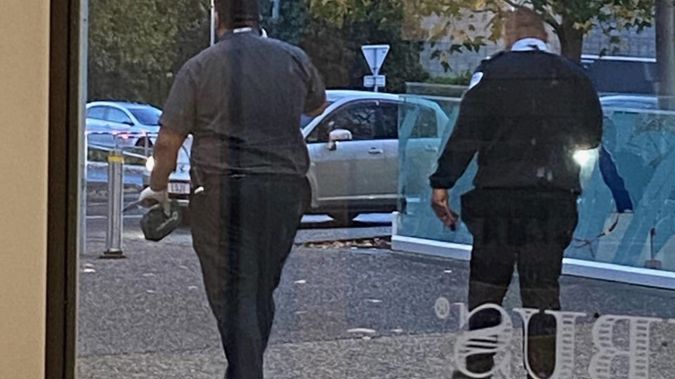 Knife-wielding man pinned down at Sylvia Park Shopping Centre
Security guards have wrestled a knife-wielding shoplifter to the ground outside Sylvia Park Shopping Centre in Auckland.
No one was hurt in the incident.
Police were called to the mall just after 5pm to reports of a shoplifter and were now in the area making inquiries.
It was reported that the shoplifter was confronted by security guards and he presented a knife at them.
The security guards obtained the knife from the shoplifter and recovered the stolen goods, however the offender left on foot.
A retail worker at Sylvia Park said the man was taken down by two security guards before fleeing the scene.
Another mall worker who saw the incident said the weapon was a large steak knife with a "big blade".
A woman sitting in Columbus Coffee with a friend heard a person call out: "Help me, can someone help me, he's got a knife.
"Then we heard the guy on the ground yell something about, 'Don't be a snitch'."
The woman couldn't see as her vision was blocked by a pillar, but the incident took place just 4-5m away, near the exit to the mall.
A crowd of people quickly gathered around with some urging for police to be called.
The woman said she understood from others nearby that it was a man sitting on top of the shoplifter, pinning them to the ground, who had called for help.
"So they got the knife off him and a backpack, but somehow he wriggled free and ran off outside," the woman said.
She saw a security guard carrying the backpack and walking outside in the direction the shoplifter had fled.
The woman later saw a bunch of security guards outside the mall exit, including one who was holding the knife.
"I thought, 'Crikey, that's a big knife'," the woman said.
She said the incident was a surreal moment, especially after four people were stabbed at a Dunedin Countdown supermarket early last week.
"You do think of your kids and what if they'd been around - and also what happened in Dunedin last week."
Three of those earlier stabbed in Dunedin on Monday, May 10, suffered critical injuries, while a fourth was seriously wounded.
All were rushed to Dunedin Hospital and had surgery.
A 42-year-old man now faces four charges of attempted murder after allegedly stabbing people inside the Cumberland St Countdown.
Workplace Relations and Safety Minister Michael Wood earlier said the Dunedin Countdown's manager had contacted him about a month ago to arrange a meeting about the escalating amount of abuse her staff were facing.
As a former retail worker himself, he said he was familiar with the issues faced by those in customer-facing roles.
While most people treated them well, others used the imbalance of power to bully people and treat them poorly, he said.
"Clearly there is an entrenched problem."