Jiaxin Tu gets 12 years behind bars for bludgeoning love rival
Author

Publish Date

Tue, 2 Aug 2016, 11:47AM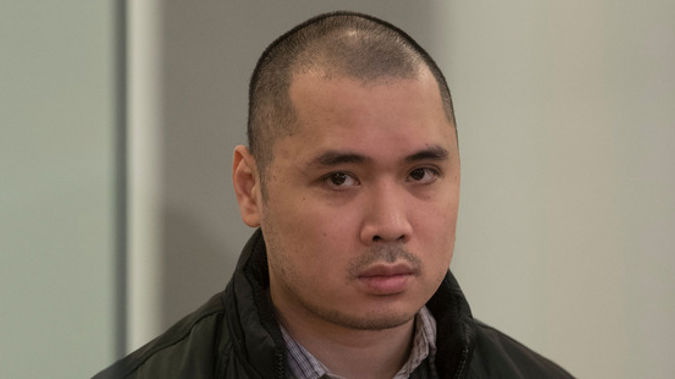 Jiaxin Tu gets 12 years behind bars for bludgeoning love rival
Author

Publish Date

Tue, 2 Aug 2016, 11:47AM
A man who bludgeoned a love rival to death with a hammer before "perversely" slipping into bed with the victim's partner has been jailed for at least 12 years.
Jiaxin "Max" Tu, 36, was found guilty of the murder of 19-year-old Shane Paul Hawe-Wilson at trial before the High Court in Auckland in June and was today sentenced to life imprisonment.
The defendant argued the incident on July 1, 2015 could be explained by his insanity but the jury rejected that explanation.
The victim's mother Paula Hawe had a simple message for the killer.
"You're disgusting," she said. "You should just rot, you scum."
Hawe said any sentence was insufficient and would never lessen the pain the family was experiencing.
"I miss him. I miss the mum-and-son times we had and to know this is never going to happen again for me and his family is unbearable at times," she said.
Crown prosecutor Kirsten Lummis said the killing was sparked by "jealousy and a long-standing obsession" Tu had for the victim's partner Crystal Hawe.
Despite being cousins, Hawe and Hawe-Wilson had started a relationship in the preceding weeks when the teenager moved up from Whanganui.
But in the background was Tu's "unhealthy interest" in Hawe, which stretched back to 2011 when she was 12-years-old and they lived next door to each other in Panmure, the Crown said.
His obsession was such that the defendant even tried to hire a hitman to kill the woman's previous boyfriend.
A man testified that Tu offered him $50,000 to creep into a man's Onehunga home and slit his throat "like a ninja", but he said he "wasn't having a bar of it".
On the night of June 30 last year, Hawe-Wilson, Hawe, Tu and others had been drinking at the Panmure house in which they were all living.
By midnight, everyone had gone to bed except for Tu, who went for a walk.
When he came back at 2am, he had decided to kill Hawe-Wilson.
He found a hammer in a kitchen cupboard and crept quietly into the bedroom where he exacted two or three blows to the victim's head "until his skull felt soft".
"He's standing over a sleeping victim, analysing whether he's done enough to kill him," Lummis said.
The force of the blows was so strong pieces of the teenager's skull were embedded in his brain.
Hawe slept through the entire incident and five hours later, Tu climbed into bed between her and the dead body.
She woke with him trying to pull down her jeans and chased him out of the room while yelling for Hawe-Wilson to help.
It was only when she returned to the bed and she saw the blood that she knew something was wrong.
Justice Christian Whata said Tu was well educated and from a stable family environment.
"But you are unwell," he said.
The judge said the defendant had significant mental-health problems which manifested in "abnormal behaviour" including believing he was god and obsessing over young women.
Despite the jury rejecting the insanity defence, Tu's lawyer Peter Tomlinson said the offending was "driven by his mental illness, not by any sense of rationality".
"But for that ever-worsening mental illness, this offence would never have happened," he said.
Justice Whata said the murder was premeditated and occurred when the victim was obviously defenceless.
The circumstances were "clearly chilling", the judge said, but had to be coloured by the psychological issues Tu was experiencing.
That said, the jury had decided he knew the difference between right and wrong at the time of the killing.
Reports provided to the court suggested Tu had benefited from the structured format of prison life and Justice Whata said there was hope for his future rehabilitation.