Jaden Stroobant jailed 17 years for murdering Te Atatu woman Cunxiu Tian
Author

Publish Date

Fri, 26 May 2017, 11:28am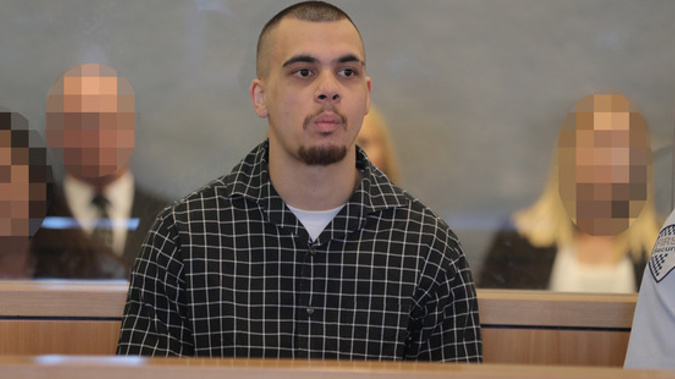 Jaden Stroobant jailed 17 years for murdering Te Atatu woman Cunxiu Tian
Author

Publish Date

Fri, 26 May 2017, 11:28am
The man who brutally beat his 69-year-old neighbour to death and then, as she lay dying and unresponsive, sexually assaulted her twice, has been sentenced to preventive detention and life imprisonment with a minimum non-parole period of 17 years for his "callous and depraved" crimes.
Jaden Lee Stroobant pleaded guilty to murdering the 69-year-old in her family home in January last year.
He had initially denied the offending but changed his plea on the first day of his trial in the High Court at Auckland in February.
Sentencing for the killer began before Justice Graham Lang at 9am today.
When asked in court this morning if he had anything to say for himself Stroobant said "nah".
He then fidgeted and muttered in the dock through the hearing, at one stage turning to a detective, holding his hand in the shape of a gun and miming shooting her.
Stroobant had been out of prison just 38 days when he killed Cunxiu Tian.
Shortly before the murder, he moved into a property that bordered Tian's family home. 
On the day Tian died, he confronted her at her Glenvil Lane home, before dragging her inside and subjecting her to a violent beating.
As she lay on the floor of her home Stroobant sexually assaulted her twice then tried to clean her with a towel and dishwashing liquid in a bid to remove traces of forensic evidence, including semen.
Sentencing began with the victim impact statements from Tian's daughter and son-in-law.
Throughout, Stroobant chewed gum, tried to chat to the security guards who flanked him in the dock and turned to get the attention of his mother and aunt sitting behind him.
Victim impact Statements
Tian's son-in-law Jerry spoke first.
"Before [the murder] I thought my life was perfect.
"I had a happy family. I thought I was the happiest man in the world. However the [murder] has changed everything.
"Since that day I have experienced the darkest moments in my life.
"I cannot sleep well, cannot focus on work and the scene appears in my mind from time to time."
Jerry said he could no longer live in the house that had been his home for 15 years.
He could not sell it, struggled to rent it and had to buy a new house with a large mortgage, which had put a massive financial burden on his family.

Since the murder he had become obsessed with his personal safety.
Despite previously "never touching a dog" he has bought a german shepard for protection, has installed CCTV cameras at his home and if he is not with his wife he is "constantly" messaging her to check on her.
"I feel so guilty that I didn't protect my family, prevent that tragedy from occurring," he said.
His happy life has been ripped from him and now he lives a "lifetime of fear, insomnia, panic attacks".
"Anger that I never wanted or asked for - and the first-hand knowledge of how deeply depraved and disgusting a human being can be.
"My view of humanity shaken to its core. I will never be healed.
"My life has been changed forever."
Tian's daughter Christina also delivered a victim impact statement, her voice clear and strong as she spoke about her "beloved mum".
She revealed that her mother turned 69 in October and had been in New Zealand for about four years.

She attended English classes every week and watched a lot of television to improve her grasp on the language in her new country.

Christina spoke about coming home from work to find her mother's battered and brutalised body.

"I entered my home and discovered my mum. It was obvious she had suffered serious injuries. It was very scary.

"I cannot believe it's real, this crime scene should only be in television episodes.

"It was obvious to me that Mum suffered a violent death.

"I cannot begin to imagine what she suffered. The loss of my beloved mum is beyond words."
She said she constantly relived the day of the murder.

"I tried extremely hard to think how anyone could be so brutal to murder my mum. Life just turned upside down in the blink of an eye.

"I suffer from extreme sadness and pain, I am preoccupied with what Mum must have gone through in the last moments of her life.

"Mum was a small woman weighing only 46kg, she must have been terrified.

"I blame myself. I wonder what I could have done to prevent this tragedy. I couldn't protect my mum, I am not a good daughter."

Christina said her mother "loved life" and was fond of travel.

She was smart, kind and industrious - a hard-working woman who kept a beautiful home and took very good care of her family.

Tian was also a cancer survivor.

"I miss my mum so much.

"When I left home that day, I still remember Mum's smile. I lost my mum, family home within one day in such a brutal way.

"Why was he so violent and brutal to my mum?"

Christina said the day after the murder was her birthday, but it was far from a celebration.

She said Stroobant had destroyed her life, her sense of security and self esteem.

"People say you never know what will happen tomorrow, but I think you don't know what will happen the next minute.

"We moved to New Zealand because we thought New Zealand was a safe place."

Christina and Jerry first heard the full details of Stroobant's attack in the newspaper after the court released the police summary of facts following his guilty plea.

"My heart was shattered. I cannot believe he is a human being," she said.

"Mum must have been screaming and yelling for help, I feel extremely guilty I was not there when Mum needed me.

"My mum has a strong will and self esteem. But she totally lost her dignity in the last moments in her life, in her home where she should have been safe.

"He targeted my mum, an elderly lady. How dare this offender act out this cruel, sadistic violence under the sunshine?

"This offender can only have come from hell.

"Our life is totally ruined by this brutal crime, we are deeply hurt and devastated.
"To the offender, your actions were cruel, you're ruthless.
"You've not only killed my mum you've killed my hope and my future.
"I do not want anyone to become your victim again."
Stroobant showed no emotion throughout Christina's statement, but sniffed, tsked and smirked at people in the courtroom, including the media.
He also laughed and muttered during the Crown submissions that followed.
The Crown
Crown Prosecutor David Johnstone called on Justice Lang to sentence Stroobant to preventive detention.

He revealed that since Stroobant was 17 he had been sentenced to prison four times and spent further time in jail on remand after being refused bail.

"More often than not, since he was 17, he has been in jail," he told the court.

Johnstone said Stroobant's sexual assault on Tian was "depraved".

"One can only hope that she was unaware of Stroobant's further conduct," he said.

"It was brutal, cruel, depraved and callous."

He said Stroobant was released shortly before killing Tian from a burglary sentence and was on "special conditions" and being monitored.
Johnstone said the murder of Tian was a "grievous escalation" of offending.
And, the guilty plea was nothing more than Stroobant trying to avoid sitting in court for a trial.
"The guilty plea was born of anything but a realisation of a need to take responsbilty for his offending, but instead, as he said, 'to get it over and done with'.

"He said he couldn't have stuck out a six- to eight-week trial. The trial would have been too hard on him rather than the victims associated with the events."
Johnstone said Stroobant fabricated a story about what happened on the day of the murder in a bid to "avoid taking resonsibility".
"Mr Stroobant simply wishes to avoid taking responsiblity for the nature of the assault and in particular the nature of his sexual offending."
He urged Justice Lang not to give credit for the guilty plea or "the assertions made about his disadvantaged upbringing" and claims of substance abuse, which were unsubstantiated.
Johnstone submitted that Stroobant, according to psychological reports filed before sentencing had a "high risk of violent recidivism and a high risk of sexual recidivism".
He revealed that during psychological Stroobant scored in very high range, top 99.5 percentile indicating increased risk of future violence.

He also scored extremely highly for grandiosity manipulativeness, callousness lack of remorse, impulsivity, anti social and unstable behaviour.
"There is an unacceptable risk to the community, even if he is able to released.
"It is only when Mr Stroobant acknowledges his behaviour, that he is suitable for release."
He said preventive detention was the only appropriate sentence.
The defence
Defence lawyer Emma Priest maintained Stroobant never set out to kill Tian, and that the crime came as a result of him going to burgle her home.
She opposed preventive detention.
"This is the first violent or sexual crime he has committed in his life," Priest said.
"This was a burglary gone wrong."
She said Stroobant had limited recollection of the murder, the result of sleep deprivation and a "cocktail" of drugs.
Priest said Stroobant "showed a strong prospect of rehabilitation".
As she spoke he wriggled in his seat and said "f**k I need to to the toilet" in a loud whisper.
She said he pleaded guilty, which showed he acknowledged his offending, and that he offered to undertake restorative justice with Tian's family.
That offer had been rejected.
Priest said Stroobant's youth was mitigating factor.
"Partuculary lengthy sentences can be crushing on youg people," she said.
"The gravity of a young person's offending must be balanced against the prospect of rehabilitation and reintegration."
Priest said Stroobant had a disadvantaged background, which was also a mitigating factor in his offending.
As she outlined his life his mother Krissie and Aunt Renae - twin sisters - appeared to argue with each other behind him in the public gallery.
"Mr Stroobant comes from a severely dysfuntional family," Priest told the court.
He moved a lot and changed schools as his mother did not pay rent.
There was bullying and physical beatings, some of which hospitalised him.
As a result Stroobant found it hard to trust people.
He lived on the streets and turned to crime from a young age and was an illicit drug user.
Priest said there was "neglect, physical, seuxal and emotional abuse" in his unstable life.
"Had Mr Stroobant been offered the opportunites of a stable home environment he would not have ommitted this offending.
"He is the product of his environment."
Priest said Stroobant had no control over his upbringing and his psycholgoical "disorder" including impulsivity, was the result of that.
She suggested a sentence of life with a minimum non-parole period of 15 years - not preventive detention - was appropriate.
"Preventive detention, in this case, would be out of line," Priest said.
"Mr Stroobant will already be subject to a term of life imprisonment for murder."
She said the effect of preventive detention would have an "acute" message to Stroobant.
It told him that he was beyond help, she said, and rather, he was "looking forward to" getting help in prison for his issues and offending and was "motivated" to rehabilitate.
Priest said a lengthy determinate sentencing was desirable and meant the Parole Board would not release Stroobant until they were satisfied that he was not a risk to the community.
Preventive detention, she said, would be "crushing" and manifestly unjust.