No body, no weapon: Who killed Mike McGrath? Friend stands trial for murder
Author

Publish Date

Tue, 14 Feb 2023, 12:57PM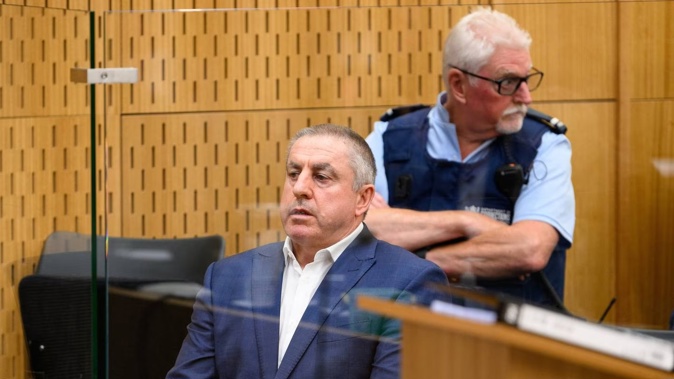 No body, no weapon: Who killed Mike McGrath? Friend stands trial for murder
Author

Publish Date

Tue, 14 Feb 2023, 12:57PM
A prison officer murdered an old school friend just weeks after finding out he was seeing his ex-partner and telling a counsellor he wanted to "annihilate" him, a court heard today.
David Charles Benbow, 54, denies killing Christchurch builder Michael McGrath, who disappeared from his home in the city suburb of Halswell on May 22, 2017.
His body has never been found – nor has a murder weapon - despite vast Canterbury-wide police searches that included officers scouring an enormous landfill site.
Benbow was arrested in September 2019 and has always professed his innocence.
Today, at the High Court in Christchurch, a seven-week murder trial began before a jury of seven men and five women.
The Crown is giving an opening address which outlines its case against Benbow, alleging that he spent days plotting how to "annihilate" McGrath.
Benbow had the motive, means and opportunity to kill McGrath, Crown prosecutor Claire Boshier told the court.
Christchurch builder Michael Craig McGrath, 49, was last seen at his home in Halswell, Christchurch in May 2017. Photo / Supplied
He had been devastated when learning that Joanna Green, his partner of 17 years, had taken their two children and left earlier in 2017.
And when one of his children had told him they had seen Green kissing McGrath on April 30, his "world changed".
Two days later, after calling in sick at Christchurch Men's Prison, Benbow visited a counsellor to speak about his break-up, saying he was lost and lonely.
He said his health was deteriorating and couldn't sleep or eat.
Benbow, the Crown says, also spoke about the assets he'd had with Green, including three rental properties, and that he felt "shafted" - something the counsellor had underlined in her notes.
He also allegedly told that one of his mates was seeing Green now and that he wanted to "annihilate" him.
Over the summer of 2016/17, Benbow had hired his mate McGrath – a carpenter who did cash jobs for friends and through word-of-mouth - to build a large new deck at their Candys Rd family home.
It was a big job that the meticulous and exacting builder took months to complete.
Later, Benbow would say to friends that he suspected something was going on between McGrath and Green while he was away training to become a Corrections officer.
The Crown alleges that, after finding out about the relationship, he planned to kill McGrath.
Crown prosecutor Claire Boshier gave an opening address outlining the Crown case against David Charles Benbow who denies murder. Photo / Kai Schwoerer, Press, Pool
It is alleged that Benbow turned off the CCTV at his Candys Rd property – something he was obsessed with, Boshier says – so that his comings and goings in the weeks he was "finalising his plan" were not recorded.
The Crown case is that Benbow saw McGrath on Sunday night, May 21 2017 and asked if he could come over the following morning to help move some railway sleepers at his Candys Rd property.
Benbow would later tell police that he never showed up.
But the Crown says CCTV cameras – and a witness – shows that McGrath did keep his word that day and showed up around 9am.
Benbow was late for a 10am counselling appointment in Riccarton, the Crown alleges.
"Exactly what he did in that hour when he murdered Mr McGrath is not known," Boshier told the court today.
What is known, the Crown says, is that Benbow's firearm which he said was secured in his roof space is missing.
The Crown alleges that on his way back from his counselling session, Benbow bought a packet of grass seed – along with more petrol.
And when police examined Candys Rd, parts of the lawn around the deck area had been dug out and fresh grass seed sown despite it being nearly winter, the Crown says.
It was a place he had "selected carefully" and had time to prepare, Boshier told the jury.
McGrath's Checketts Ave house was well examined by police after his disappearance. Photo / Kurt Bayer
Massive searches for McGrath around waterways around Halswell were conducted by police – along with the Kate Valley landfill site – but his body has never been found.
McGrath's bank accounts have not been touched since his disappearance.
Benbow hardly used his cellphone on May 21, 22, and 23 2017, the Crown says.
But Boshier highlighted a couple of "interesting" internet searches, including on May 21 "what are the organs of the human body" and, later, a search for a map of the Lincoln area.
While the Crown accepts there is no body, no murder weapon, and little forensic evidence in the case, it says there is a strong circumstantial case consisting of many threads that, when taken together, show Benbow is guilty of McGrath's murder beyond reasonable doubt.
Benbow is being represented by a four-strong legal team led by Marc Corlett KC, assisted by Kirsten Gray, Kathy Basire and Kris Bucher.
The trial, before Justice Jonathan Eaton, continues and is expected call around 130 witnesses and last up to seven weeks.
Take your Radio, Podcasts and Music with you