Former Kiwi Manu Vatuvei talks career demise, drugs and jail in new series, Unspoken
Author

Publish Date

Mon, 18 Sep 2023, 12:34PM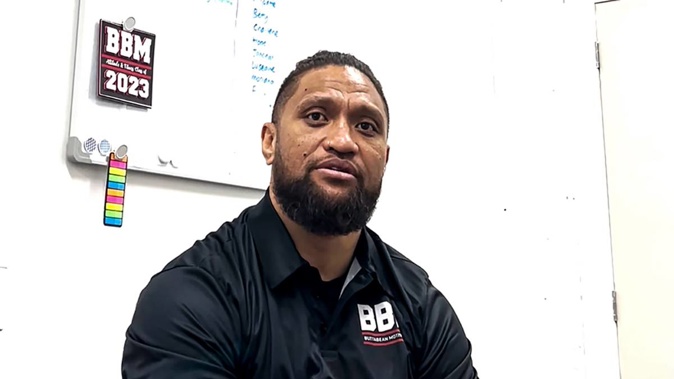 Former Kiwi Manu Vatuvei talks career demise, drugs and jail in new series, Unspoken
Author

Publish Date

Mon, 18 Sep 2023, 12:34PM
Disgraced sports star Manu Vatuvei has revealed he ordered his ex-wife and newborn daughter out of his car and then sped off when details about his prescription drug use first surfaced. 
Two former New Zealand rugby league players, Sione Faumuina and Vatuvei, have opened up in an emotional and personal interview exploring some of their darkest moments. 
Former Warrior and Kiwi league player Faumuina launched his sports talk platform Unspoken last night, kicking off the series with a 30-minute chat with his former teammate. 
The pair discussed life post-footy and Vatuvei's conviction for importing $200,000 of methamphetamine from India. 
Known as The Beast, Vatuvei joined the Warriors in 2004 and spent a large portion of his career at the top of the NRL, winning international honours for the Kiwis and Mate Ma'a Tonga.
During his time at the Warriors Manu Vatuvei was held in high regard by his opponents. Photo / Brett Phibbs 
However, Vatuvei said a 2018 career-ending Achilles injury and emotional turmoil from his divorce signalled the beginning of his deterioration. 
After spending 15 months in prison, Vatuvei was paroled in May. 
Vatuvei said being locked up hit him when the first door closed. 
He said he regretted not saying a proper goodbye to his family. 
"I knew the media was there and I didn't want to turn around and show that I cried." 
Vatuvei tested positive for Covid-19 when he entered prison and locked in a cell on solitary confinement for 12 days, which he described as a "good thing. 
"It gave me time to process everything, to deal with the problems in my head." 
He began writing down these difficult thoughts in a diary, a piece of advice he received from an old boxing coach. 
Vatuvei reflected on his playing career, admitting he had "dropped the ball", and felt like he had let his "brothers" down. 
The former Warrior recalled a fateful day in 2016 when details regarding his use of prescription drugs were released to the media. 
"One of the boy's partners sent it to my ex while we were in the car with our young daughter who had just been born," he said. 
"Straight away I just snapped, and I told her to get the hell out of the car with my girl and I just took off. 
Manu Vatuvei outside the Manukau District Court after appearing on methamphetamine charges in 2019. Photo / Leon Menzies 
One of Vatuvei's teammates followed him in his car after his ex told them what had happened. 
He encountered traffic, and his teammate knocked on his window, and he broke down. 
"They lost my trust because of that," Vatuvei said after he had told his teammate he wanted to leave the club. 
As Vatuvei moves on to the next chapter of his life, he reveals he has finally found his purpose, which is helping others not go through what he went through. 
Last month, Manu Vatuvei spoke exclusively to the Herald for the first time since his release from prison, about the dark spiral that saw him end up in jail, how his time inside helped him turn his life around, and his hopes for the future. 
Sione Faumuina's playing career included a two-season stint with the North Queensland Cowboys. Photo / Richard Robinson 
The 37-year-old doesn't want people to forget or forgive him for his mistakes and hoped his experience and message might benefit other people who are struggling with drug addiction or mental health problems. 
He is adamant that had he not gone to jail last year, he would have been in a far worse predicament now. 
"In prison, it gave me time to reflect on life and reflect on where I was and all my problems I was trying to run away from," Vatuvei said. 
"Being stuck in four walls on your own reminds you. 
"Jail was probably the best thing that ever happened to me." 
As the Unspoken series continues, Faumuina said he hoped it "opens up sides of the athletes that not many people get the opportunity to see. 
"This platform is not for athletes to take a trip down memory lane and all their achievements, but I want this to be about real conversations about who the athlete is." 
Faumuina, 42, whose fourth child has just been born, said he had come up with the Unspoken concept in 2017 but instead of kicking on with it, went into sports management - "one of the worst decisions I made because I did not enjoy it - my heart wasn't in it". 
Take your Radio, Podcasts and Music with you