Murder accused allegedly returned to crime scene, spoke to victim's family, jury hears
Author

Publish Date

Tue, 19 Sep 2023, 4:37PM
Murder accused allegedly returned to crime scene, spoke to victim's family, jury hears
Author

Publish Date

Tue, 19 Sep 2023, 4:37PM
A man accused of killing his flatmate returned to the home he allegedly burned down and gave an unconvincing account of what happened to the victim's family, a jury has heard.
Childhood friends Sean Hayde and Gregory Hart are on trial in the High Court at Auckland charged with murdering Wiremu Arapo, 27, and perverting the course of justice by setting his Cockle Bay home alight.
The Crown's case has now entered its second week.
Hayde, who was once Arapo's boxing pupil and training buddy, is also charged with assaulting, strangling and threatening to kill his former girlfriend in the weeks before the alleged killing in the East Auckland suburb.
Hayde and Hart deny all charges and are pointing the figure at each other.
When their defence teams launch their cases, each will say the other is solely responsible for killing Arapo, a former soldier remembered as a gregarious personal trainer with a fiancée and much to look forward to.
Crown prosecutor Ned Fletcher said the killing was driven by a tangled web of deteriorating relationships and infidelities, with the first eruption of violence being Hayde's alleged assault of his former partner.
Hayde resented Arapo's continuing closeness with his new flame, as well as the personal trainer's treatment of Hart, the jury heard.
Arapo had also grown increasingly frustrated with his flatmate Hart.
He was frequently behind in the rent and bills and failed to pull his weight and Arapo was in the process of kicking him out, the Crown alleges.
Gregory Hart, one of two men accused of murdering Wiremu Arapo, in the dock on the first day of his trial. Photo / Jason Oxenham
Before the alleged murder, Hayde had urged Hart to move out and said as soon as he had his bond back, Hayde planned to exact revenge on Arapo and "kick his teeth out", the jury heard.
The resentments reached their crescendo on the evening of October 20, 2020, when Hayde and Hart drove around intending, at the very least, to give Arapo a serious beating, the Crown claimed.
Following his arrest on suspicion of murder on December 8, 2020, Hart spent 10 days in custody before he was bailed to stay with his family in Papatoetoe.
His former partner Charlotte Kozanic was called by the Crown on Tuesday to describe meeting Hart at his parents' home in Papatoetoe shortly after his release on bail.
She along with several others sat on the deck of the property with Hart talking about his time in prison.
Hart said wanted police to keep Hayde away from him, Kozanic said.
He then paused for several seconds before rising from his chair and addressing the gathered group, as if he had a secret to get off his chest, she said.
Kozanic said Hart then announced: "Sean just lost it. Sean and Wiremu never liked each other, they hated each other."
She said her former partner became immature, regressing to an 18-year-old when around Hayde, and the pair tended to drink heavily.
The jury has heard Hayde and Hart had two bottles of wine each on the Tuesday afternoon Arapo died, before heading around to the Minerva Tce flat.
The fire destroyed Wiremu Arapo's side of the home in Minerva Tce, Cockle Bay.
Jonathan Hudson, one of Hart's lawyers, said their friendship centred around smoking cannabis and drinking cheap wine.
Earlier on Tuesday, the jury heard statements from Arapo's parents read by the Crown.
They described Hart arriving at the Minerva Tce property, the house now a charred wreck, as the family visited to collect Arapo's gym equipment after it was released by police.
Hart approached the gathering of Arapo's family. He was shaking and appeared upset, his voice quivering, Arapo's step-father Nicholas Sawers said in a police statement.
They asked him what happened and how the fire started but Hart was unable to provide satisfactory answers, Sawers said.
"We didn't get any information from him that made any sense or answers to any questions."
Arapo's mother Aniwhakaruru Sawers said Hart appeared nervous and fidgety. His account of what happened did not make sense to her.
"The fire didn't seem to feature, it was just this random disjointed story about other events around the fire," her statement said.
The jury earlier heard Hart and Hayde gave conflicting accounts of what happened after the fire and before their arrests a few weeks later.
On Monday, the jury heard statements from various firefighters, police officers and paramedics who rushed to the Minerva Tce property almost three years ago.
One of those firefighters was Jeffrey Gibson, who had formerly worked as a paramedic.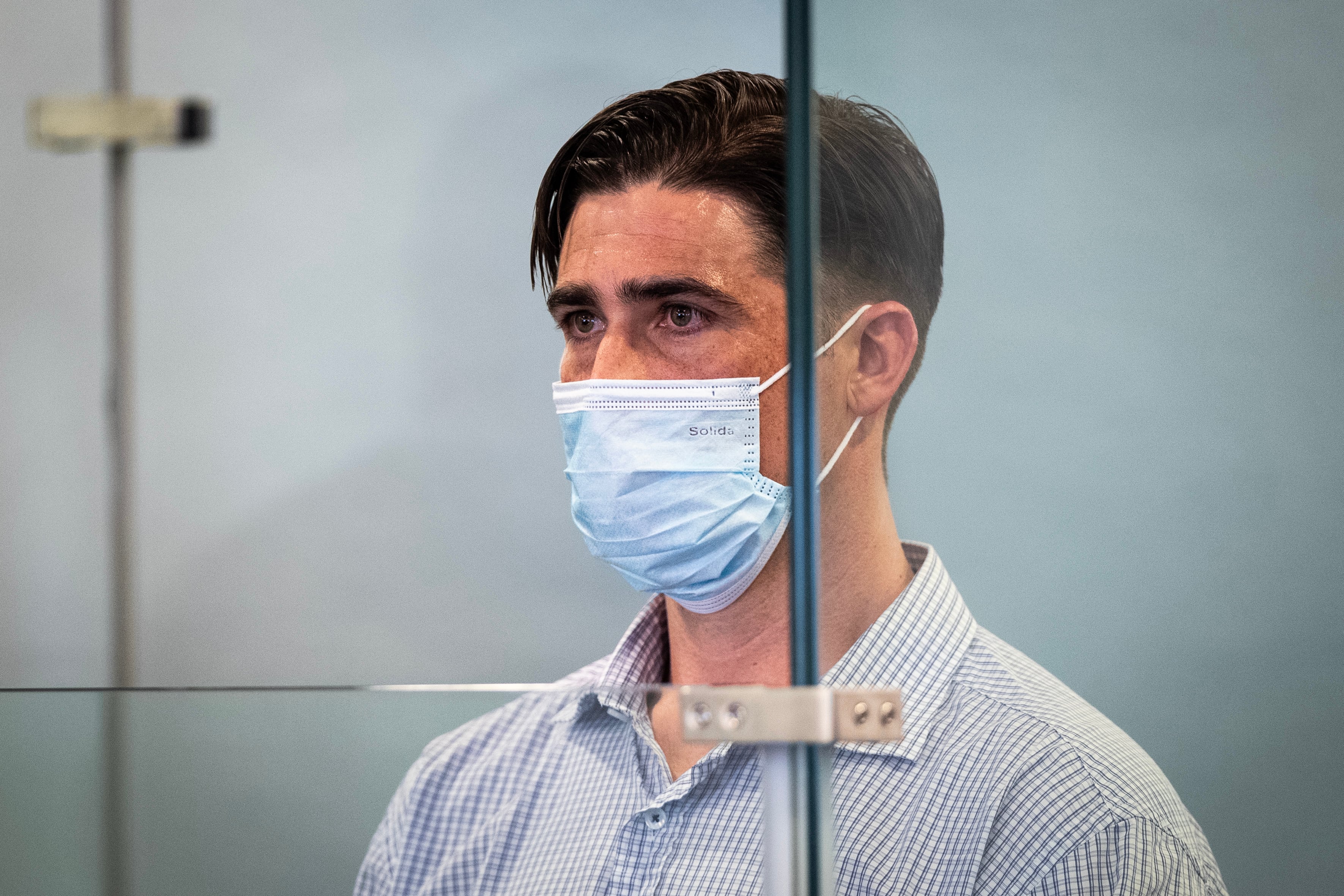 Sean Hayde denies killing Wiremu Arapo or assaulting his former partner. Photo / Jason Oxenham
He described treating Hart, who at one stage appeared to be lying on the ground unconscious, apparently in a serious condition after attempting to get back into the home.
The Crown says this was a charade for witnesses and that Hayde and Hart knew Arapo was dead.
One witness who saw him lying on the ground said they thought Hart could have been dead too.
But Gibson had his doubts.
Unconscious people don't tend to completely close their mouth when lying on their back, Gibson said. Hart's mouth was clamped shut.
"I wasn't convinced he was in a serious condition. I remember telling him, 'I know you can hear me.'"
The trial continues.
Take your Radio, Podcasts and Music with you