Brownlee to remain minister despite fine
Author

Section

Publish Date

Tuesday, 18 November 2014, 9:48AM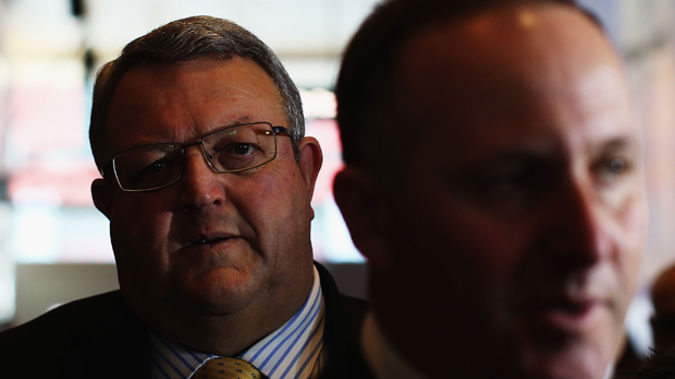 UPDATED 4:53pm: A $2000 dollar fine for breaching airport security isn't reason enough for the Prime Minister to get rid of cabinet minister Gerry Brownlee.
John Key says he isn't expecting a repetition of the behaviour by Mr Brownlee and it's his view he should retain his ministerial warrant and portfolios.
He says he's sought advice but Mr Brownlee doesn't have a criminal conviction, or been criminally charged.
"There's no history in parliament of the Prime Minister of the day taking a ministerial warrant off somebody who just gets a fine."
Mr Brownlee says he did have a discussion with the Prime Minister yesterday once they became aware of the Civil Aviation Authority's findings and Mr Key's confirmed he will stay on as a Minister.
"What I said to the Prime Minister yesterday is well here is the result of this, what would you like me to do? And he knows that had he considered that I should no longer be in the Ministry that I would have accepted that."
Mr Brownlee says he remains disappointed with himself for the events that occurred back in July but says he has learnt a lesson from the incident.
"I like queuing now. Sorry, I shouldn't make a joke about it, it's not funny."
Security shake-up for Christchurch airport 
Security at Christchurch Airport is in for a shake-up after a breach involving Gerry Brownlee.
He's been fined 2000 dollars and two of his staff have received warnings, for skipping security checks through a secure door because they were running late for a flight.
Civil Aviation director Graeme Harris says the "physical arrangement" of that door will be changed to ensure there's no repeat in the future.
He says Mr Brownlee and his staff never posed a threat but the fact they bypassed security is a concern.
Investigation won't be released
Security is being given as the reason a report into the aviation security breach by Gerry Brownlee is being kept under wraps.
He's been fined 2000 dollars for breaching security at Christchurch Airport earlier this year.
Prime Minister John Key says it's not for the Government to release the Civil Aviation report because it's not theirs.
He says it's a CAA report and their long history in this area is to not to release them when they're on matters of airport security.
Aviation authorities are giving an assurance Mr Brownlee got no special treatment in their investigation into his breach of airport security.
Director of Civil Aviation, Graeme Harris, is making it clear the investigation applied the same assessment criteria and level of rigour as would be the case in any similar event.
He says the publicity surrounding the incident should act as a warning to the travelling public that the CAA takes any airport security breaches very seriously.
Calls for report to be made public
The Opposition is demanding the report into Gerry Brownlee's airport security breach be made public.
Mr Brownlee has been fined 2000 dollars for his transgression but the Civil Aviation Authority isn't releasing its inquiry report.
Labour MP Phil Twyford says Mr Brownlee should ask for its release as the only way the truth will come out is if it's made public.
"There's no justification for Gerry Brownlee having this report concealed from the public.
"He should be as accountable as any other New Zealander for his offence."
Green MP Julie Anne Genter says the actions of a minister of transport breaching security at an airport are of high public interest.
"And I think it's for that reason that it's in the public interest for the public to know what the contents of the report are."