Pair guilty of killing Auckland dad in balcony fall fright case
Author

Publish Date

Mon, 20 Nov 2023, 4:08PM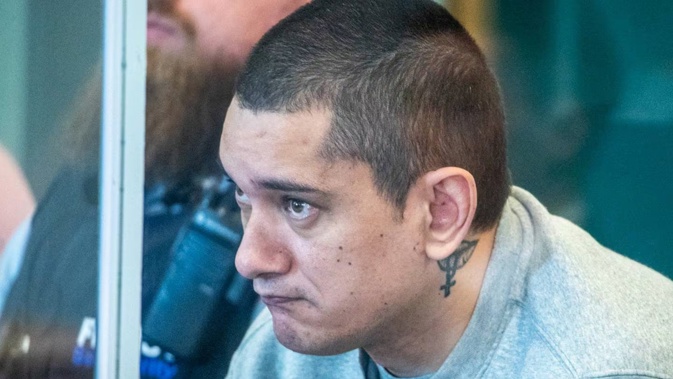 Pair guilty of killing Auckland dad in balcony fall fright case
Author

Publish Date

Mon, 20 Nov 2023, 4:08PM
Two men accused of killing an Auckland father by inspiring a fear so great that he was forced to flee over his balcony to his death have been found guilty of manslaughter.
Amigo Jacobi Sinclair-Beere and Lance Nielsen have been on trial in the High Court at Auckland since last Monday November 13, jointly charged with the manslaughter of Joesph Tahana on February 19, 2022.
They each pleaded not guilty to manslaughter. They also denied a joint burglary charge relating to the accusation they snuck into the apartment building then smashed in Tahana's door before his death.
On Monday afternoon, after about two full days of deliberation, the jury returned unanimous guilty verdicts on both the manslaughter and burglary charges.
Crown prosecutor Henry Steele said the pair went to Tahana's St Paul St apartment in central Auckland with the intention of robbing him.
The 29-year-old sold small amounts of cannabis to support himself and his son and had expressed fear to his friends that he was being watched by various gangs unhappy he was selling on their turf.
Amigo Sinclair-Beere (pictured) is jointly charged with Lance Nielsen with the manslaughter of Joesph Tahana. Photo / Chris McKeen, Stuff
Lance Nielsen during the first day of his trial. Photo / Chris McKeen, Stuff
As they tried to break down his door, Tahana was faced with two choices, Steele said in closing the Crown case.
"Mr Tahana chose the latter," he said.
"He chose to flee by the only means available to him, by climbing over his balcony.
"A decision which ultimately cost him his life."
He tried to edge along the balustrade while dangling 12 storeys up before losing his grip and falling into an alleyway below, the prosecutor said.
A CCTV montage presented to the jury showed Sinclair-Beere sneaking in around via a side entrance fire escape, then letting Nielsen in through the front door.
While the men are inside the apartment, Tahana texted his friend to say "I'm under attack" as neighbours heard the sounds of banging from his room, followed by a dull thud as he landed in the alleyway outside.
Around the same time, Sinclair-Beere texted an associate to say "call asap" and "bro we need help".
Joesph Tahana, 29, was found dead in Auckland central on February 19, 2022 after falling from his apartment balcony in St Paul St. Photo / Supplied
Nielsen is shown having a long thin object in his backpack - never found by police - which the Crown argued was likely used to try and jemmy open the door. The door showed damage above the altch as if it had been pried open with a crowbar.
CCTV cameras capture the men leaving St Paul St and heading to other city apartments. Steele said the footage shows the men's demeanour changing. He said Sinclair-Beere looked agitated, like a "cat on a hot tin roof".
Lawyers for the men said they were there to buy drugs, not to rob anyone. They said there were too many uncertainties about what happened on the 12th floor away from the eye of CCTV cameras for the jury to convict.
Lester Cordwell, acting for Nielsen, said in his closing address there was no evidence his client was ever inside Tahana's apartment. Cordwell cited evidence from friends and associates of Tahana's, who said he had been on edge in the days and weeks before his death.
He had been threatened outside the Central City Library with two people who believed he was stealing their customers, Cordwell said. The jury heard he had been previously threatened by the Mongrel Mob, told the King Cobras were after him and he believed he was being watched by the Bloods gang.
Defence lawyer Lester Cordwell represented Lance Nielsen in his manslaughter trial. Photo / Chris McKeen
This, combined with cannabis use, meant he was on edge and hyper vigilant, Cordwell argued.
"Wouldn't that have caused Mr tahana to feel anxious?" Cordwell asked the jury.
"Wouldn't that have increased his anxiety as well?"
From the other side of the door, there was no way Nielsen could have foreseen Tahana's reaction, Cordwell told the jury, urging them to return not guilty verdicts.
Mark Ryan, the lawyer for Sinclair-Beere, said the dearth of evidence as to what happened on the 12th floor meant the jury should acquit.
"There are more questions and unknowns than actual evidence against Mr Sinclair-Beere," Ryan said.
He said the heart of the Crown case was the damage to the door. A building manager said he had not noticed the damage during a walkthrough a few weeks before the death.
"When was that damage caused?" Rya asked. "On the evidence you've heard you can't be sure."
"Who caused the damage? You can't be sure."
On Monday afternoon, after retiring on Thursday, deliberating all day Friday then returning after the weekend, the jury asked a question of Justice Geoffrey Venning.
It related to a part of their question trail - the sequential chain of questions provided to juries to help guide their deliberations - about whether the defendant's could have foreseen the actions of Tahana in climbing over the balcony.
Justice Venning told the jury they needed to consider whether a reasonable or responsible person in the defendant's position could have reasonably foreseen Tahana acting the way he did.
"If you're not sure on that, then the defendant would be not guilty of manslaughter," the Judge said.
The pair were remanded in custody until sentencing on February 8.
Take your Radio, Podcasts and Music with you