Police release images in hunt for gang of armed robbers; four raids in three nights
Police release images in hunt for gang of armed robbers; four raids in three nights
Police are hunting for multiple armed robbers, including one with a firearm, who burst into an Auckland bar after it closed to steal cash, amid fears an organised group is committing serial crimes. 
The robbery was the fourth in three nights involving armed criminals hitting late-night businesses. 
In the most recent incident, multiple people "struck" Point Chevalier's Wapiti Sports Bar on the corner of Great North and Carrington Rds at about 1.50am overnight. 
"They struck not long after closing time," a pub patron, who witnessed the robbery said. 
"Armed, fast and didn't seem to care about anyone - in and out." 
"One had a gun, it was scary." 
Police are looking for two men pictured in CCTV images, "who may be of interest to the enquiry".
Detective Senior Sergeant Martin Friend, Auckland City Criminal Investigation Branch said a number of staff were locking up for the night when the offenders entered and threatened them with a firearm.
Four offenders wearing masks took cash and left in two vehicles.
Police are looking for two men pictured in CCTV images, "who may be of interest to the enquiry".
Police also want to speak to this man seen on CCTV camera. Photo / NZ Police
They are also looking for a silver Toyota Mark X with the registration HTU397.
A second car was found abandoned near the scene and will undergo forensic testing today.
Police found that car dumped on nearby Segar Ave, according to a photographer on the scene.
Customers and staff could be seen hugging each other and being supported by police, shortly after the robbery.
One broke down crying while on the phone.
The Wapiti Sports Bar in Pt Chevalier was robbed by multiple armed offenders. Photo / Hayden Woodward
Detectives could also be seen gathering statements from witnesses, while armed officers stood guard.
One of the witnesses said the robbers "knew what they were doing for sure", and that they seemed to be operating in a similar fashion to three other recent robberies.
Police have confirmed they are looking into a possible connection between last night's robbery and two others earlier this week.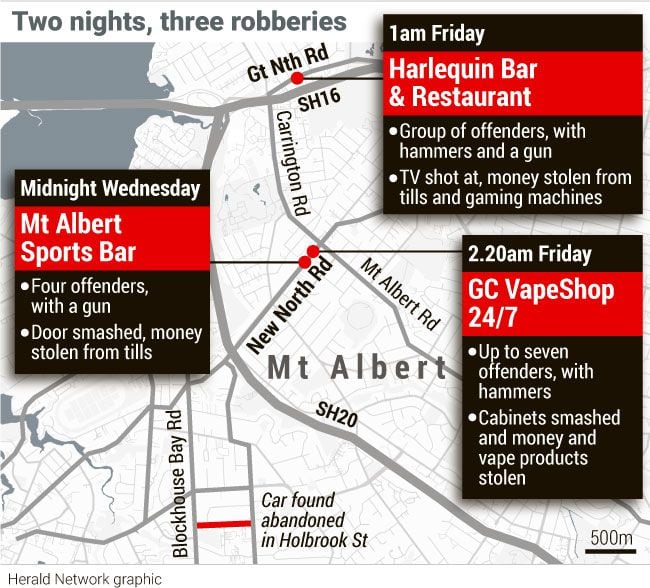 Overnight Thursday: two robberies in two hours
In those attacks, multiple people launched armed robberies on premises in Pt Chev and Mt Albert. 
That included two robberies in the early hours of Friday morning. 
In the first incident, multiple people armed with hammers and a firearm robbed staff of Harlequin Bar & Restaurant at 1am. 
"One person has fired a shot inside the premises which has struck a TV on a wall behind the bar," Detective Senior Sergeant Ash Matthews said. 
"The offenders have taken money from the tills and gaming machines before fleeing. It's incredibly lucky no [one] was physically injured during this incident." 
A photographer at the scene could see a smashed register lying on the ground afterwards. 
Later on Friday morning at 2.21am, police were then called to the GC VapeShop 247, on New North Rd in Mt Albert, less than 1km from Harlequin Bar. 
Police said a large group of people were also involved. 
"Up to seven offenders armed with hammers have entered the building on New North Rd, which at the time had a staff member and four customers inside. 
"Two offenders have threatened the victims inside the store while the other offenders have taken a number of items before fleeing." 
Police said no one was injured but all were left shaken afterwards. 
Matthews said the group left in a stolen vehicle which police found a short distance away in a neighbouring suburb on Holbrook St, Blockhouse Bay. 
Police stand guard outside Harlequin Bar on Great North Rd in Pt Chevalier, on Friday morning. 
Police at GC Vape Shop 247 in Mt Albert. Photo / Hayden Woodward 
Overnight Wednesday: Mt Albert robbery
Police now say they believe the same group of offenders involved in the Harlequin Bar & Restaurant robbery are also responsible for an aggravated robbery at another commercial property in Mt Albert on Wednesday night. 
In that incident, which happened just before midnight, four masked offenders with weapons including a firearm smashed their way into the Mt Albert Sports Bar and stole the contents of the cash register. 
Police said a staff member was inside at the time. They were uninjured but shaken and were being supported. 
"We believe these two incidents are linked and are following positive lines of inquiry," Matthews said. 
Authorities are appealing to the public for any information that may help find those responsible for any of the incidents. 
"This type of violent behaviour is unacceptable," said Matthews. 
"We are now working hard to identify and locate those involved so we can hold them accountable. 
Police have been approached for comment. 
Take your Radio, Podcasts and Music with you