Auckland border restrictions leaving construction projects at a standstill
Author

Publish Date

Mon, 27 Sep 2021, 7:47am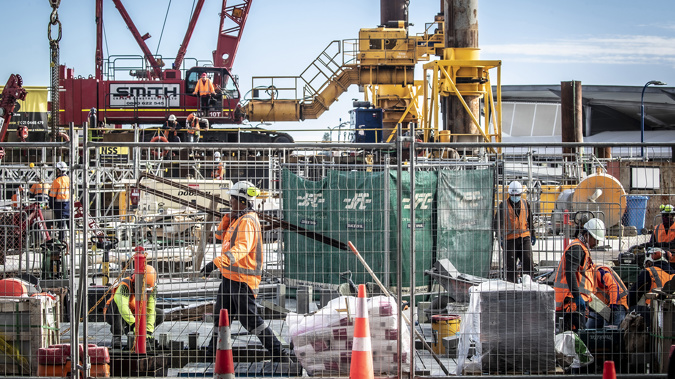 Auckland border restrictions leaving construction projects at a standstill
Author

Publish Date

Mon, 27 Sep 2021, 7:47am
Auckland's border restrictions are hurting building and construction companies, and leaving projects at a standstill.  
Despite the region now being in Alert Level 3, little has changed at the boundary compared to Level 4.  
Permitted travel for building and construction companies is only for immediate health and safety risks, or nationally significant projects. Exemptions are allowed in "exceptional circumstances" and require permission from the Director-General of Health.  
Summit Homes is in Pokeno and has dozens of projects in Level 2, but the majority of its workforce in Level 3...meaning they can't get to any of their builds.  
Company director Tony Clark said it was "bleeding them dry" as they still hadn't got over last year's lockdowns.  
"We've been carrying the burden right through this year, on top of material shortages and a building boom and now this."  
Clark said they had left sites in "dangerous" states after having to pack up quickly before lockdown, including some with open trenches.  
Project manager Carolyn Lockstone said the situation was causing huge financial hardship for their clients too.  
"Some of them are beside themselves...they're absolutely financially strapped and they're desperate on the phone to us asking if there's anything we can do."  
"I'm not just advocating for us, it's for the whole industry. People's livelihoods are being held up because of a stupid decision over the border control."  
Todd, who owns a construction business near the boundary, has workers living ten minutes south of the border, and is having no luck getting them exemptions to come across.  
"They're pretty key people and we are working on housing and critical infrastructure projects, 
"They're foremen and supervisors...crucial people to keep the cogs of the business in motion."  
 He said they were already doing saliva tests, and workers were double vaccinated and willing to work at safe distances.  
An essential worker, who lives in North Waikato and did not want to be named, has no bathroom and laundry and only one tap of running water as his builder was due to start renovation the first day of Alert Level 4 lockdown.  
He said they had been patient and waited for a drop to Level 3, but hadn't been able to get an exemption for his builder, who has all the materials and supplies, and lives 25 minutes away – but across the border.  
"We applied under the risk of health and safety and it was declined and said it didn't meet the criteria... I just think it's a bit ridiculous that they're not using common sense."  
Port of Waikato MP Andrew Bayly said he was hearing from many constituents struggling to get exemptions.
"We've got a lot of building and construction going on in Pokeno and if you're missing a site manager or health and safety officer...that can actually stop a lot of businesses from operating."  
"I think it's absolutely justifiable for them to get an exemption so they can come across the border to do these urgent works, and basically get New Zealand going again...but all within constraints of social distancing."   
Deputy Prime Minister Grant Robertson said on Friday they had to take a "cautious approach" to Auckland's border because of Delta.  
They had to look at cumulative risk, when it came to permitted business travel, he said.  
"One particular business can say but what about me, I've got workers who need to come across the boundary...but then if you do that for everyone you have very large numbers of people moving."  
Cabinet will be looking at the exemptions for one-way travel out of Auckland today.