Live: 109 Covid cases today - more infections in Northland, Waikato
Author

Publish Date

Mon, 25 Oct 2021, 12:41pm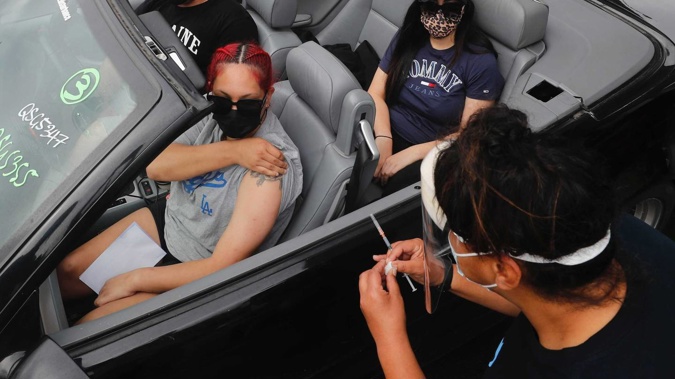 Live: 109 Covid cases today - more infections in Northland, Waikato
Author

Publish Date

Mon, 25 Oct 2021, 12:41pm
There are 109 new cases of Covid-19 today, the Ministry of Health says.
Of the new cases, four are in Waikato and two in Northland, the remainder are in Auckland.
Forty-seven of today's 109 cases have been epidemiologically linked, while 62 remain unlinked at this stage.
Twenty-five of yesterday's cases were infectious while in the community, while 54 cases were in isolation throughout their infectious period.
Blenheim case - a Tokoroa link emerges
The Ministry has also confirmed the person who tested positive after flying from Rotorua to Blenheim has a Tokoroa link.
The person is in isolation but a third contact has now returned a negative test.
That follows the return of negative tests from two earlier contacts yesterday. All three contacts are now isolating and being managed by Nelson Marlborough Health.
The Ministry also confirmed the case who recently travelled to Blenheim had spent the night at a residential address in Tokoroa before flying from Rotorua Airport.
Public health officials are now investigating whether there are any potential exposure events in the area, associated with this case.
People living in Tokoroa and Nelson, Tasman and Marlborough, in particular, are asked to monitor the Ministry of Health's locations of interest page, which is regularly updated.
The Ministry's also asking residents in Marlborough, Nelson and Tasman with symptoms – no matter how mild – to get tested, even if they are vaccinated.
Testing in the region is available today and tomorrow in Blenheim at Horton Park, off Redwood Street until 5.30pm, in Nelson at the Saxton Field parking area in Suffolk Road in Stoke today and tomorrow until 4pm.
Yesterday, there were 419 tests processed across the region - 301 in Marlborough - and 444 vaccinations across the region.
Vaccination is available today and tomorrow by walk-in at the Blenheim, Nelson and Richmond vaccination centres, with details available on the Nelson Marlborough Health website.
Waikato cases rise to 87
Two cases of the Waikato's cases announced today are yesterday's cases from Ōtorohanga. They are included today as they were confirmed after the Ministry's daily reporting period.
Of the two new Waikato cases announced today, one is in Hamilton and one in Te Awamutu/Kihikihi. All are known contacts of existing cases and have been in touch with Public Health officials.
This brings total cases for Waikato during this outbreak to 87, with six cases for which epidemiological links remain under investigation.
Residents in Waikato are urged to get tested if they have any symptoms which could be Covid-19 or if they believe they have been in contact with a case.
Yesterday 4,820 tests were processed for Waikato. Meanwhile, vaccinations dropped to 939, but this was expected over the long weekend with fewer sites operating.
Northland update
The two new cases in Northland were expected and linked with existing cases, the Ministry confirmed. The pair were in isolation throughout their infectious period.
The total number of confirmed Covid-19 cases in Northland is now seven.
There are 11 locations of interest across Northland confirmed so far.
Anyone who visited these locations of interest at the specified times is asked to monitor their symptoms for 14 days and if any develop, get tested and stay at home until a negative test result is received and they have been symptom-free for 24 hours.
Additional testing, and vaccinations clinics, in the area has been arranged and is available here:
Kaitaia – Kaitaia Hospital – open 9am to 4pm
Kerikeri – 1 Sammaree Place – open 9am to 4pm
Rawene, Rawene Hospital - 9am-2pm (testing only)
Ôhaeawai – Ôhaeawai Rugby Clubrooms – open 10am to 4pm
Dargaville – Dargaville Hospital – open 10am to 3pm
Whangârei – 20 Winger Crescent – open 9am to 4pm
Focus on Auckland's North Shore
Meanwhile in Auckland, public health officials continue to urge residents of the North Shore suburbs of Redvale and Rosedale – with even the mildest of symptoms – to get tested, regardless of whether they are vaccinated or not.
This follows high positivity rates of more than 6 per cent in Redvale and 3.8 per cent in Rosedale.
This testing will help to provide assurance that there is not undetected spread of Covid-19 in these communities. And that if there is any undetected transmission, this is identified as quickly as possible.
Testing is available at Community Testing Centres in:
Eventfinda Stadium, 17 Silverfield, Wairau Valley – open 8.30am to 4.30pm 
North Harbour Stadium, Oteha Valley Road in Carpark B – open 8.30am to 4.30pm  
Northcote Community Testing Centre, Corner of College Road and Kilham Avenue – open 6.30am to 6.30pm  
Whânau House, Waipareira Trust Henderson, Corner of Edsel and Catherine Street – open 8am to 2pm
Massey Pop-up Community Testing Centre, Carpark of Community Hub, Triangle Park, 385 Don Buck Road – open 7.30am to 6pm
At least 15 people with Covid leave hospital
There are 35 people in hospital around the country which is down from yesterday's total of 50.
Seven are in North Shore, 13 in Middlemore, 14 in Auckland, and one in Waikato. The average age of current hospitalisations is 42.
Five of those cases are in either ICU or HDU.
There have been no unexpected detections in wastewater samples.
Latest vaccine numbers
There have been a total of 6,623,500 vaccines administered to date. Of those, first doses are 3,643,337 - 87 per cent and 2nd doses: 2,980,163 - 71 per cent.
There were 18,985 vaccines administered yesterday. There were 5335 first doses and 13,650 second doses.
More than 393,000 (69 per cent) of Māori have had their first dose, and 276,650 (48 per cent) their second dose.
For Pacific Peoples, 237,699 (83 per cent) have had their first dose; second doses: 184,346 (64 per cent).
Just over 7960 jabs were given to Aucklanders yesterday -1730 first doses and 6234 second doses.
Overall, Auckland's vaccination rate is 90 per cent for first doses and 77 per cent for second doses.
MIQ cases
There are also two new border cases who are now isolating in Christchurch MIQ.
One person flew direct from the United States and tested positive on day 12 of their stay. The other flew from the United Kingdom via Singapore and landed on October 20. They tested positive on day 2.
Sunday's cases
Yesterday, the country saw 80 new cases emerge before a further two infected people in Ōtorohanga were announced Sunday evening. One of the new cases was in Northland, two in Waikato and 77 in Auckland. There were no new cases in Blenheim yesterday after a man travelled there from Rotorua and tested positive on Friday.
The Government's new traffic light-style warning system will kick into gear once Auckland and the wider country hit vaccination targets of 90 per cent.
On Saturday Auckland saw 18,496 vaccinations, including 4391 first doses. Overall, 90 per cent of the city's eligible population has had a first dose and 76 per cent have had their second.
But the Government has said that all three DHBs in the region need to have 90 per cent second-dose vaccination rate for their populations.
As of Sunday, figures showed Auckland DHB sat on 93 per cent first-vaccination rate, Waitemata DHB 90 per cent and Counties Manukau DHB on 87 per cent.
Counties Manukau, covering South Auckland, needed to administer another 12,423 first shots to get a 90 per cent first-dose target. There were more than 2000 first shots in the DHB's area on Saturday. If that rate was maintained, the target should be met within six days.
In terms of second-doses, Auckland DHB sits on 80 per cent, Waitemata on 76 per cent and Counties Manukau 73 per cent. Auckland needs to administer another 40,584 second doses, Waitemata 74,207 doses and Counties Manukau 82,250 doses to get to the magical 90 per cent second-dose rates.
Depending on the area, this could happen in two to three weeks - although it's not known how long experts may recommend waiting until the second doses become effective to allow the new traffic light system to kick in, with more freedoms.
On the timetable and run rate above, it could be five to six weeks away - in other words, late November, or early December.
Meanwhile, top epidemiologist Sir David Skegg warned that contact-tracing capacity - which was severely stretched when case numbers were lower than they currently are - still needed to be strengthened, while the work to add saliva testing and rapid antigen testing to the toolbox had been slow.
And while he still hoped for New Zealand to continue to have a world-leading response, he feared an under-resourced health system will not be able to cope with whatever Covid throws at it in coming years.
He had been warning to expect, and prepare for, a Delta outbreak since well before this one started.
"Whereas we had been lucky after several previous incursions of SARS-CoV-2, our luck ran out this time," he said.
The virus had a head-start because vaccination coverage was low, about 1000 people had already caught it by the time it was detected, and the outbreak had a springboard in the super-spreading church event in South Auckland.
Health workers can now ask for vaccine exemption
The employers of key healthcare workers could now make a bid for them to be exempt from Covid-19 vaccine mandates under new rules issued by the Ministry of Health.
It comes as the "no jab, no job" public health order, which will require health, education and prison workers to be vaccinated, has been published.
The order - which will come into force on Monday at 11.59pm - gives health workers an extra two weeks to get their first dose of the Pfizer vaccine. They now must get their first jab by November 15, and their second by January 1.